Astute readers will have noticed I've reviewed two Alex Raymond Flash Gordon collections on CBD this year: IDW's Library Of American Comics (LOAC) The Definitive Flash Gordon And Jungle Jim: 1934-1936 and Titan's Flash Gordon: On The Planet Mongo, Sundays 1934-1937. Two very different takes on the same source material.
You may be wondering how two different publishers received the rights to print the same material within twelve months of each other. LOAC's Bruce Canwell provided this explanation in the IDW forums (long gone).
The FLASH GORDON situation was unique, by the way. King Features-US granted LOAC the Raymond FLASH-JIM license; King-UK granted Titan their FLASH license; neither side of King knew what the other was doing. In big companies, stuff like that can happen. We'd prefer not to be competing in the FLASH GORDON marketplace with Titan (they likely feel the same, and if King had to do it over again, I bet they'd do it differently, too), but it is what it is.
Each company took a different approach. LOAC decided to print the full Sunday page including the Jungle Jim topper, while Titan went with the Flash Gordon strips only. The LOAC book is huge at 16×12″, Titan at 10×11″, yet each is presenting the material at the same original printed size.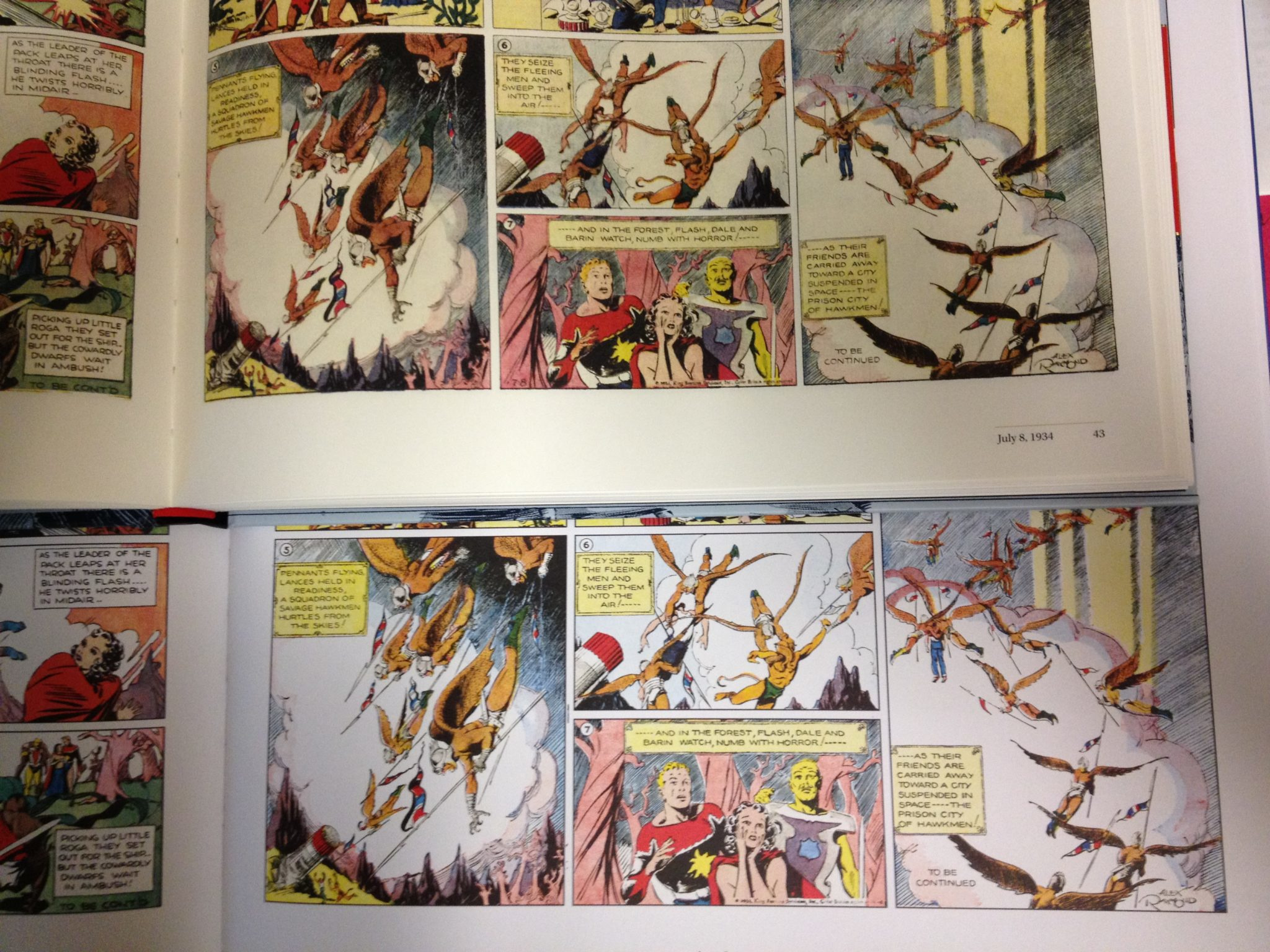 Taking a look at the same strip from both books, Titan at the top and LOAC at the bottom, we can see a clear difference. The Titan strips look like off white and "vintage" while the LOAC strips look clean and white. This comes across strongly in the white spaces and in the text balloons. Neither book mentions what was used for the source material and it seems Titan used newspapers and LOAC used printer proofs, but really I'm just making an uneducated guess based on colour bleed.
Titan makes two mentions to the source material.
Finally, thank you to Peter Maresca and Keiran McMeekin at Sunday Press Books for their hard work restoring Alex Raymond's beautiful art for future generations to enjoy.
Much of the comic strip source material used by Titan Books in this edition is exceedingly rare. As such, we hope that readers can appreciate that the quality of reproduction achievable can vary.
LOAC had this to say in their credits. No mention of restoration, just editor and designer.
Special thanks to The San Francisco Academy of Comic Art Collection at the Ohio State University Billy Ireland Cartoon Library and Museum; Randy Scott, Comic Art Collection, Michigan State University; John Locke; Tom Roberts; and Allan Holtz.
Strip size is basically the same in both books. Reprint quality is roughly the same: LOAC close to production art and Titan close to the final printed copy. Titan is cheaper and easier to handle but the LOAC has thicker paper stock and lays flat. Titan uses a cream coloured paper while LOAC uses white paper.
In the end, it comes down to whether or not you want to read Jungle Jim, which I enjoyed. Would I have enjoyed it as a separate volume: yes indeed.
---