Like my other newspaper strip reading, this is my first exposure to Alex Raymond's Flash Gordon and Jungle Jim. This was solicited as The Definitive Flash Gordon and Jungle Jim Volume 1 but that seems to have changed at some point.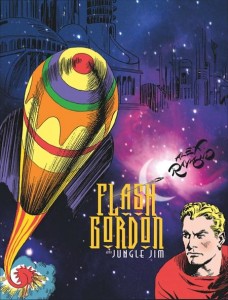 Created by Raymond in 1934, Flash Gordon is arguably the most famous science fiction comic strip of all time. It follows adventures of the title character and his companions—Dale Arden and Dr. Zarkov—as they leave Earth to discover the source of meteors that are threatening the planet, and gets waylaid on the planet Mongo, where they battle the evil Ming the Merciless. The three Earthlings encounter one strange race after another, from the water-breathing Shark-Men of the Undersea Kingdom, to the winged Hawkmen, to the ferocious Tusk-Men. All the while, Flash finds himself in the arms of one beautiful woman after another—much to Dale Arden's chagrin.
Jungle Jim was created as a strip topper for Flash Gordon, and followed the life of Jim Bradley, who fought pirates, slave traders, and assorted villains in the exotic Southeast Asia of the 1930s. This neglected Raymond classic also features Jim's native cohort Kolu and femme fatale Lille DeVrille.
Writers: Alex Raymond, Don Moore
Artist: Alex Raymond
Library Of American Comics, December 13, 2011
HC, 176 Pages, 12" x 16"
ISBN: 978-1-61377-015-3
$75 USD
Order online: Amazon
First off, this book is huge at twelve by sixteen inches, presenting these strips at a gloriously large size. It's an amazing reading experience and wholly justifies that price of $75. There's no way to discuss this work without the context of these giant pages filled with giant panels; completely colours the readers perception. In a good way.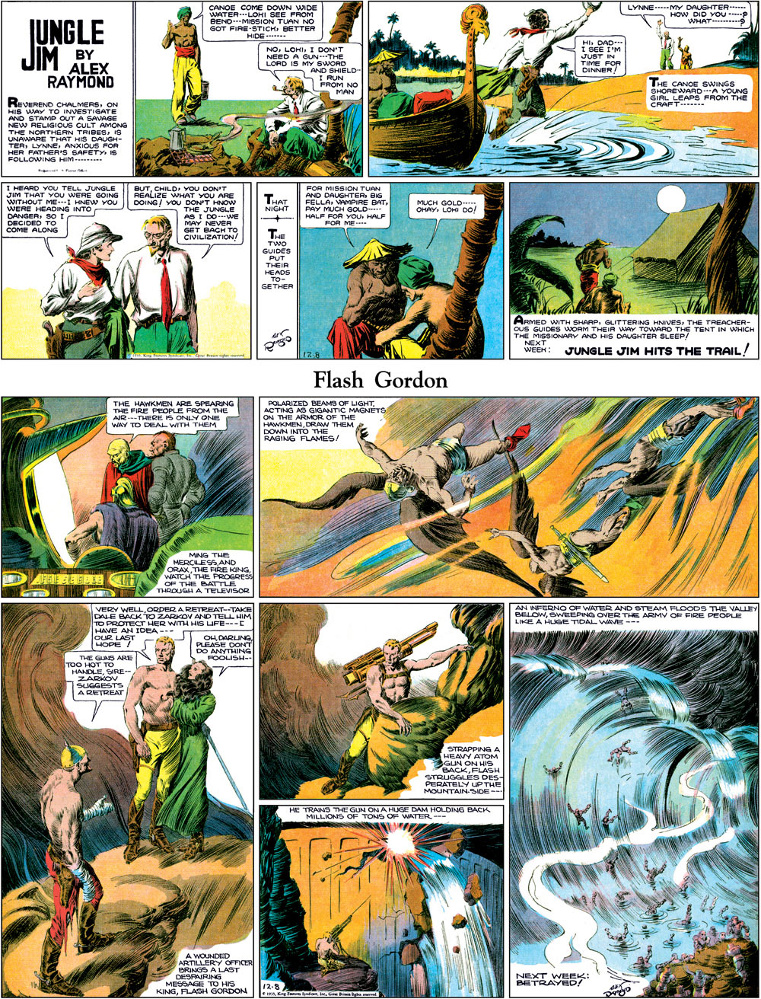 What we have here is the first two years of Flash Gordon and Jungle Jim strips; they only appeared on Sundays in full colour, with Jungle Jim the top third of the page and Flash Gordon the bottom two thirds. It's amazing how little background is provided: Jungle Jim Bradley is a hunter, trapper and explorer while Flash Gordon is a Yale graduate and world-renowned polo player. At least with Jungle Jim he stays in his element: how does being a polo player and Yale graduate prepare you for constant combat and ruling a kingdom. Obviously Yale was doing a lot more in the 1930s to prepare their graduates then we realize.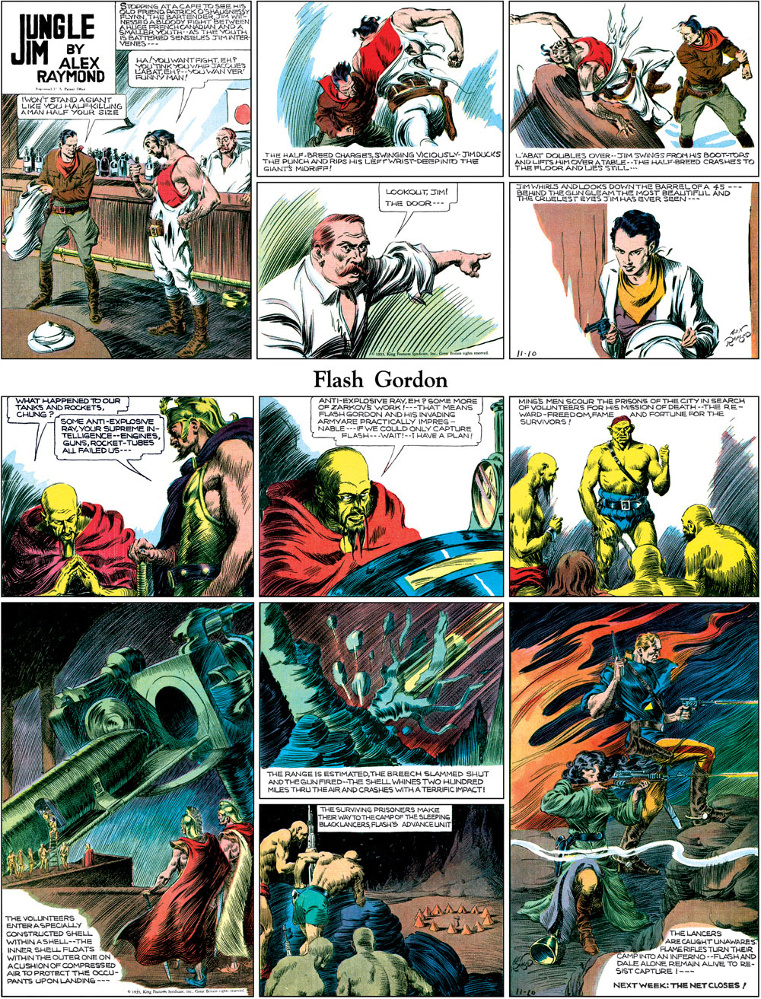 With no credits on the strips it's through the included biography we learn of Don Moore and his writing these strips for Alex Raymond. They're not terribly creative, but this was the birth of adventure comics and the plotlines and dialogue move us along and keep the interest level up. Basically Jungle Jim is fighting whatever evil pops up in the jungle while Flash is trying to defeat Ming and his forces: one fights on a small scale with the other fights on a grand and epic scale.
Lots of cliches and stereotypes throughout, but perhaps at that time it was more accepted. Our heroes can be summed up by saying "every woman wants to be with him, every man wants to be him". Flash and Jim keep encountering women in power who want to destroy them yet hopelessly fall in love and inconceivably demand marriage. It's crazy.
As is the level of violence: death and mayhem at every turn. Torture is a regular occurrence in the lives of our heroes; their strategy in most situations is to get caught, be tortured and then escape or have their female captor fall in love with them.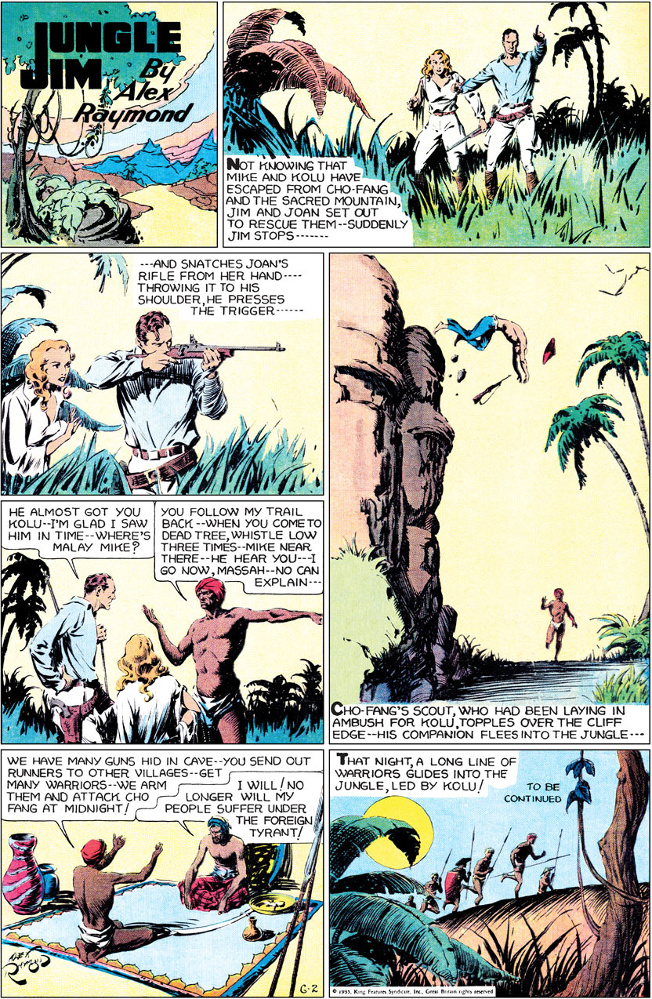 Raymond's development as a comic illustrator grows leaps and bounds within these two years of material. The early strips are tight and small, crowding panels in twenty or more to a page. Figures and stances are straightforward and small. By the end, the panels are much, much larger and Raymond has developed his linear hatching style. By the last few pages, we're presented with the Flash Gordon style, complete with that crazy headgear hat.
For a few months in 1935, these two strips ran separately and as such we're treated to large pages. These are the weakest strips from a reproduction standpoint: they look enlarged and slightly washed out. Otherwise, the work here is beautiful, well-edited and restored. IDW decided for these reprints to provide both strips on a page, and it's nice from a historical standpoint but as a reader, I would have preferred dedicated volumes.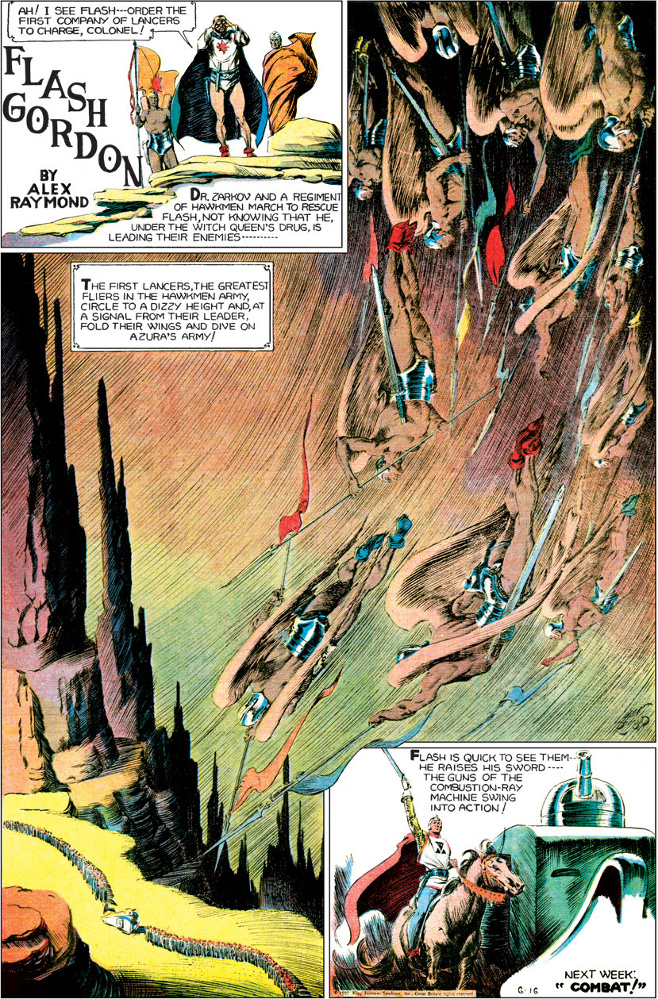 Production and layout are superb. Heavy matte paper stock and sewn binding make for a sturdy volume. Page numbers with the date of publication on every page: a nice touch. There's a wealth of information included in the introduction by Bruce Canwell, including a history of adventure comic strips, a biography of Don Moore and a timeline of world events for 1934-36. A beautiful volume.
---
Originally published at Comic Book Daily.