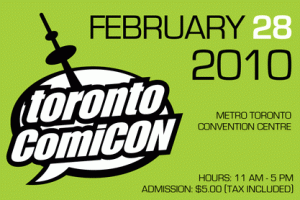 Sunday February 28th there was a one day show in Toronto at the Metro Convention Centre., put on by Hobbystar.  It was in a smaller room that was packed with local dealers and tables with artists.  I was at this event last year in the same room and experienced the same issue: everything is packed too tightly!  They're keeping the legal aisle way space but dealers have items for sale so a row now has people searching bins on both sides so you can't get by.  Add in two rows of artist tables with lines and now the place is hot, overcrowded and smelly.  I wanted to get some photos but after an hour I had to get out.
The theme of the day seemed to be 40-50% off trades and hardcovers, or at least is was at the busy tables.  I heard one dealer loudly saying he had the biggest selection at the show but wasn't getting the sales.  This same dealer sets up at every show and charges cover price for trades and hardcovers, which boggles the mind.  Everyone can go online and order a trade paperback or hardcover for about 37% off the cover price.  People come to comic shows for two reasons: to get out of print items or to get deals.  If you're selling in print trades then you need to entice the buyer with a discount better than what they'll find online.  I picked up five trades and three hardcovers from three different vendors selling at 50% off Canadian cover.
Artist alley was pretty small but this was a one day show.  The big names were Guy Davis, Francis Manapul and Cameron Stewart.  I made it to Guy Davis and Francis Manapul who were both doing free sketches, a big perk for attending a one day show.  Come August at the main Fan Expo show "free" will be an unknown commodity.  My $5 admission was well worth it.