Let me start off by saying until I purchased this book I had never heard of Harold "Hal" Foster or Prince Valiant: they were off my comics radar.  I've never been a fan of newspaper comic strips and had limited exposure until Prince Valiant Volume 1: 1937-1938 started getting amazing reviews.  Here's the publisher's blurb: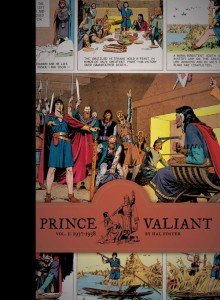 HAROLD FOSTER'S LEGENDARY MEDIEVAL EPIC, FINALLY IN ITS DEFINITIVE EDITION
Universally acclaimed as the most stunningly gorgeous adventure comic strip of all time, Prince Valiant ran for 35 years under the virtuoso pen of its creator, Hal Foster. (Such was its popularity that today, decades after Foster's death, it continues to run under different hands.)
The giant Sunday-funnies pages (Valiant ran only on Sundays) gave Foster a huge canvas upon which he was able to limn epic swordfights, stunning scenes of pomp and pageantry, and some of the most beautiful human beings — male and female — ever to appear in comics. And he matched his nonpareil visual sense with the narrative instincts of a born storyteller, propelling his daring young hero from one crisis to another with barely a panel to catch one's breath.
Prince Valiant has previously been widely available only in re-colored, somewhat degraded editions (now out of print and fetching collectors' prices). Thanks to advances in production technology and newly available original proof sheets, this new series from the industry leader in quality strip classics is the first to feature superb restored artwork that captures every delicate line and chromatic nuance of Foster's original masterpiece. Comic strip aficionados will be ecstatic, and younger readers who enjoy a classic adventure yarn will be bowled over.
Volume One is rounded out with a rare, in-depth classic Foster interview previously available only in a long out-of-print issue of The Comics Journal, as well as an informative Afterword detailing the production and restoration of this edition
Two things immediately hit you as you start to read: the art is stunningly beautiful and they had a different way of storytelling in those days.  Hal Foster was a superior artist and that comes through in this volume: his style is clean lines with a naturalistic attention to detail.  The basic layout is a series of square panels with text at the top or bottom of each panel: no word balloons.  The first panel has a brief synopsis; these colour strips were run weekly so you needed some catching up.
Plot and character development moved at a slow pace but that's to be expected from a weekly strip; you couldn't leap too far afield without isolating your readers.  It's easy to forget what you're reading unfolded over the course of two years.  Foster has created a clean world for Prince Valiant to occupy that engages the reader.  We watch the prince move with his family into exile and then become his own man.
Fantagraphics has put together Prince Valiant Volume 1 as a 10.5″ x 14.5″ 120 page hardcover.  The production value is high with excellent paper quality giving the work it's due.  The  pages were shot from original engravers proofs, giving sharp and clear pages with slightly muted colours.  An all around top-notch product.  The plan is to release a new volume every year.
There is a well written introduction to Harold Foster as a preface and an excellent article on producing and colouring this series, both nice additions to the main attraction.
If you're a fan of Hal Foster or an art admirer you owe it to yourself to pick this up; check out a preview here.