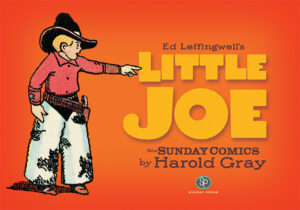 In 1936, after the untimely death of his cousin and fellow cartoonist, Ed Leffingwell, Harold Gray took the reins of this seminal Western comic strip and brought to it a combination of dark adventure, as seen in his Little Orphan Annie, and a modern-West version of "family life" comics like Gasoline Alley.
This book presents the best of the Little Joe comic strips from 1937 to 1942, flowing with violence, humor and warmth in a low-key style that could only be told in art and story by a master, Harold Gray.
Sunday Press, April 2020
ISBN 978-0-98355-047-1
9.2″ x 13.25″ hardcover, 160 pages
$65 USD
Order online: Amazon




Anyone familiar with Annie will recognize Gray's art style in Little Joe: the rounded forms, the soft edges, the character stances and gestures. What will be new are the story developments and overall feel of the strip. We have a central cast of three characters: Little Joe, his Ma, and Utah, their ranch hand. A constant guest is the General, a Mexican bandit with a heart of gold. It's a solid mix as we have the grandfatherly Utah "schooling" Joe on life with his Ma trying to keep him his age.
As this is a sample of the strip during Gray's run, we're presented with what editor Peter Maresca chose as the best to represent. Most stories are short, with a leaning towards a humourous ending and action. It's the early 20th century and life in the west is coming to terms with all its changes; we're treated to some hijinks with Utah and an automobile. On the other hand, there's a stark acceptance of violence and death as a part of everyday life. The west was a turbulent place with little regard for law and order, but Utah is also a lawman and we get some great interaction with him, a judge, and the general criminal element.
Gray's depiction of Native Americans is refreshing to read in a newspaper strip from the mid-1930s. At first, we get some comedy from our group underestimating Native Americans, then it evolves to a deep and mutual respect for their ways and traditions. Each adventure shows them with the upper hand of the situation. This is interwoven with the General and a Mexican presence throughout, as each group works to get the upper hand.




Being a Sunday only strip, colour is front and center. Gray employees bright colours whenever possible, and every page pops. As much as possible is outdoors, and we see canyon walls in green, blue and yellow. Horizons and background are frequently a solid red, blue or purple.
This is a well-crafted book, in every sense. The choice of introductory material, from the essays to original art, establish where the strip came from and how it evolved to the point that we get on board with the Gray strips. Short and to the point information from Jeet Heer, Sammy Harkham and Richard Marschall.
The production follows previous Sunday Press Books designs, with cardboard covers on a cloth spine. Paper is a heavy matte stock that shows the art as it would have been printed at the time, with digital restoration only to bring it back to original lustre.
A simple and straightforward design. Introductory material is interspersed with photos and original art. The strips are presented one to a page, with the strip date centred along the bottom. The colophon closes it all out. And those fancy Sunday Press endpapers with their logo on a colourful background.



Sunday Press continues to publish newspaper strips that have languished in the shadows, bringing forgotten treasures to a new audience. Harold Gray's name in the title should get fans of Little Orphan Annie to give it a look.
---