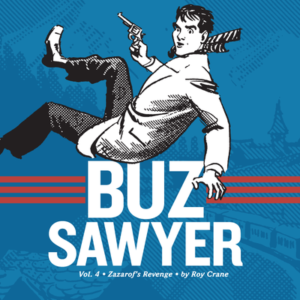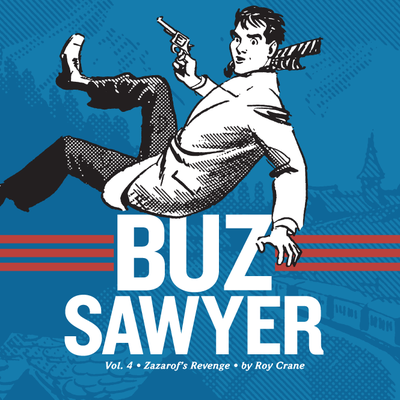 Frontier Oil, believing that the mysterious Mr. Zazarof is behind the sabotage of their oil wells, sends Buz Sawyer, their top troubleshooter, to Switzerland to investigate. Zazarof, it turns out, is all smiles and he invites Buz to go mountain climbing. What could possibly go wrong at the hands of a sinister saboteur on the icy slopes of the Alps? Buz Sawyer Book 4 picks up where Book 3 left off and continues Crane's classic strip through the end of the 1940s and takes us into the 1950s — ten complete stories. And all of it is brought vividly and gorgeously to life through Roy Crane's clever writing and stunning storytelling, a rollicking series of adventures filled with knockout women, brutal assassins, and extremely precarious situations. Also: Roy Crane's acceptance speech for the Banshee Silver Lady Award; letters of congratulation from Walt Disney, J. Edgar Hoover, and Richard Nixon; and rare illustrations of Crane's own trip to Europe in 1922.
ISBN 978-1-60699-975-2
9.25″ x 9.25″, 328 pages
$39.99 USD
Order online: Amazon
This appears to be the last Buz Sawyer from Fantagraphics. Nothing since this release in 2016, and this volume jumped 100 more pages than the previous three, so there much have been a decision to wrap things up. With a site redesign, they no longer list any of these volumes, but this one is still available from your local comic shop or online retailer. For now.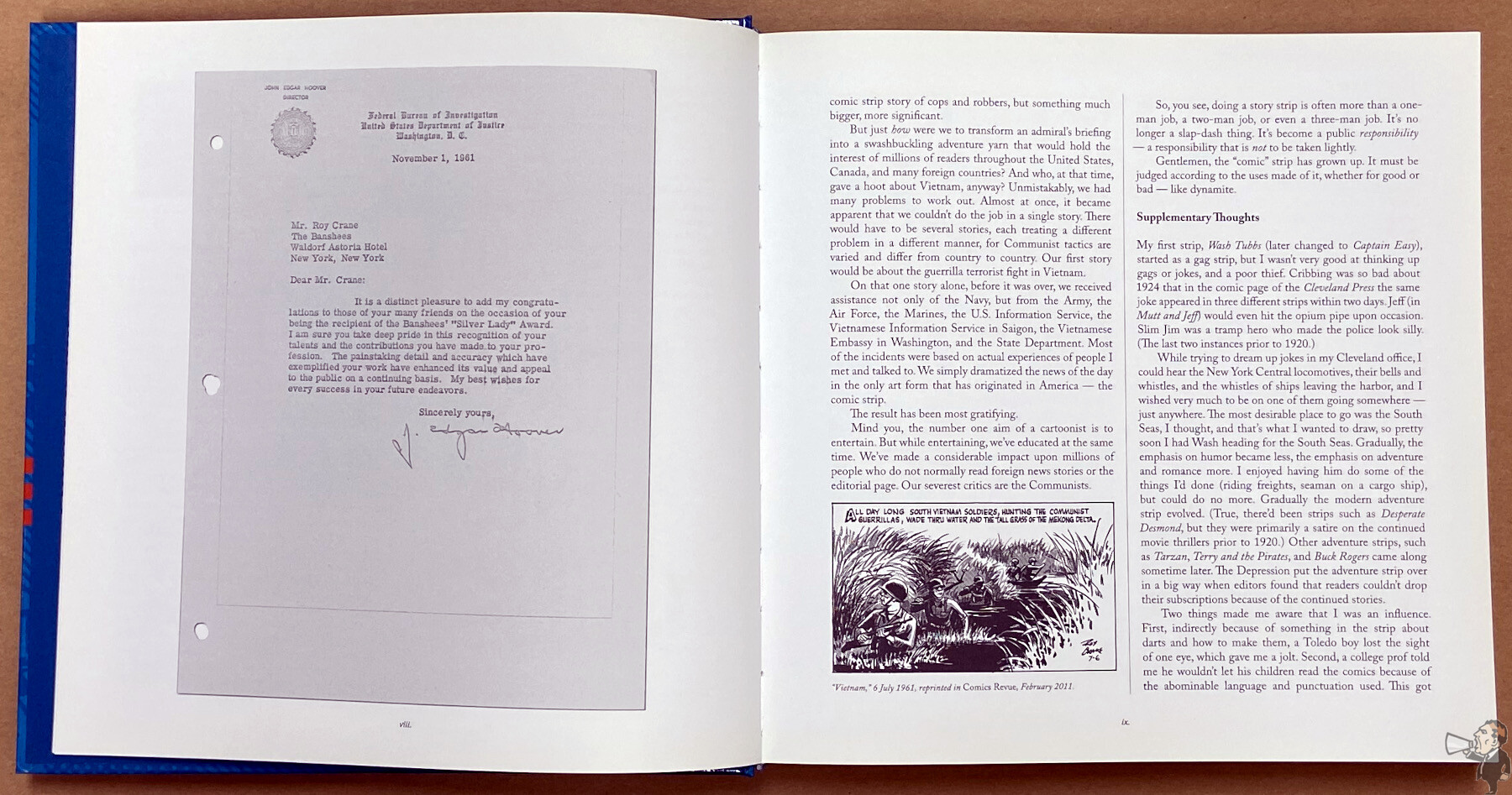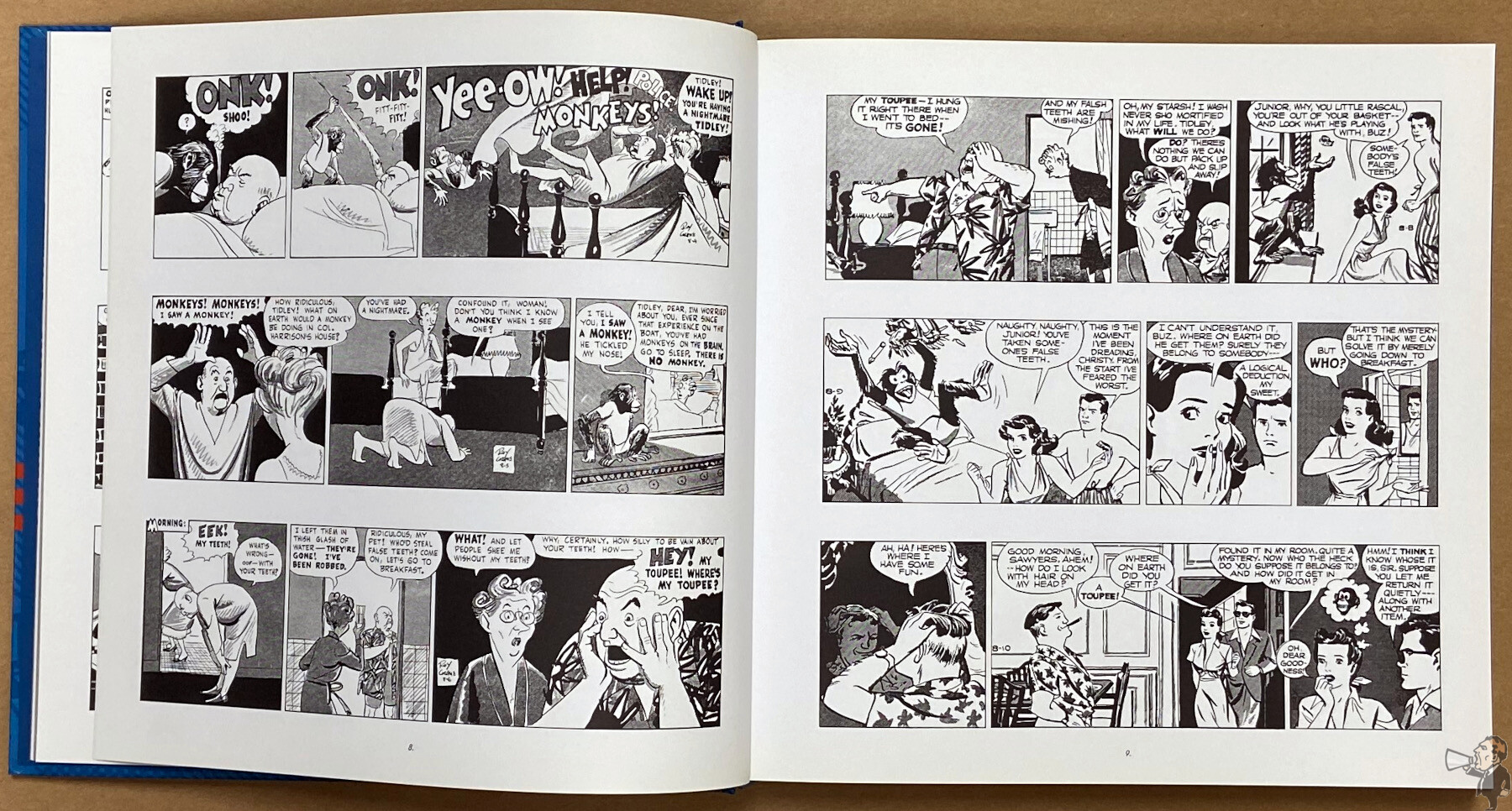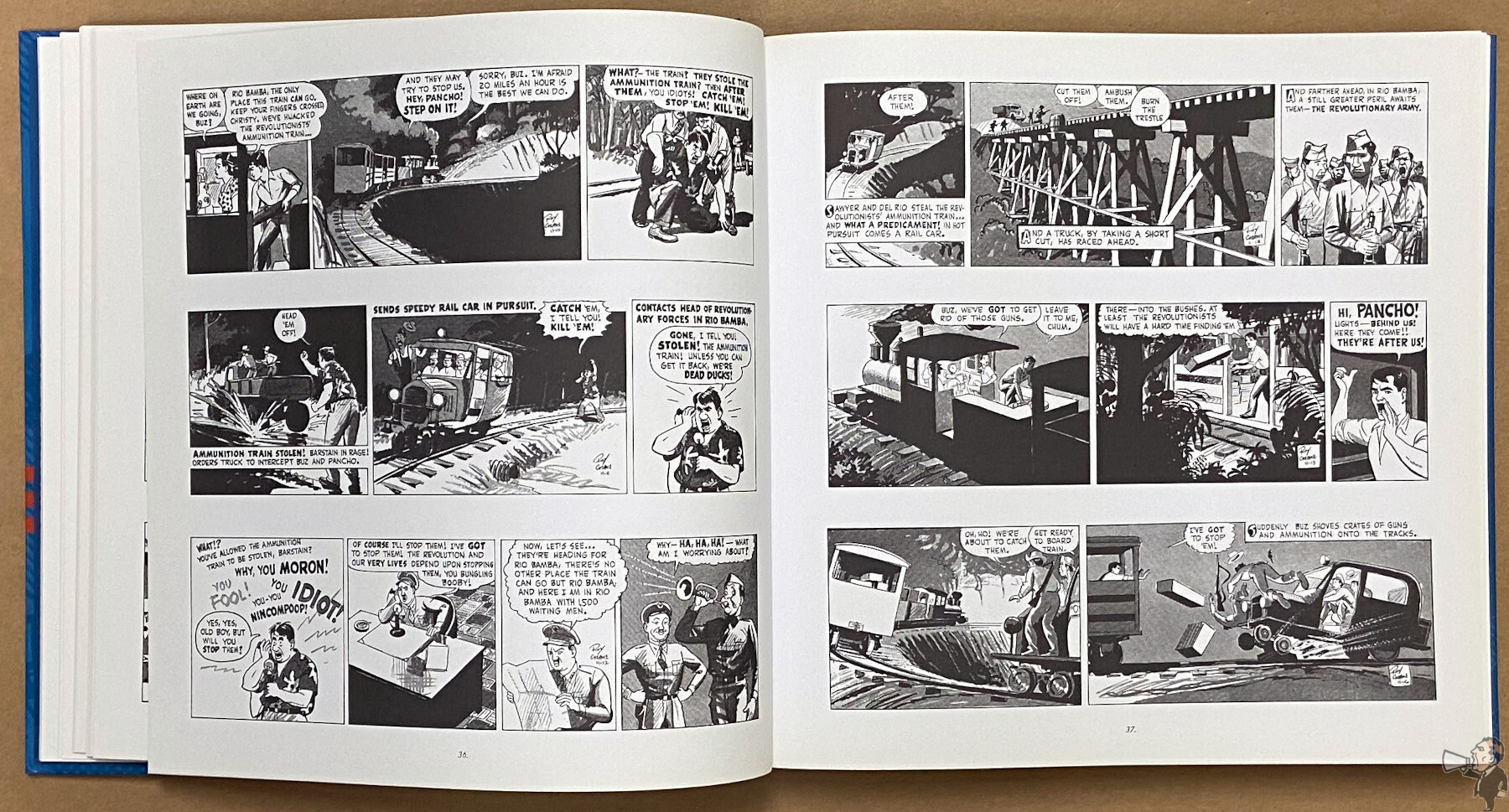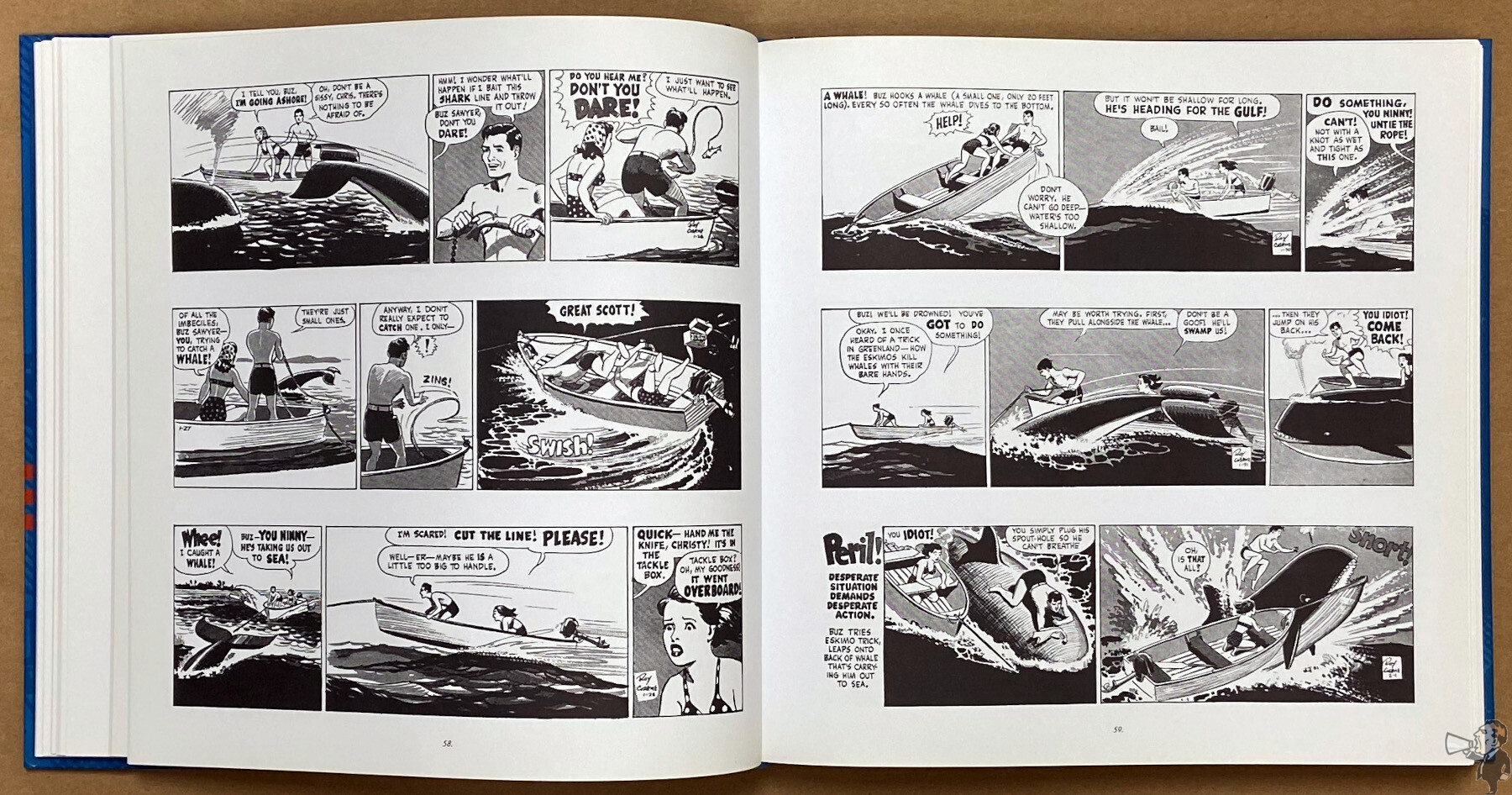 Crane was well into his groove of mixing comedy and violence by the time he gets to these stories, as we as some rehashing of earlier plotlines. Now that Buz is married his old navy sidekick Sweeney gets very few appearances as every tale is a husband and wife team-up. This time around it's Christy who has a bout of amnesia and Buz has to chase after the trail to find her. The first story is a crazy tale with a monkey and shenanigans at a country estate. Later he uses a parrot for further animal antics.
Speaking of mixing comedy with violence, Christy is held hostage by foreign spies. Crane chose to make them appear comical, especially the woman, but she is extremely violent; you can see a scene in image 9 below. It's a dark turn and perhaps Crane was attempting to lighten the story with comedic visual elements.
The art is superb. Crane's sense of style, design and panel make the strip come alive. Characters are exceptionally expressive and so much is told visually. Perhaps it's because I've been reading since the first volume but I'm finally able to spot art by Crane's assistants and their subtle style difference when trying to mimic the boss.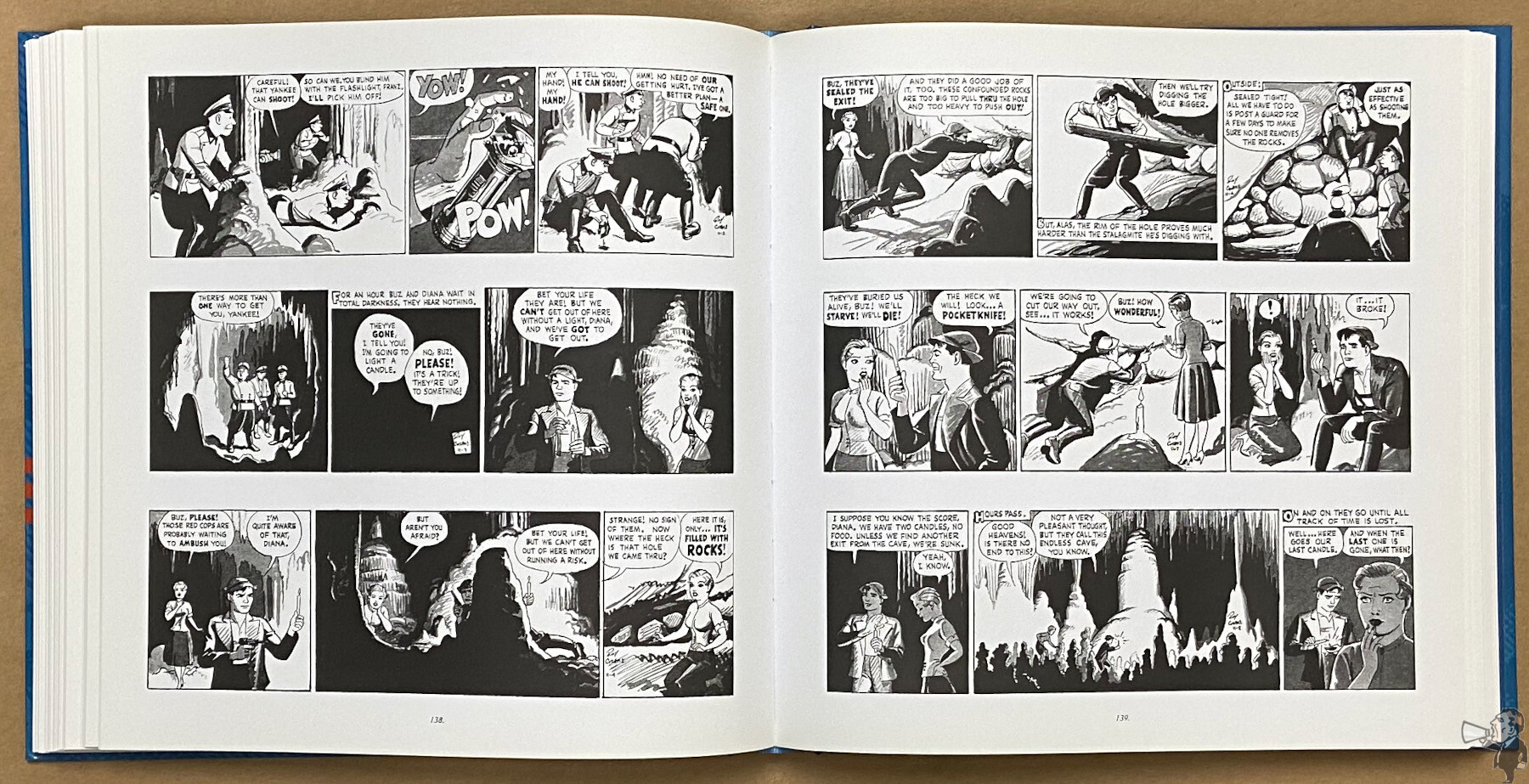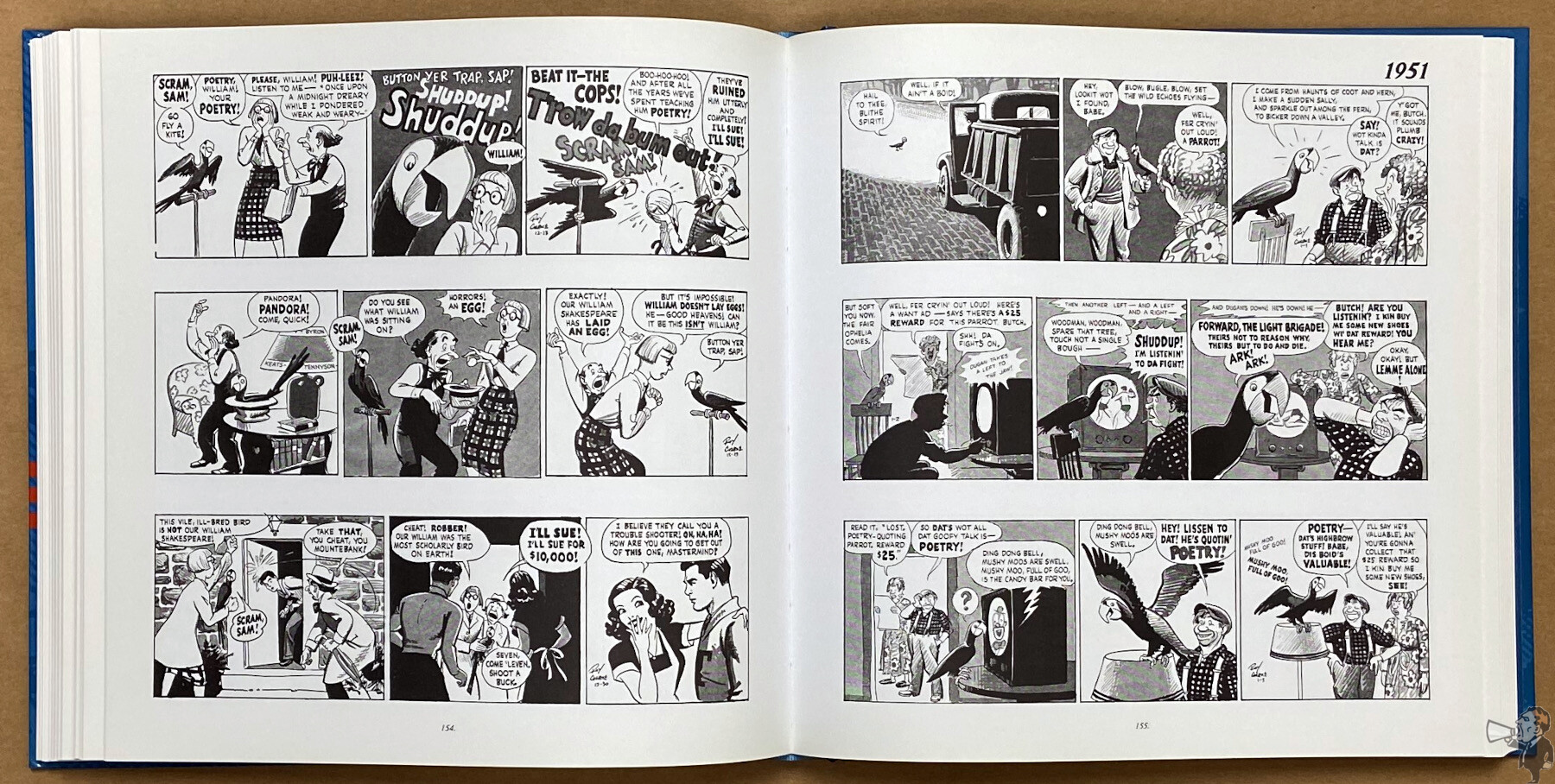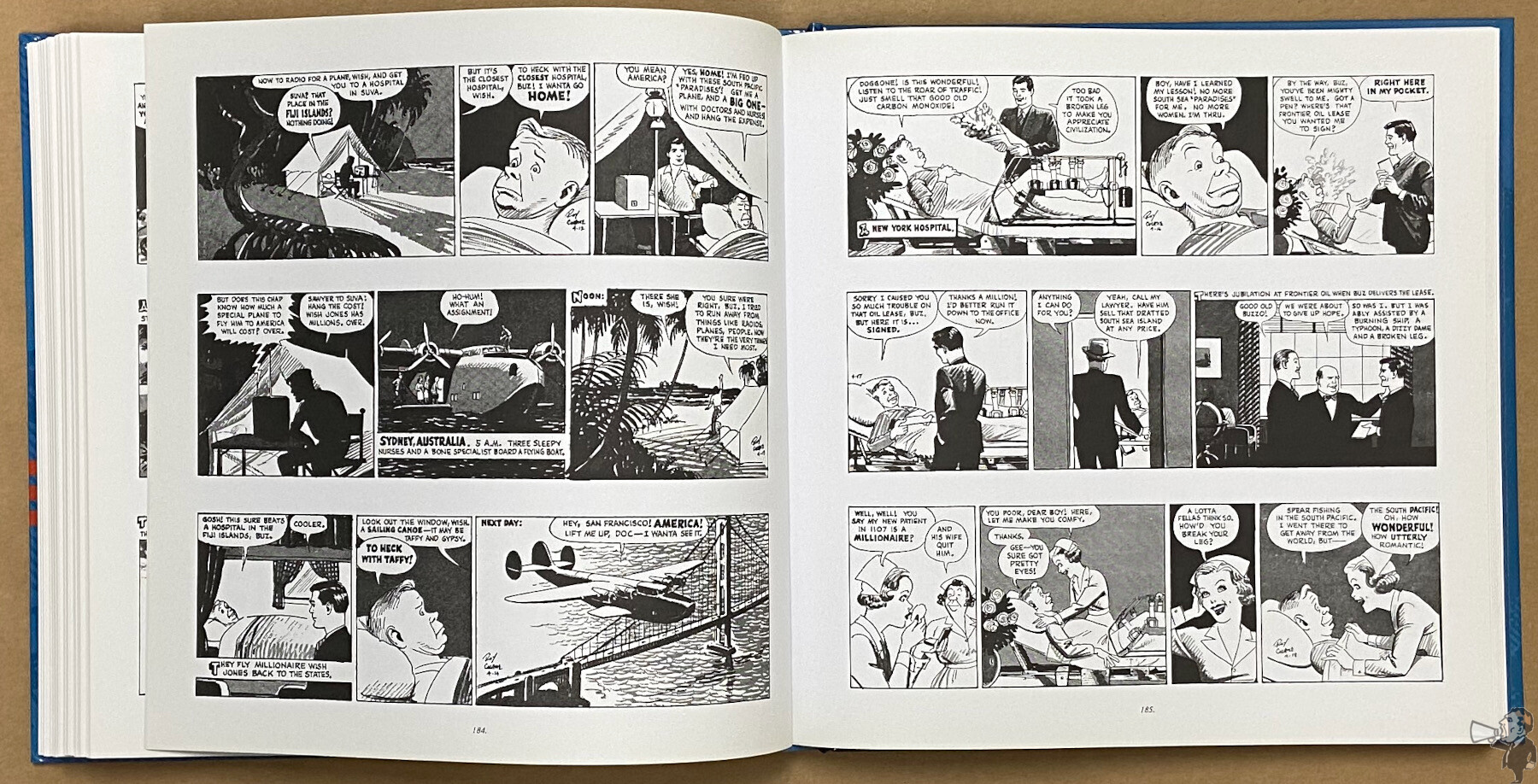 The extras didn't catch my interest this time around. The book opens with an acceptance speech Crane made for the Silver Lady Award in 1961. It's a good overview of his career, augmented by letters of congratulation from various people. The book closes with illustrations Crane made in 1922 during a trip to Europe, showing a very early art style from a young hand.
Design is well established for the series, with few frills. Page number along the bottom corners and a header when a new year begins. Clean, simple, to the point.
Production is excellent: a sewn binding of sturdy matte paper stock. There's some slickness to the paper, perhaps a slight gloss? My previous volumes had yellowing on the edges of the book but I thought that was because I had purchased them from remainders, but this volume came new and had the same yellowing, which seems a bit odd for a four-year-old book.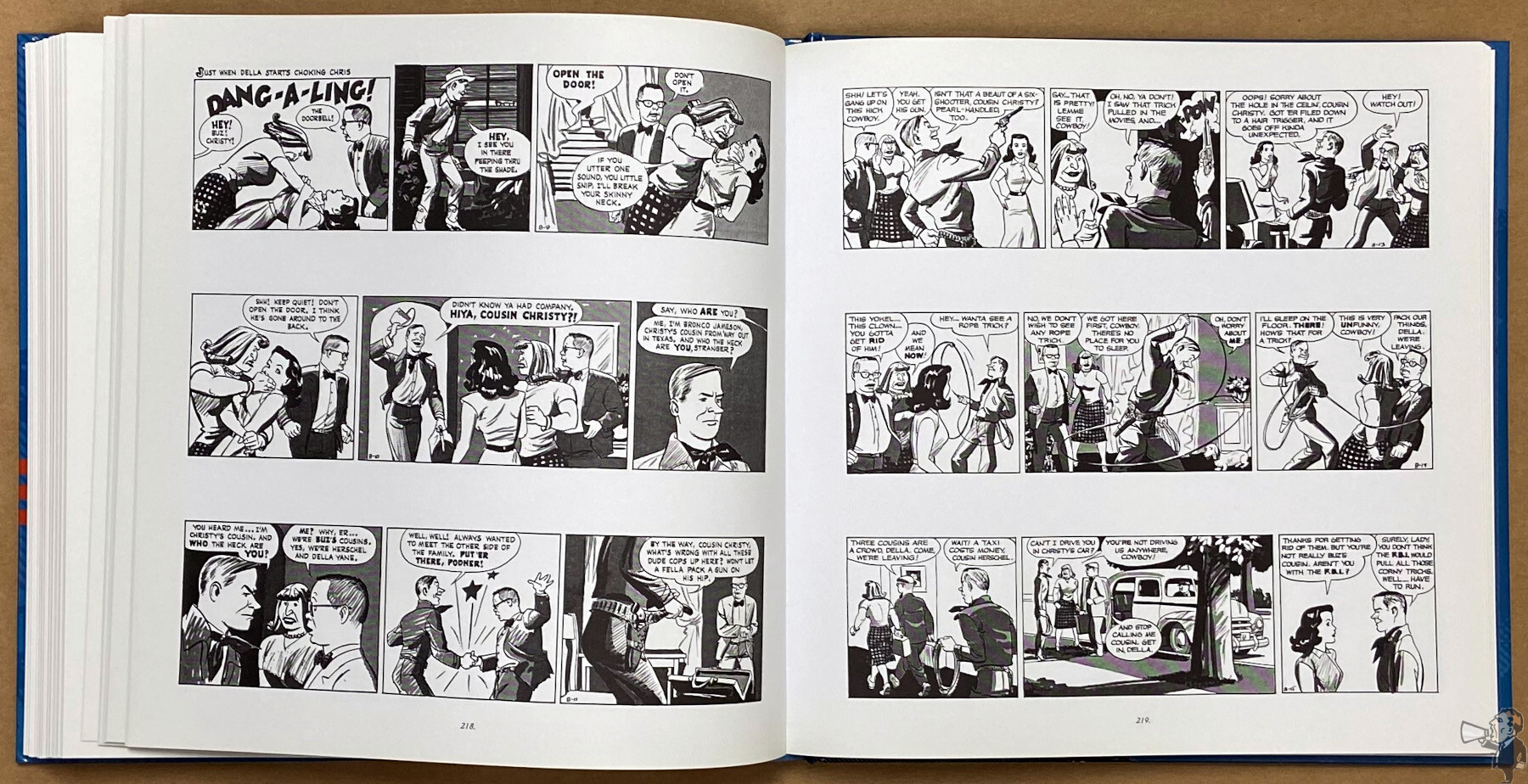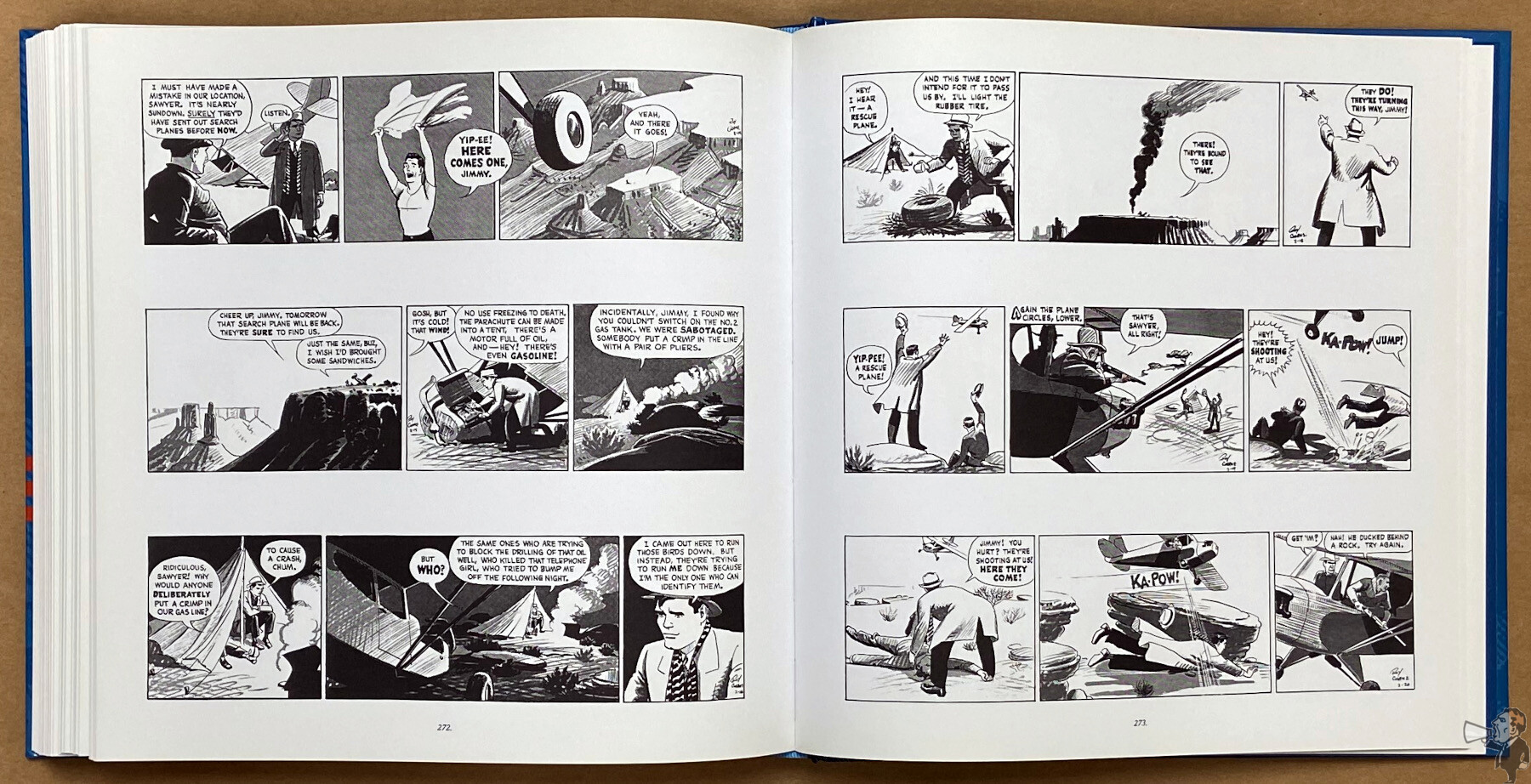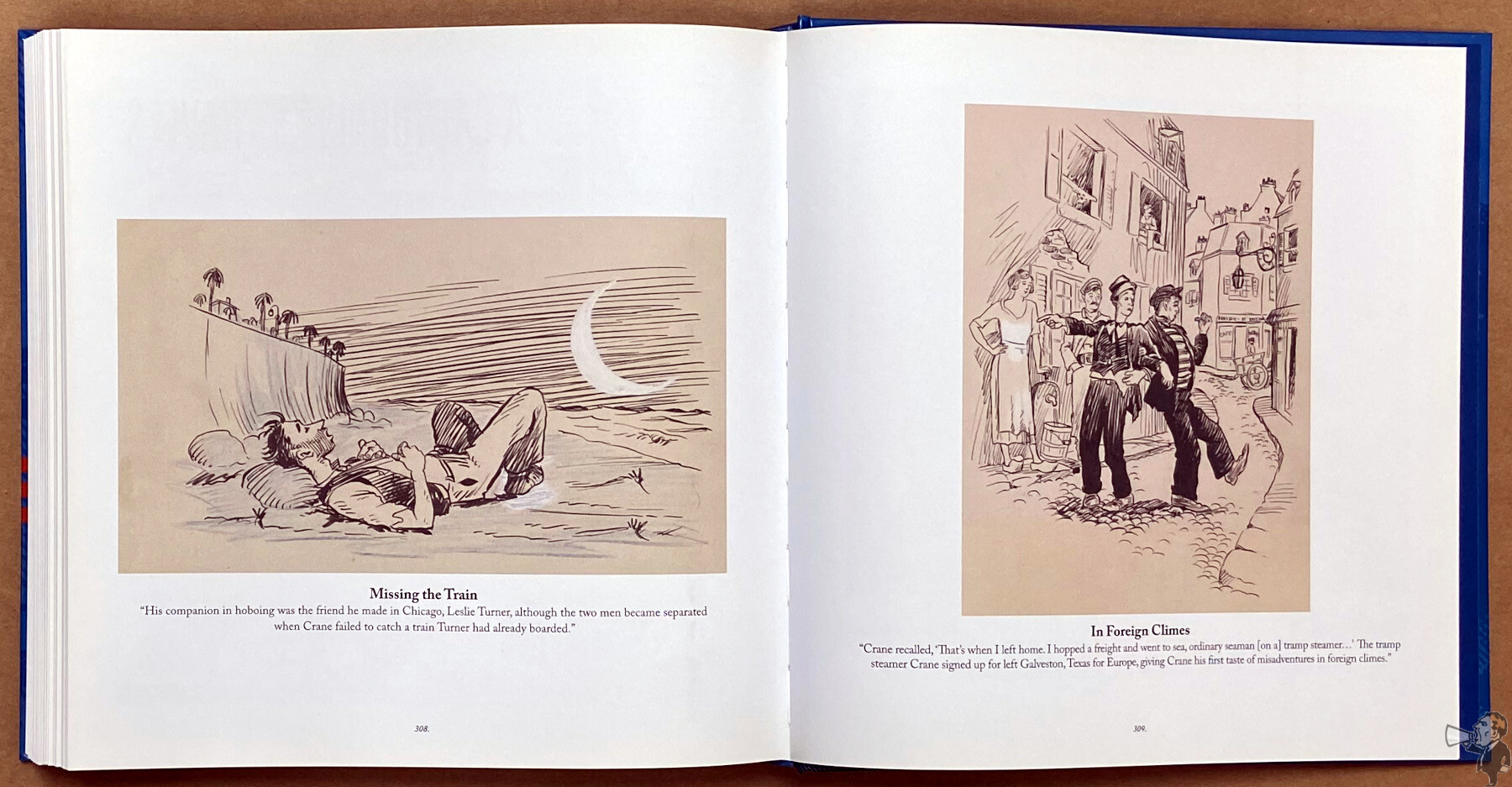 Not that controversial an opinion, but if you're reading this review you probably have an earlier volume. After reading this I had a chance to reflect on the series and appreciate the 9.25″ x 9.25″ square format, something very uncommon for newspaper strip collections. The three strips that fit on the page are large enough to catch all of Crane's panel details and allows for a manageable form factor, easy to hold and read.
I'm really not sure what Zazarof is getting revenge for, or why the story is called that. It's a new character, and Sawyer foils his scheme, so there really isn't any revenge. An attempt at a final attack, but ultimately another villain defeated. And like the previous volumes, the volume number appears on the cover and spine but not in the colophon.
---