Since getting my Big Green Egg my way of thinking about grilling and barbeque has completely changed. For one thing it meant using charcoal: something I haven't done since the old hibachi in the back yard when I was nine. When I bought the Egg it came with a bag of Big Green Egg lump charcoal: wood that had been made into charcoal by lighting it and removing the oxygen, such as burying it in sand. Nothing added, just a good burn that gives to my nostrils a heady smoke aroma. I've used a few brands, my favourite being charcoal made from maple. Cheap lump charcoal has bits of wood in it, along with the occasional rock.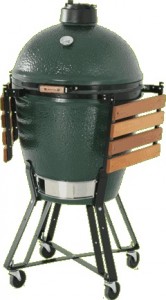 I just had a big party for my grandmother's 80th birthday on the weekend and pulled out my Weber Smokey Mountain Cooker. I bought it about four years ago but didn't know anything about using it so it sat in my garage, brand new and ready to go. After getting the Egg and using it for grilling and then for smoking I finally knew what to do with the Smokey Mountain. Reading around the web pointed me to using charcoal briquettes for it, and I just happened to have a bag of Kingsford in the garage with my camping gear (another errant purchase waiting to be used).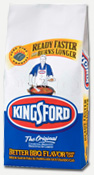 I used the low and slow method for the charcoal: get a nice pile of unlit charcoal in the base and add some lit charcoal to it. With four bone-in pork shoulders filling the the Smokey Mountain I was able to get twelve hours of cooking at 225 degrees Fahrenheit with the one load of briquettes, something I haven't attained with lump charcoal. I was making pulled pork for about 100 people so I needed to get it done in one shot. I also did a brined fresh ham on the Egg that was just stunning. In all the furor I didn't get any pictures!
What really turned me off was the toxic gasoline like odour coming from the briquettes: it was just nasty. Since it was my first time using briquettes it may be common, but it's night and day with the smell of lump charcoal.  I'm sure this is from having lit and unlit briquettes together, and each time a briquette lit the smell came out.  Kingsford gets raving reviews from cooks Illustrated and is well respected in the charcoal briquette world, but all briquettes are manufactured to get an even heat and long burn.  I know I won't be able to get twelve hours out of it, but this experience makes me stick with all natural lump charcoal.