First off let me say this isn't pulled pork.  I don't like the mushy texture and sauce of pulled pork: I like slices of succulent smoked pork shoulder on a bun with a hit of mustard barbeque sauce.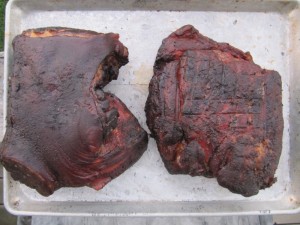 I had a de-boned whole pork shoulder in the freezer that was in two pieces.  After a good defrosting I applied a basic dry rub: equal parts brown sugar, kosher salt, black pepper and paprika.  Left the pork in the refrigerator for a day and then smoked it on my Big Green Egg.  I used the [intlink id="766″ type="post"]plate setter[/intlink] and kept the Big Green Egg at 200F for fourteen hours.  After about four hours I added additional charcoal but it went the whole night without budging; I was impressed.  As well I used four chunks of apple wood at the beginning of the smoking and that was more than enough.
I had a mop ready but every time I checked the pork was moist and dripping juice; the final product was extremely juicy and succulent.  I credit this to the fatty shoulder but mostly to the Big Green Egg.  Once off the grill I wrapped it in tinfoil, popped it into cooler and served it sliced six hours later.  It went so fast I didn't have time for a slicing photo but this turned out so well smoked pork shoulder will become a regular on my table.