While I was smoking the pork shoulder I was also roasting a whole leg of pork in my oven.  I was looking after a lunch and needed both meats ready at the same time, otherwise I would have used my Big Green Egg for both.
Low and slow was my oven approach: twelve hours at 225F.  First I made a paste of thyme, rosemary, garlic, salt and pepper in a food processor with enough olive oil to keep it moving.  I then cut through the skin creating the pattern shown above: this allowed deep penetration of the herb paste.  After just fitting into my roasting pan the twenty six pound leg was put into my oven and left until the next day.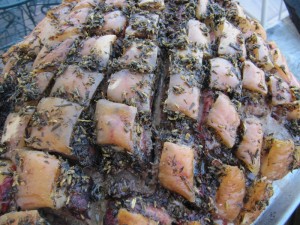 Two issues with prolonged oven roasting.  The skin becomes rock hard and needs to be discarded: since I made the lattice pattern it was a pain to trim neatly.  Secondly it dries out a bit: not a lot because of the low temperature but it greatly benefits from regular basting.  Next time I'll remove the skin, score the meat, apply the herb paste and wrap the skin around the roast.
It carved beautifully, thin slices off the roast.  I held it up and carved towards the cutting board; had a good grip with a napkin tied at the small end.  A very nice presentation that works with beef, pork or lamb.