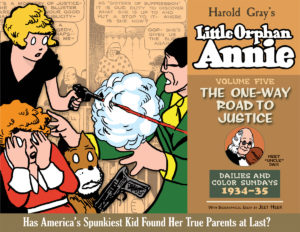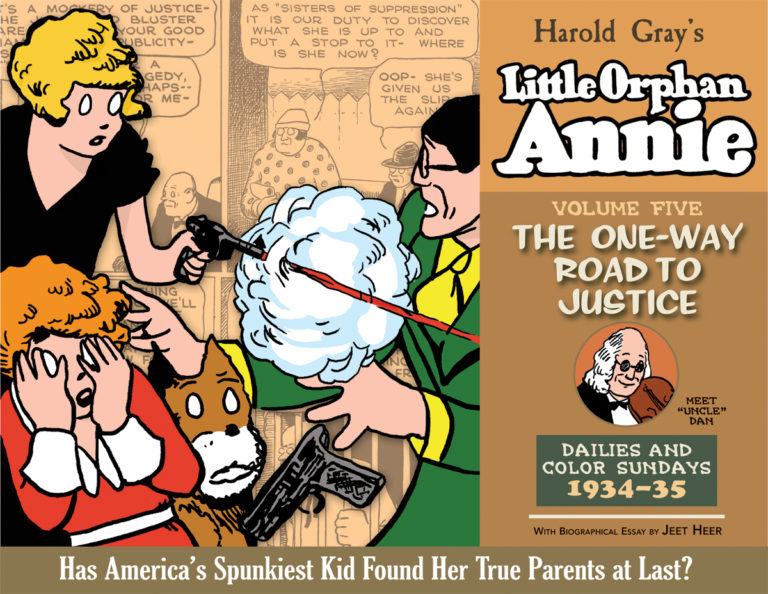 Together with the blind fiddler, "Uncle" Dan, Annie square off against the Chizzler, then embarks on her first novel-length adventure. In a story lasting nearly a full year, Annie's supposed "real" parents-Boris and Libby Bleek, leaders of the criminal Ghost Gang-gain legal custody of her, while "Daddy" Warbucks is hounded into jail by the unscrupulous politician, Phil O. Bluster. "The One-Way "Road to Justice" leaves a penniless Annie and "Daddy" and on the bum amidst the Great Depression. Containing every daily and color Sunday strip from July 1933 through February 1935, with the dailies printed directly from Harold Gary's original artwork.
280 pages, 11″ x 8.5″
ISBN 978-1-60010-580-7
$49.99 USD
An eleven month extravaganza of a story. Unbelievable!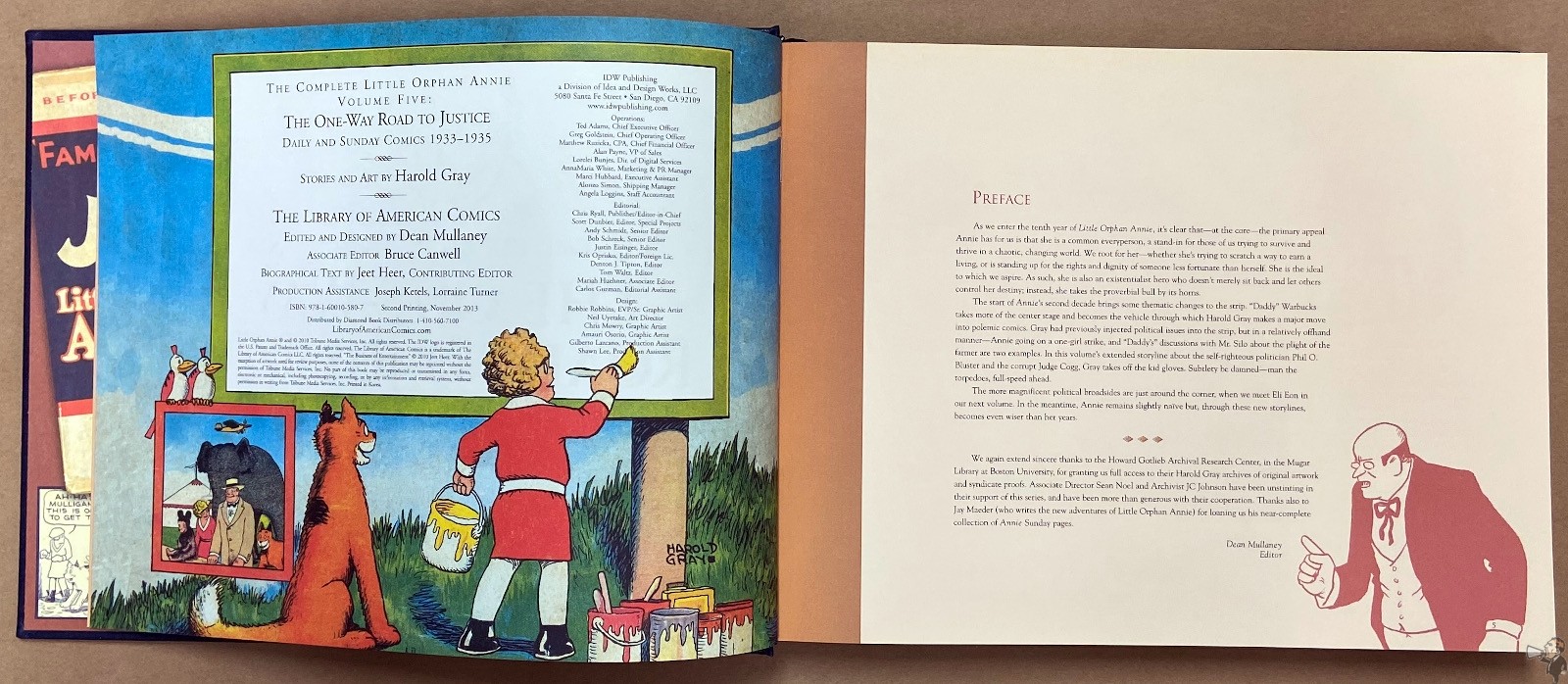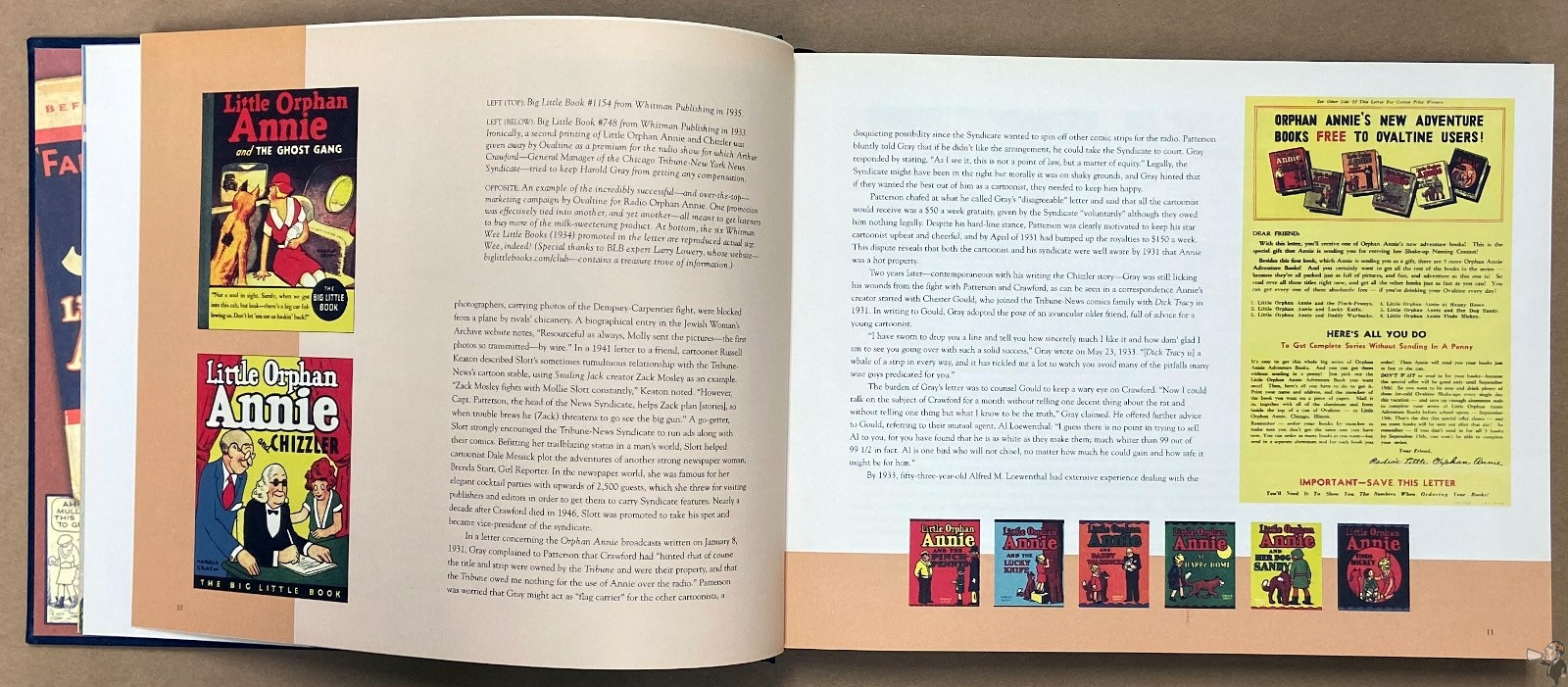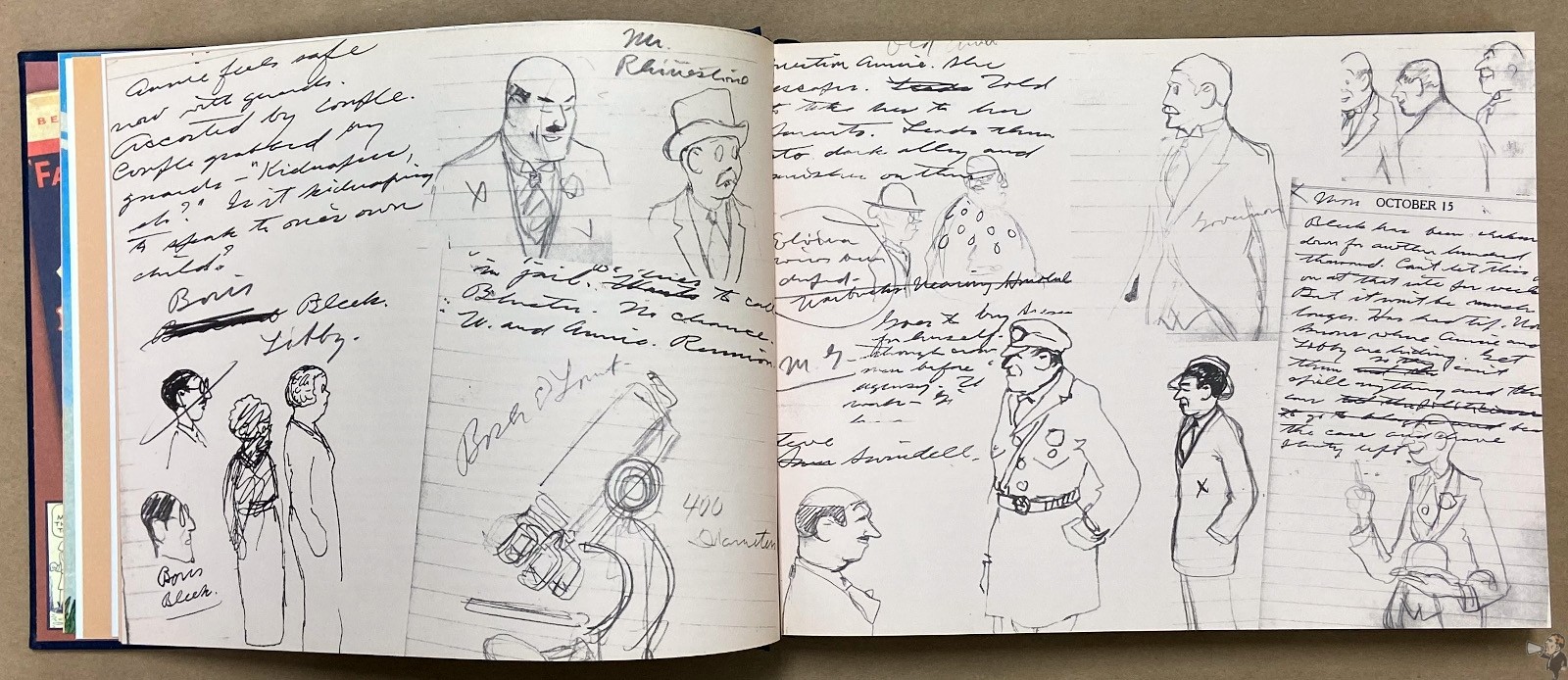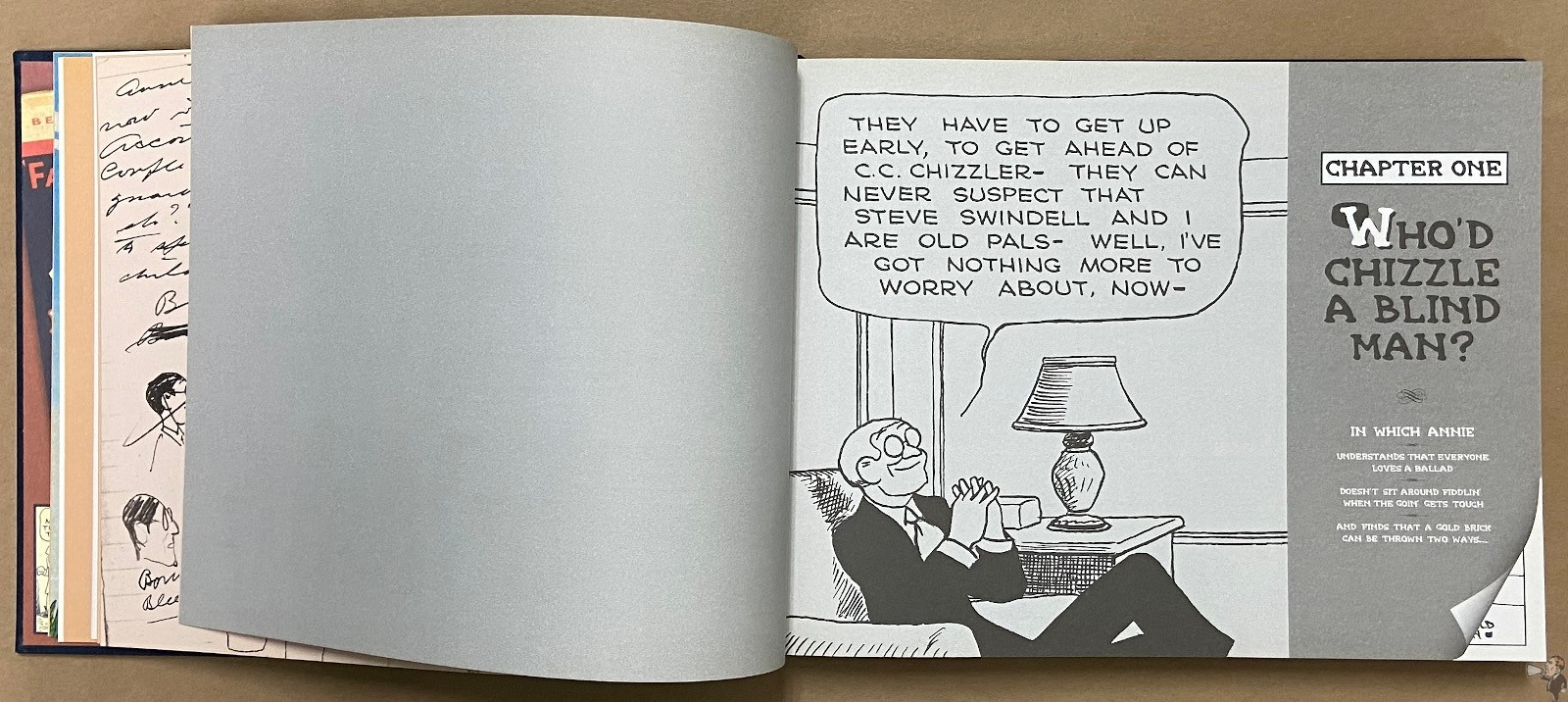 We're treated to two excellent stories in this volume, one a normal length and then the incredible eleven month odyssey. First up Annie is again left to her own devices so she stumbles into a performance act with an older blind man and once again gets herself into show business. Their business manager is Steve Swindell, so I'll leave that to you to determine how that goes.
Then we get a story of Annie's parents finding her and taking her away from "Daddy". You will not be surprised to learn these aren't her real parents, and the story takes so many twists and turns you can't stop yourself from turning page after page. These two new characters develop at a steady pace and layer after layer is revealed. I can only imagine readers following this storyline every day in their newspaper, scrambling for the next installment.
This volume closes out with the beginning of a new story as Warbucks' fortune again takes a turn for the worst and Annie once more applies her hearty work ethic to their dilemma.
If you've read to this point in the series no doubt you continuously wonder how Gray can keep going to the same well of Warbucks' overall inability to provide. And again we see Annie being the primary caregiver.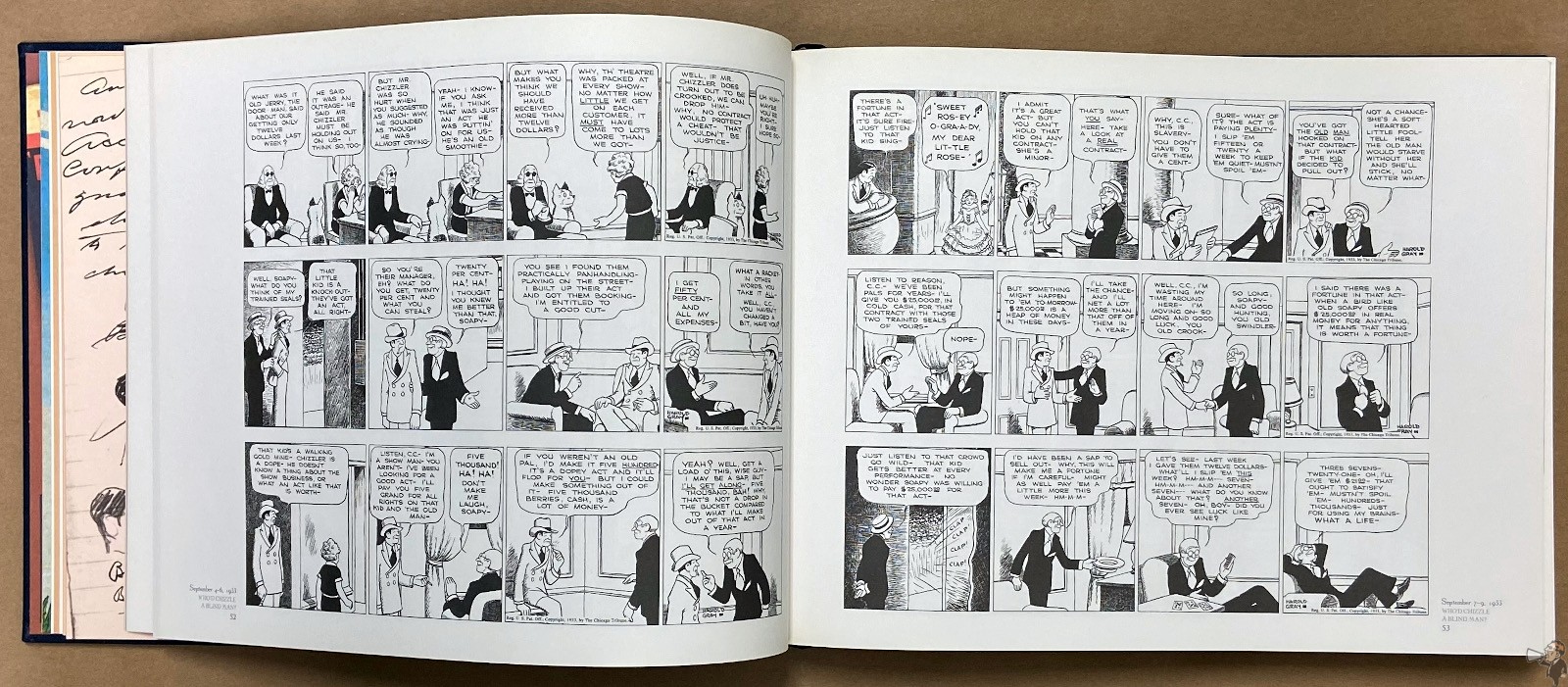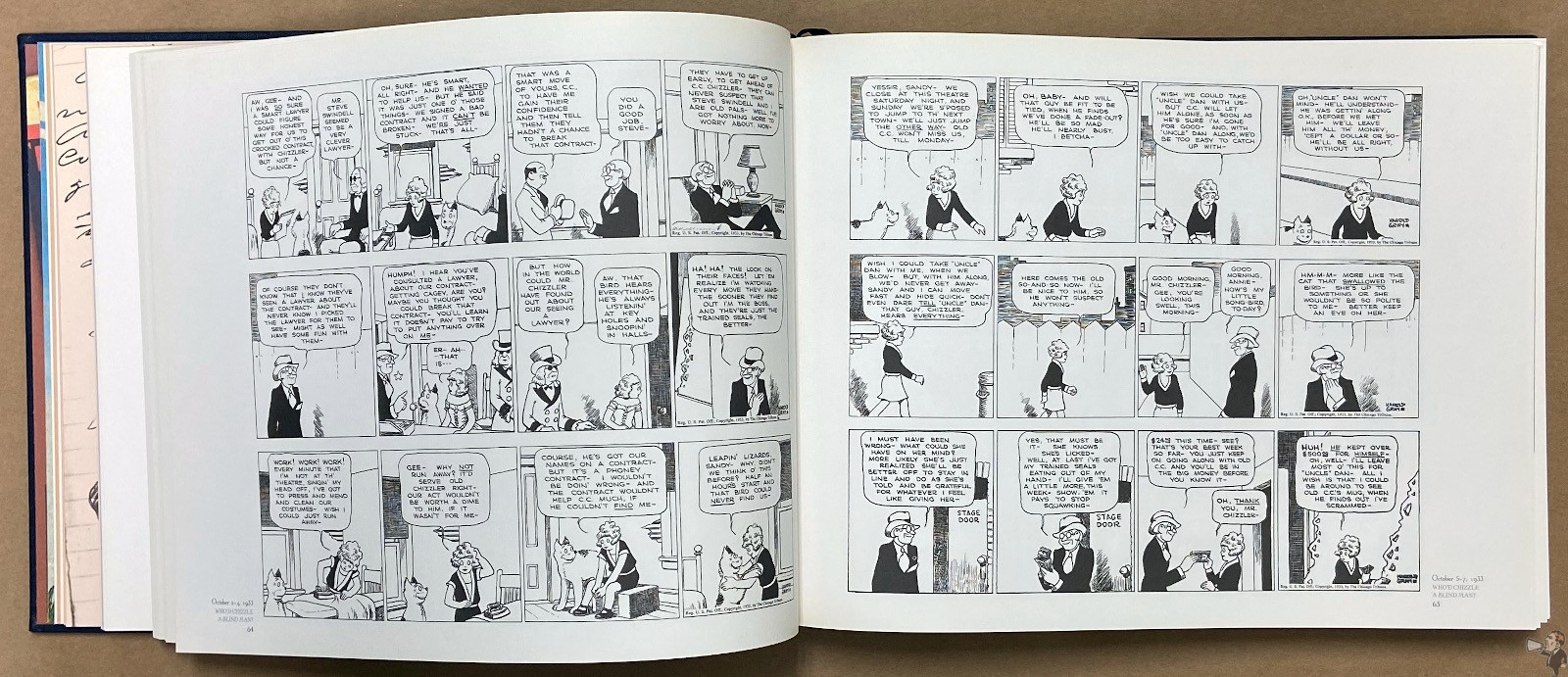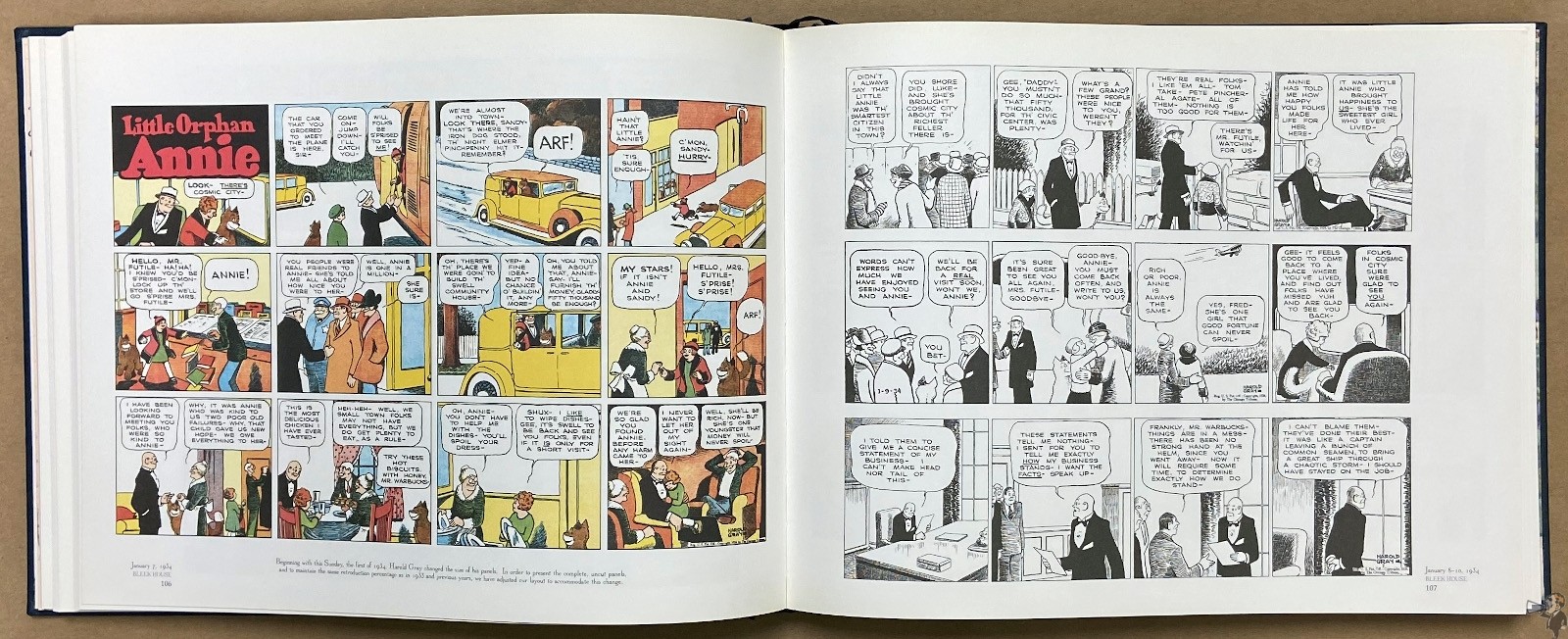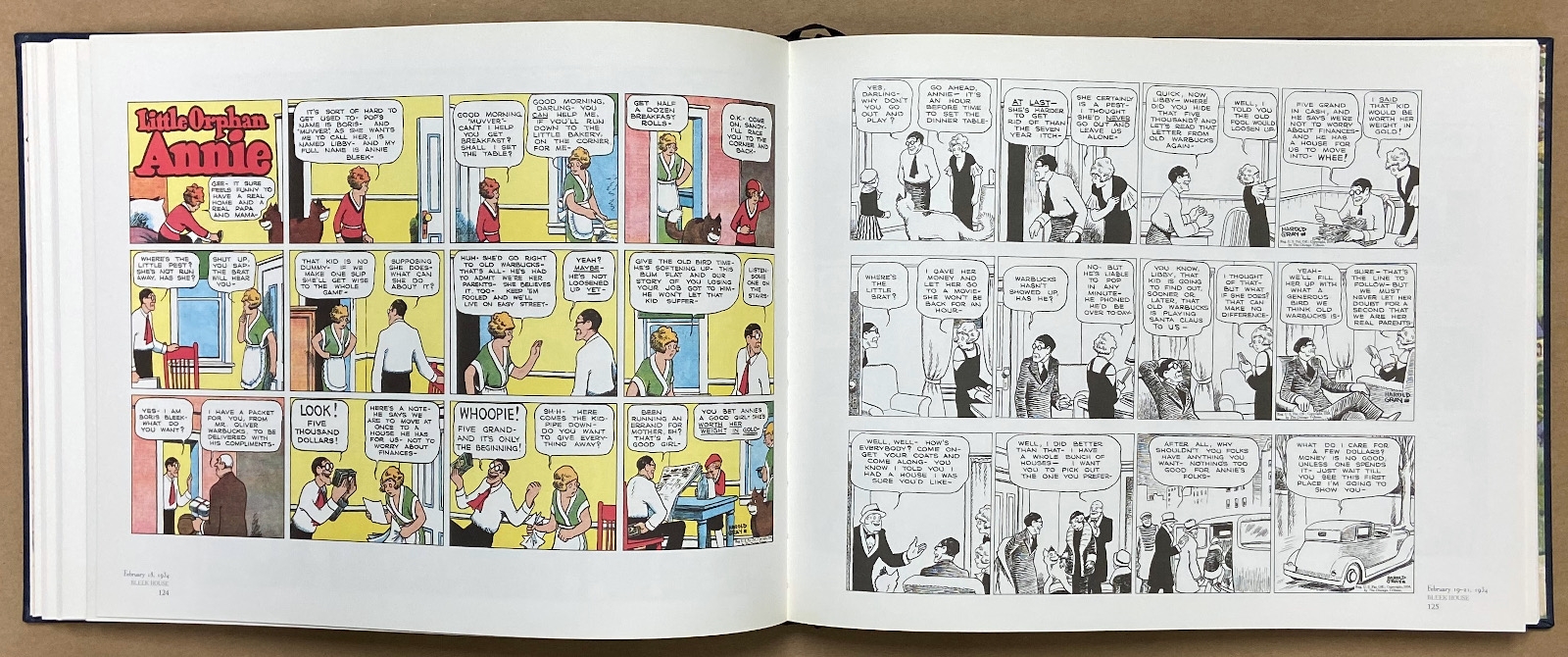 The supplementary material continue to expand the reader's depth of not only the time period of the work but its context in that period. This time around Heer gives us Annie and Gray in "The Business of Entertainment", as Annie appears in film, radio, and books.
Gray's art remains consistent throughout and appears the same as the previous volume. He is slowly refining his style but over the course of two years, it's hard to pinpoint anything in particular. One look and you know who it is.
Mullaney continues with the design established for this line: simply wonderful throughout. I love the way he incorporates art, like the colophon in the first image. And those chapter dividers!
A very solid production with a sewn binding of thick matte paper stock. The book spine gave some crackling as I gently worked the book for these images. The silk ribbon is a hallmark of a quality book.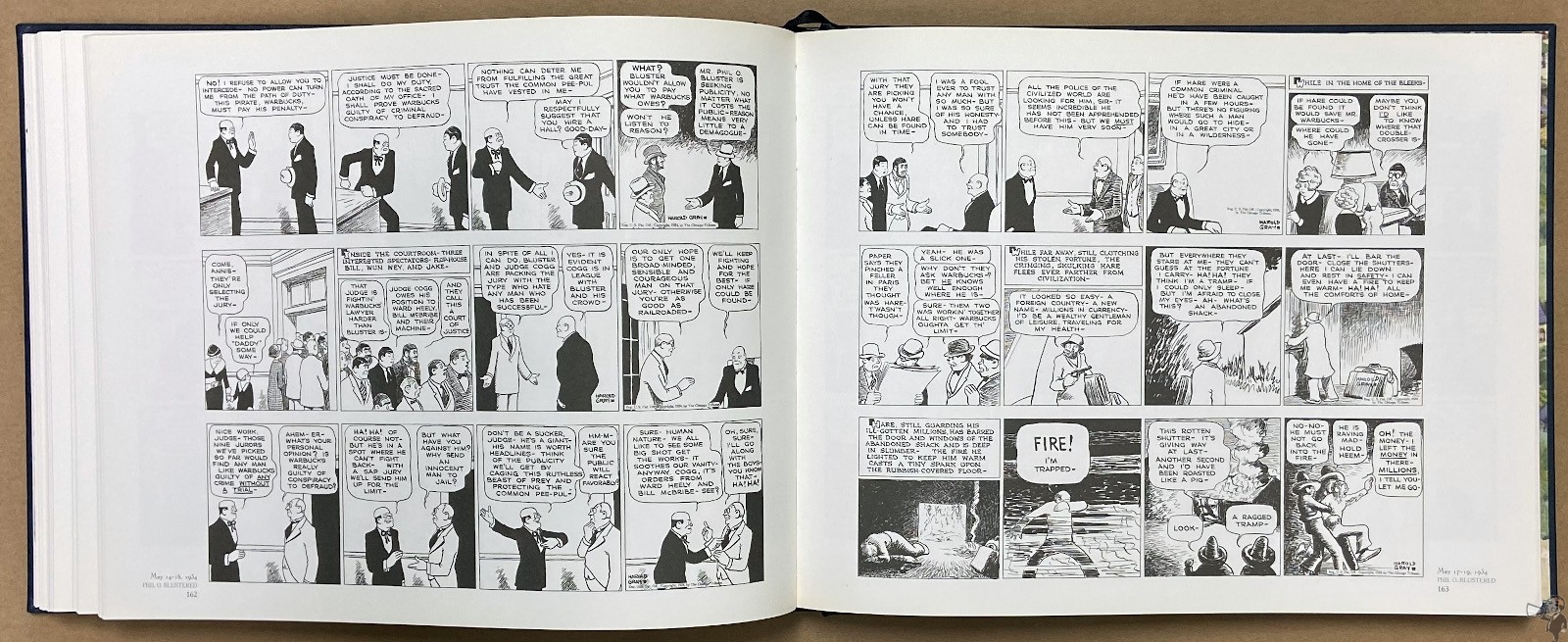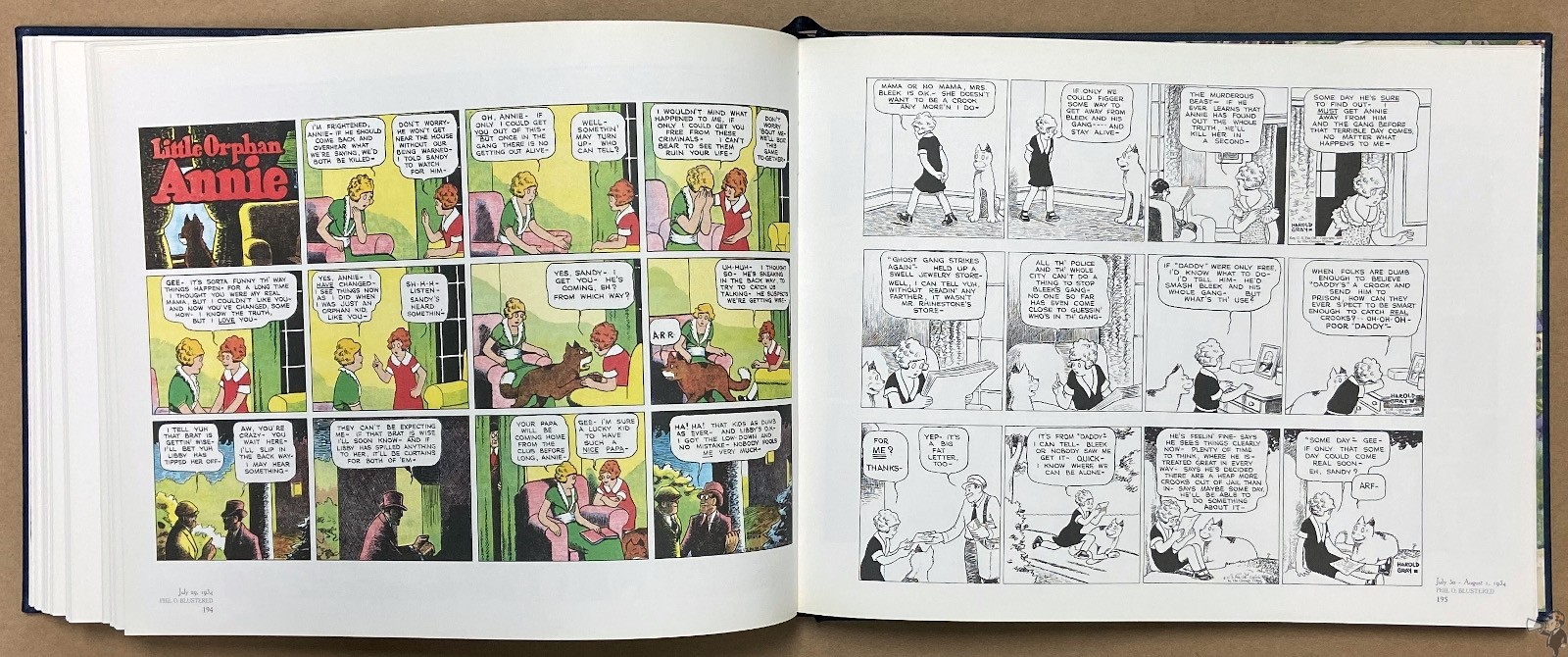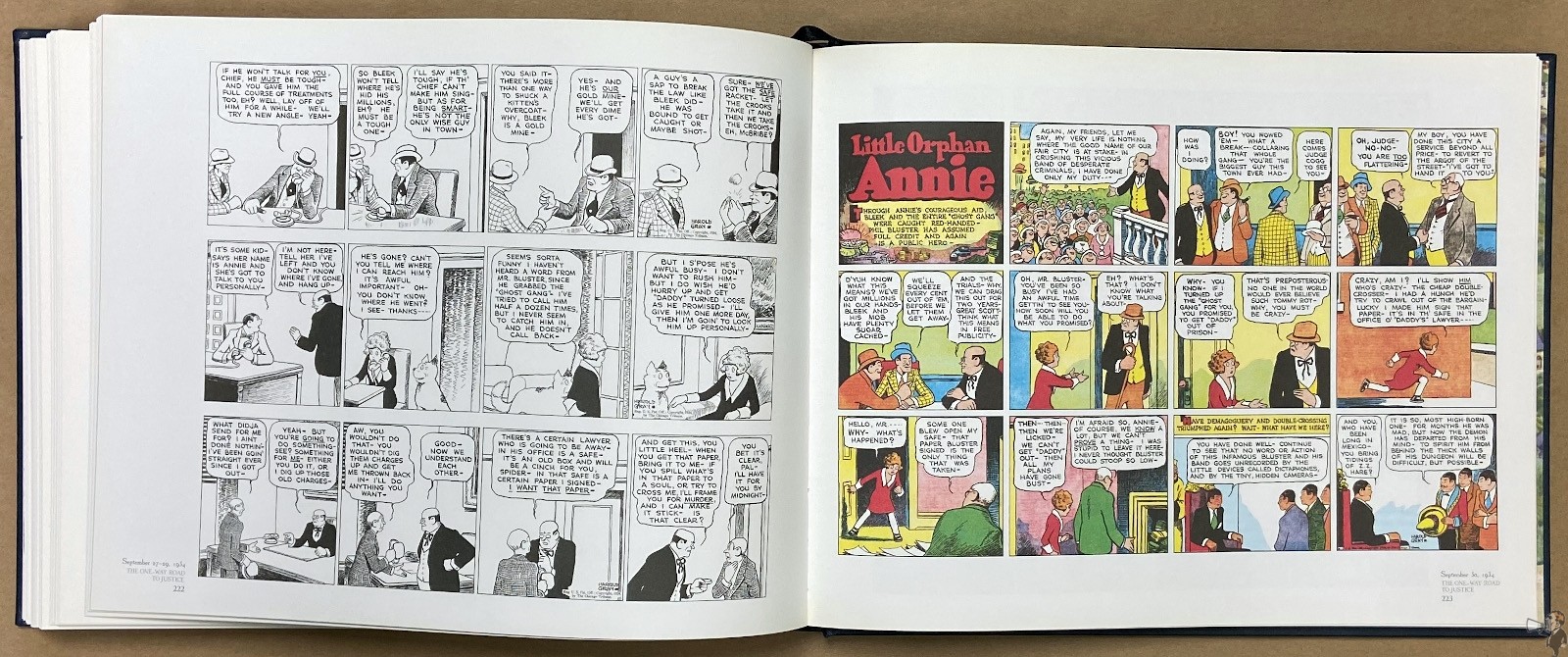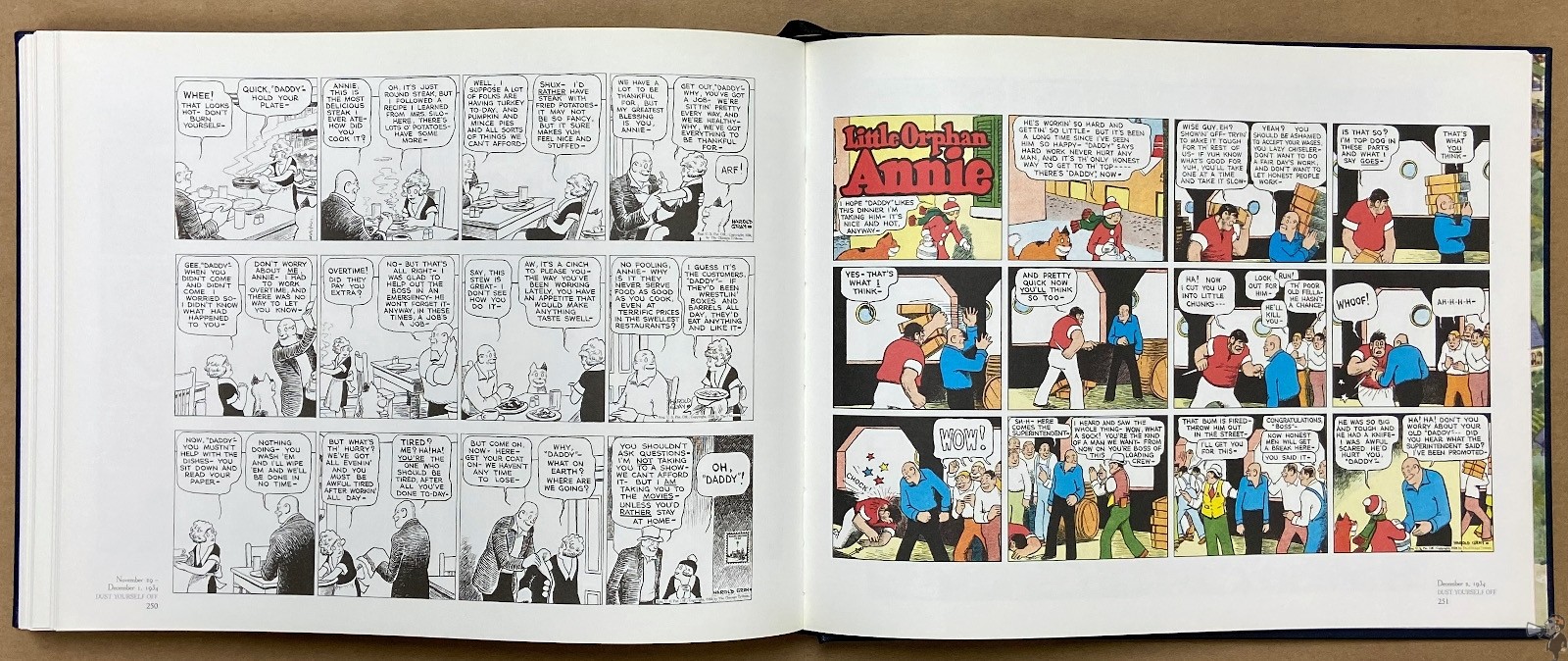 ---