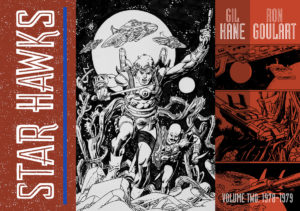 This second of three volumes reprints more than 300 strips in a unique two-tier format, seven days a week. The Library of American Comics edition reproduces each strip on its own page so readers can relish Gil Kane's incredible achievement. Included are all strips from August 11, 1978 – June 10, 1979. Star Hawks takes place in the "Barnum System" that Ron Goulart used in several of his novels.
Library Of American Comics, December 2017
Written by Ron Goulart and Archie Goodwin
Illustrated by Gil Kane, Howard Chaykin and Ernie Colon
Edited and designed by Dean Mullaney
Introduction by Bruce Canwell, afterword by Daniel Herman
9.25″ x 6.5", 328 pages
$39.99 USD
Another rollicking action-adventure volume, following our fearless heroes Rex and Chavez as they wade their way through the scum and villainy of the universe.



Stories continue to focus on perilous missions in exotic locations, but Goulart has the wherewithal to work in fun and romance whenever possible. It's the essence of the strip and keeps the reader coming back.
The final story arc is written by Goodwin who immediately builds Rex's backstory and origin, taking a sharp turn from the strip's existing rhythm. But it works.




The fill-in art can be striking in its difference, especially Chaykin's work. It's great, classic Chaykin, but there's no mistaking it for Kane.
Quality of the strips vary greatly. Some are crisp, clear and appear taken from original art. Others are so muddy and blotched it's hard to see the characters. And most of the strips fall somewhere between the two. Human nature has us enjoying the good strips without much comment but nitpicking those that are poor in quality. The entire Stamms storyline is really rough.
For the most part, the text is clear and has been cleaned up; a few strips were missed but overall it's a great reading experience.



I find myself reading the introduction and afterword once I've completed the contents, and both deliver on fleshing out the material through a focused look at the creators during this working time period.
Production is outstanding, with heavy matte paper stock, silk ribbon, and no dust jacket (thank goodness).
Originally appeared at Comic Book Daily.
---