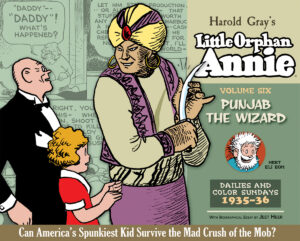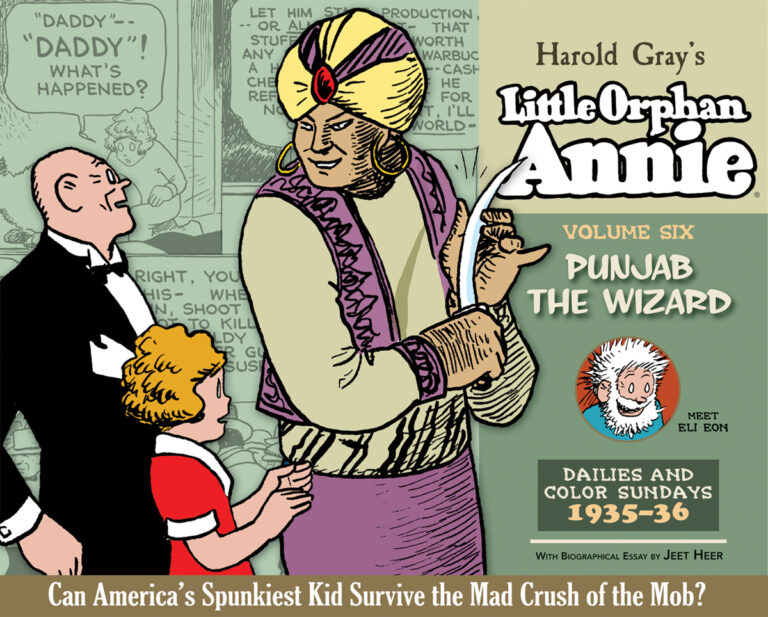 Introducing one of the strip's most beloved characters, the mysterious Punjab the Wizard, and including one of the most famous Little Orphan Annie stories of all—that of the brilliant Eli Eon, who invents a material that never wears out and promises to make the world a better place for everyone. Unfortunately, for both Eli and the world, evil forces are determined to steal his formula and use it for their own purposes. The only ones in their way are Annie, "Daddy" Warbucks, and their new ally, the indomitable Punjab! Includes all dailies and color Sundays from February 1, 1935, through September 30, 1936.
276 pages, 11″ x 8.5″
ISBN 978-1-60010-792-4
$49.99 USD
Order online: Amazon
Annie is left alone, again. And she stumbles into a new career and is exceptional. Again. And helps solve a murder, again. I'm sensing a theme now that we're out of the first decade.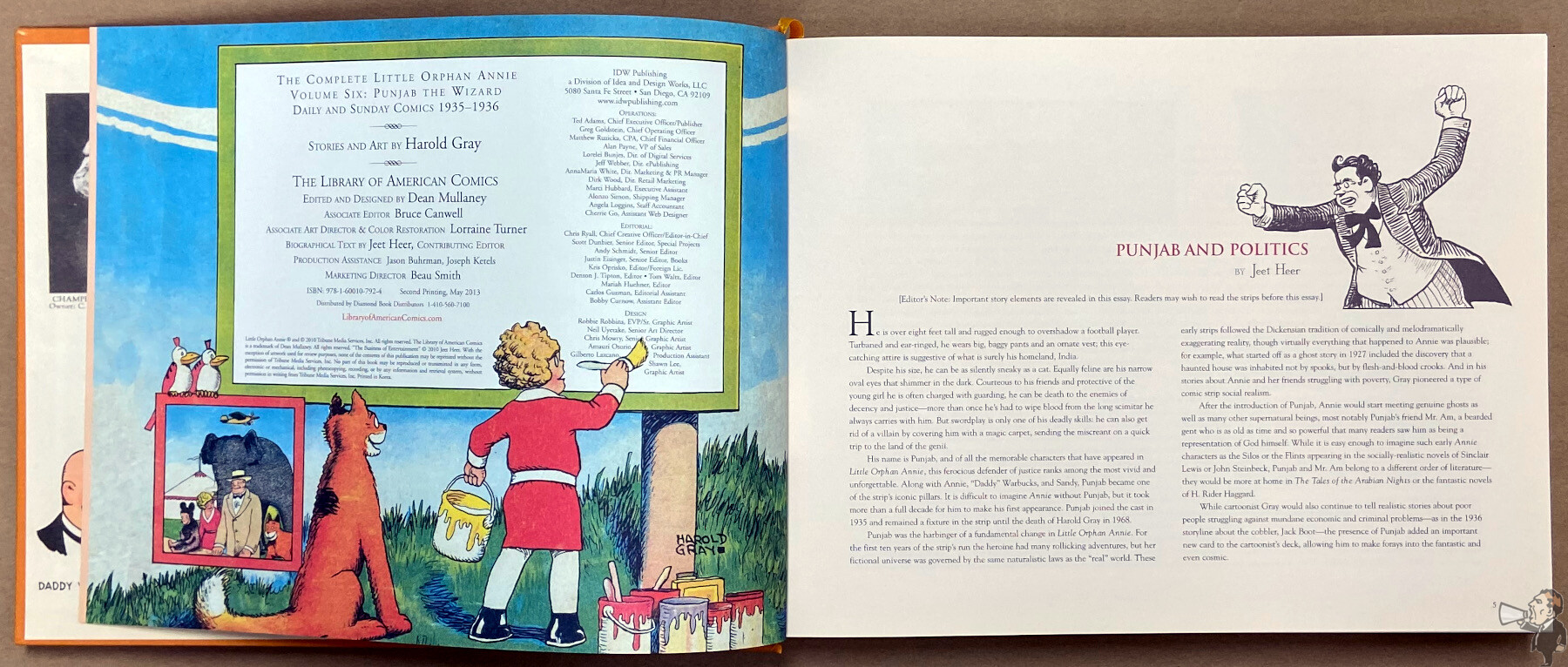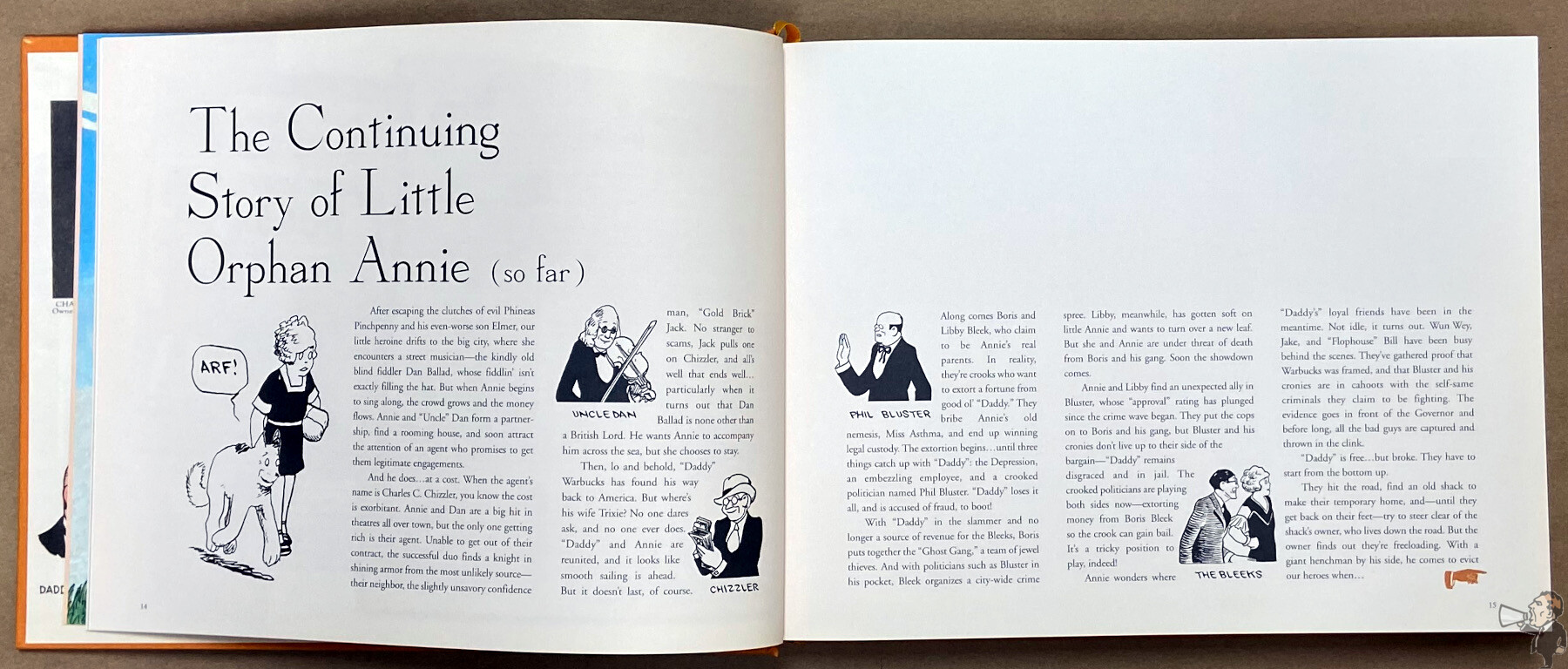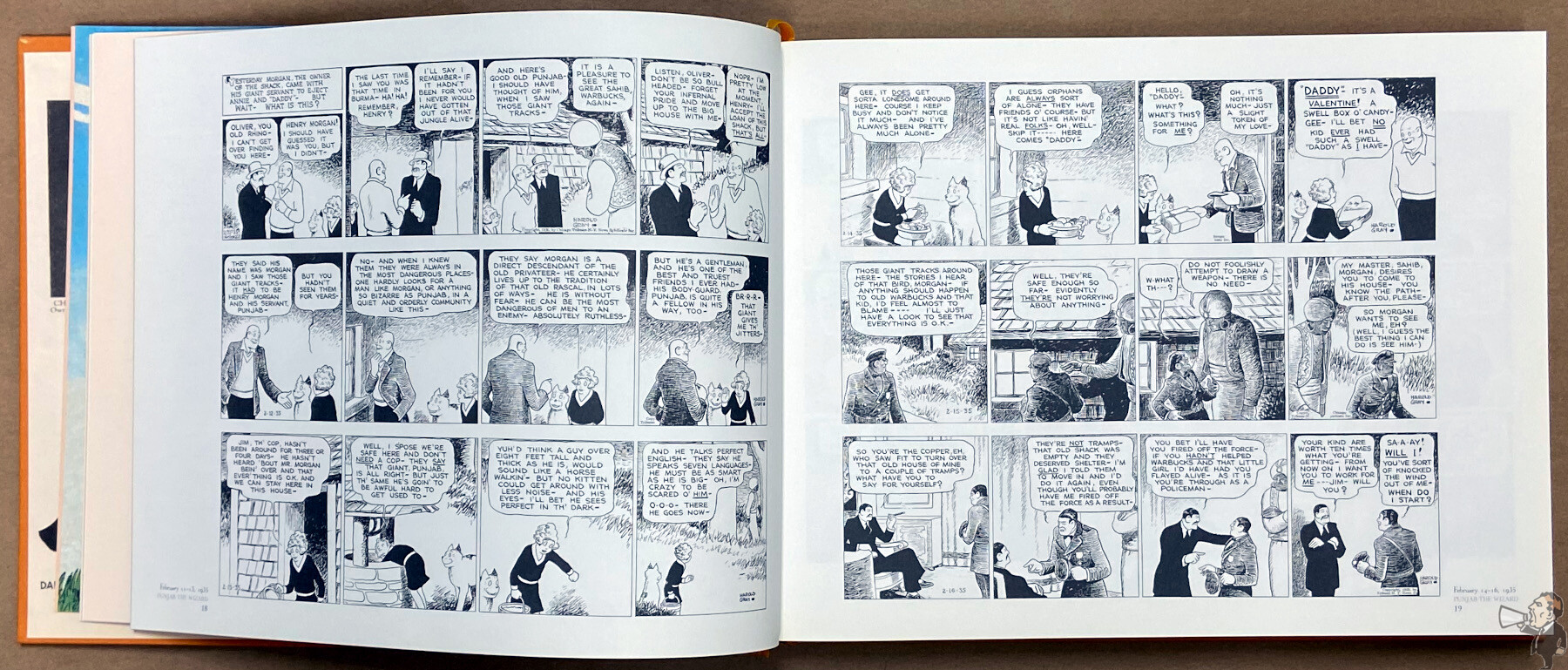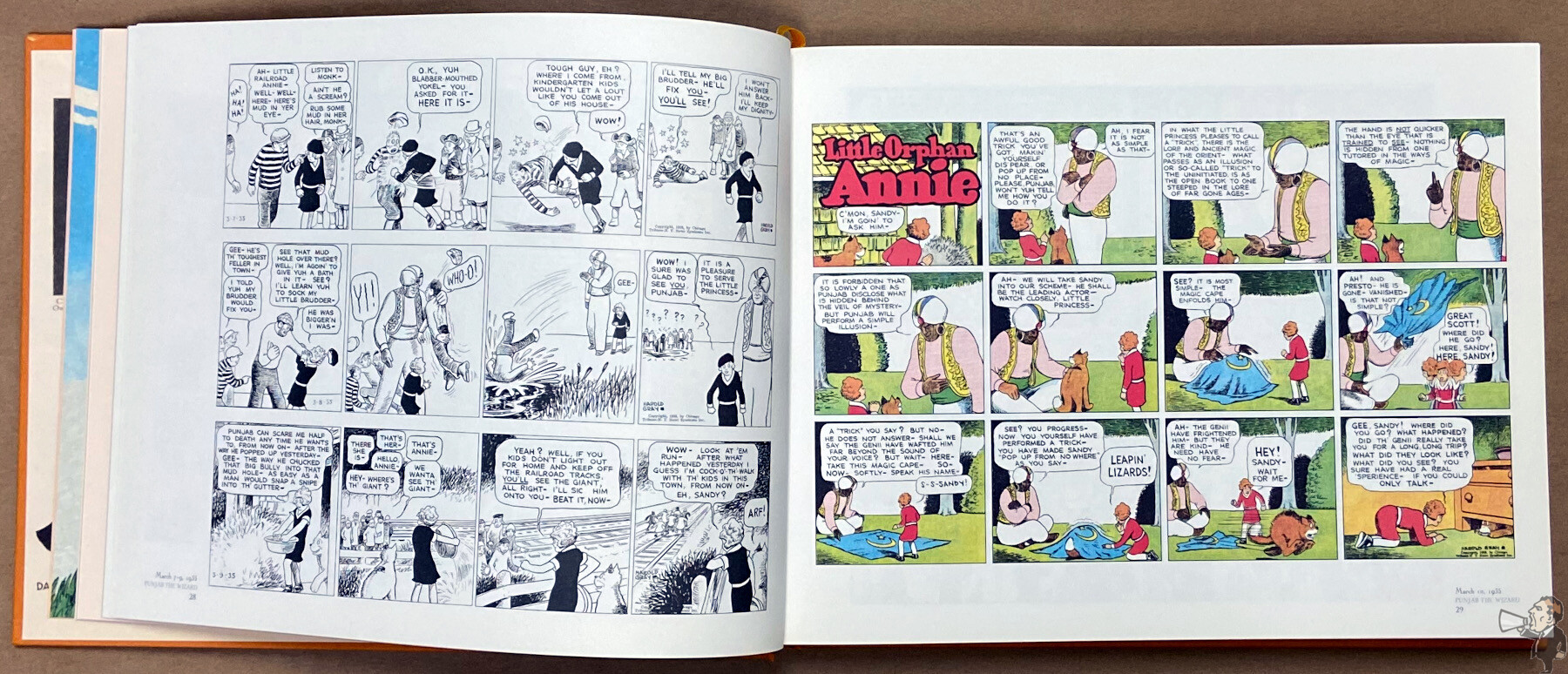 I may be a little hard on the author, but whether the story travels down familiar roads it continues to be a page-turner. That's because Annie isn't the star in any of this volume's stories. Each has Annie as the point of reference and continuity, but it's all about the new characters introduced. The first story has some carryover from the previous volume, but otherwise, it's all-new characters that we most likely won't see again.
The opening story deals with a mysterious inventor, a "super" product, the power of persuasion or the fickleness of the masses. It's quite engaging. There's an entire week of dailies where the characters wonder who their mystery man is. Six days. If I was reading one strip a day I would be on the edge of my seat screaming "tell me" but the time it was revealed.
Annie ends up on the road on her own and ends up in Hollywood acting. No violence this time, just entitlement. Next, she moves on to small-town America and gets involved in a thirty-year-old manhunt. Mystery, justice, greed.
All three stories well told with some very clear statements by Gray about society at that time.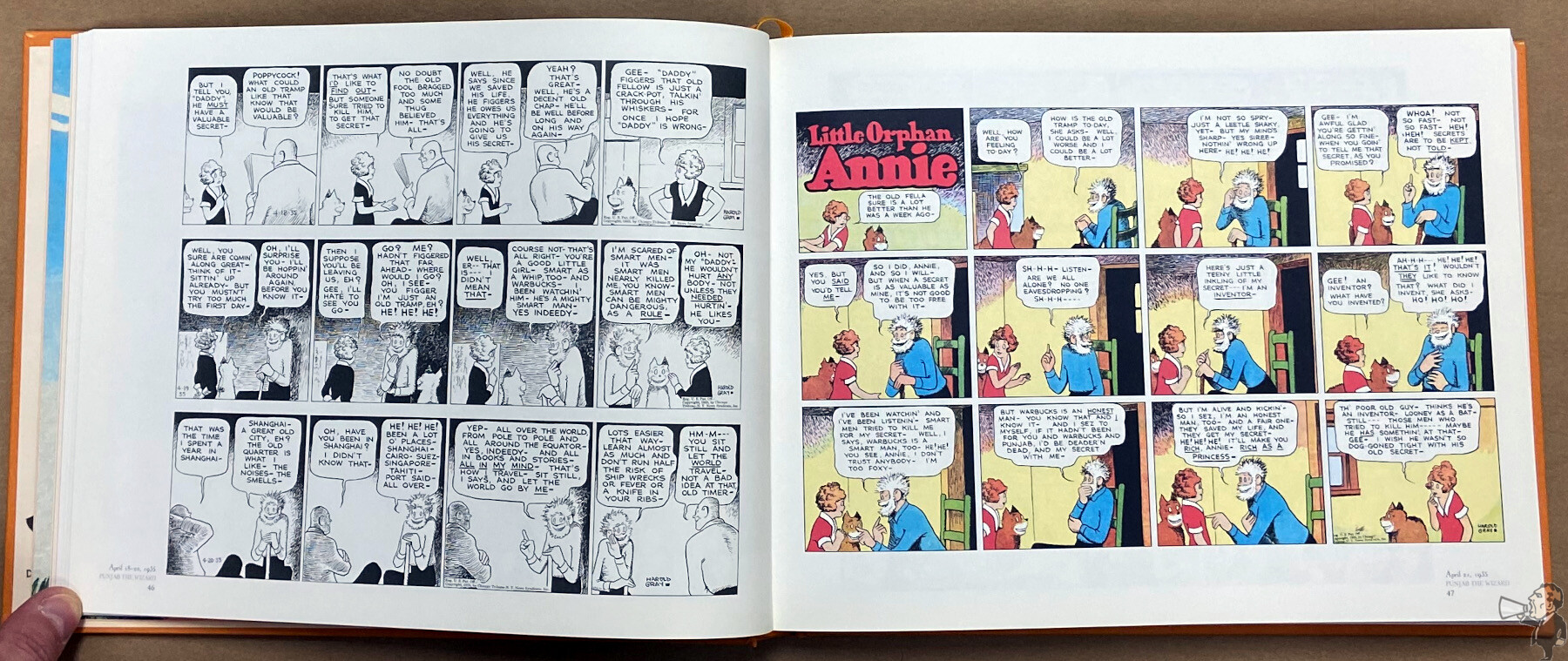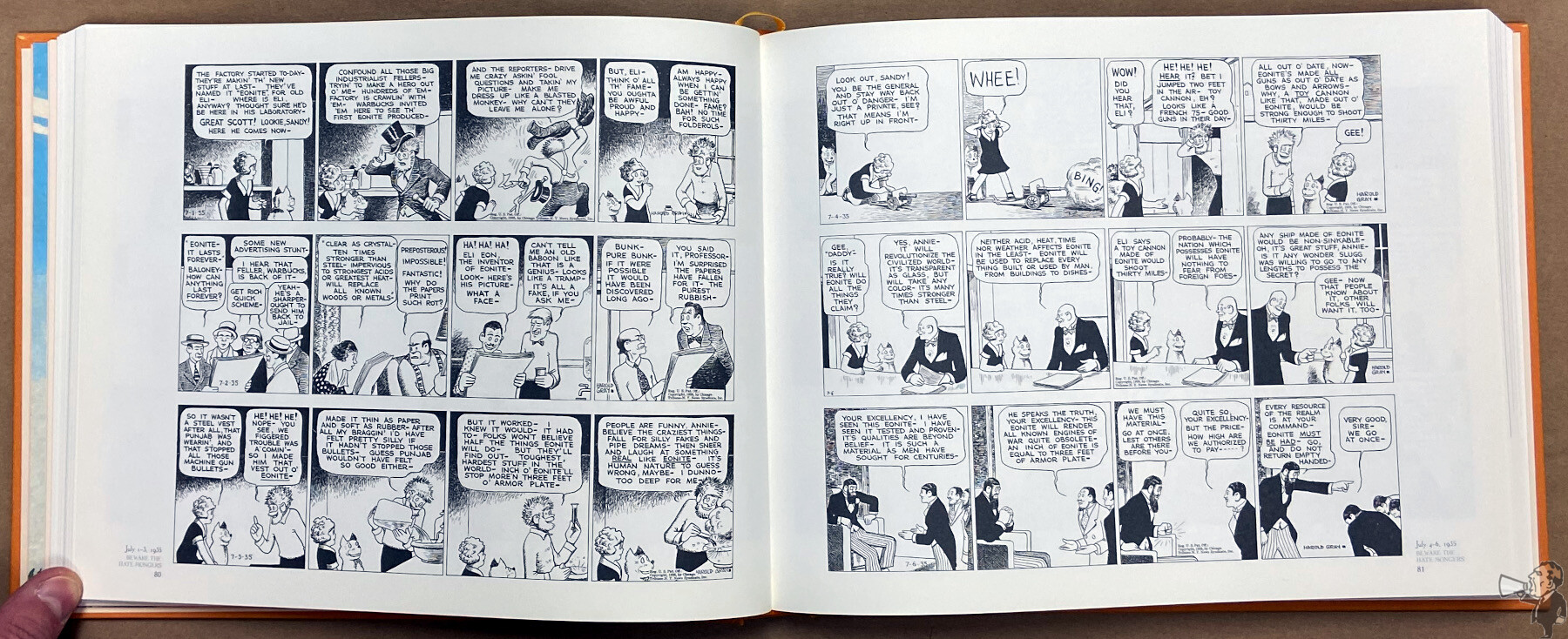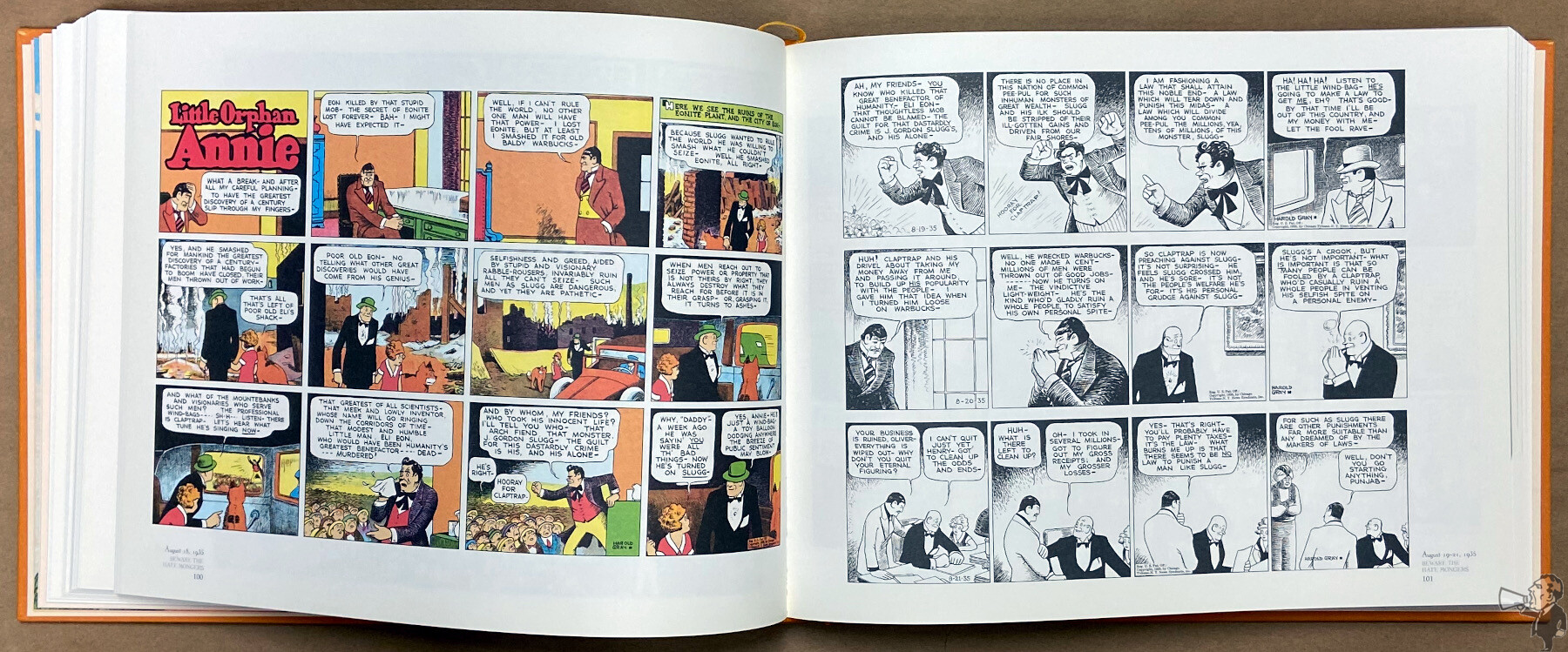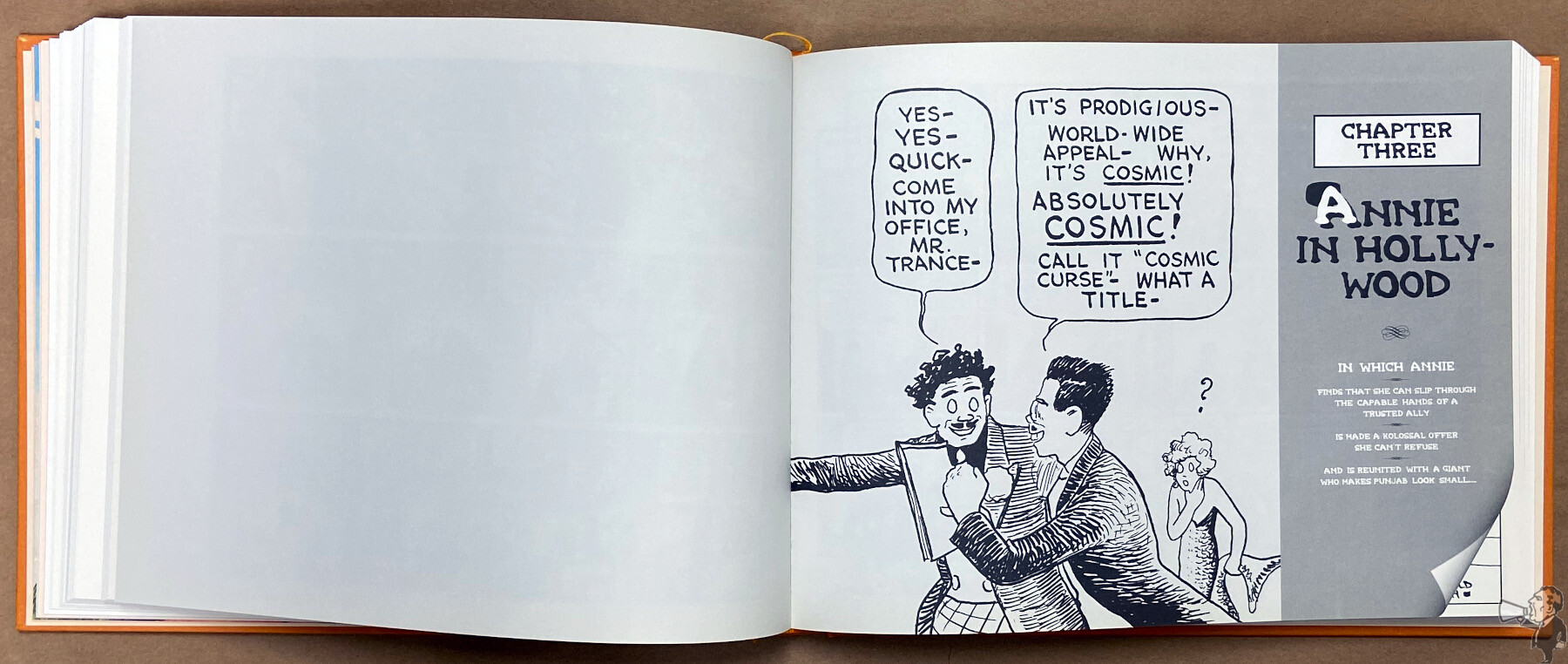 After reading six volumes it becomes difficult to see the art as anything but expected. It's hard to recognize evolution in Gray's style. Annie at this point is iconic with a set look. To my eye the characters seem to be rounder in shape; soft corners, no edges.
The tried and true design continues. While the early volumes had different coloured cover boards, the series settles on orange and looks that way to the current volume (16). Excellent chapter dividers with an art enlargement, sneak peek and the turned corner. Great stuff. And the silk ribbon can't be mentioned enough: every book over 100 pages needs a silk ribbon. The colophon is perhaps the best use of repurposed art.
The same holds true of the production: tried and true. Strip reproduction is excellent. A sewn hardcover binding of heavy matte paper stock. Sturdy and meant to last. All wrapped in a dust jacket, the weak link of the endeavour.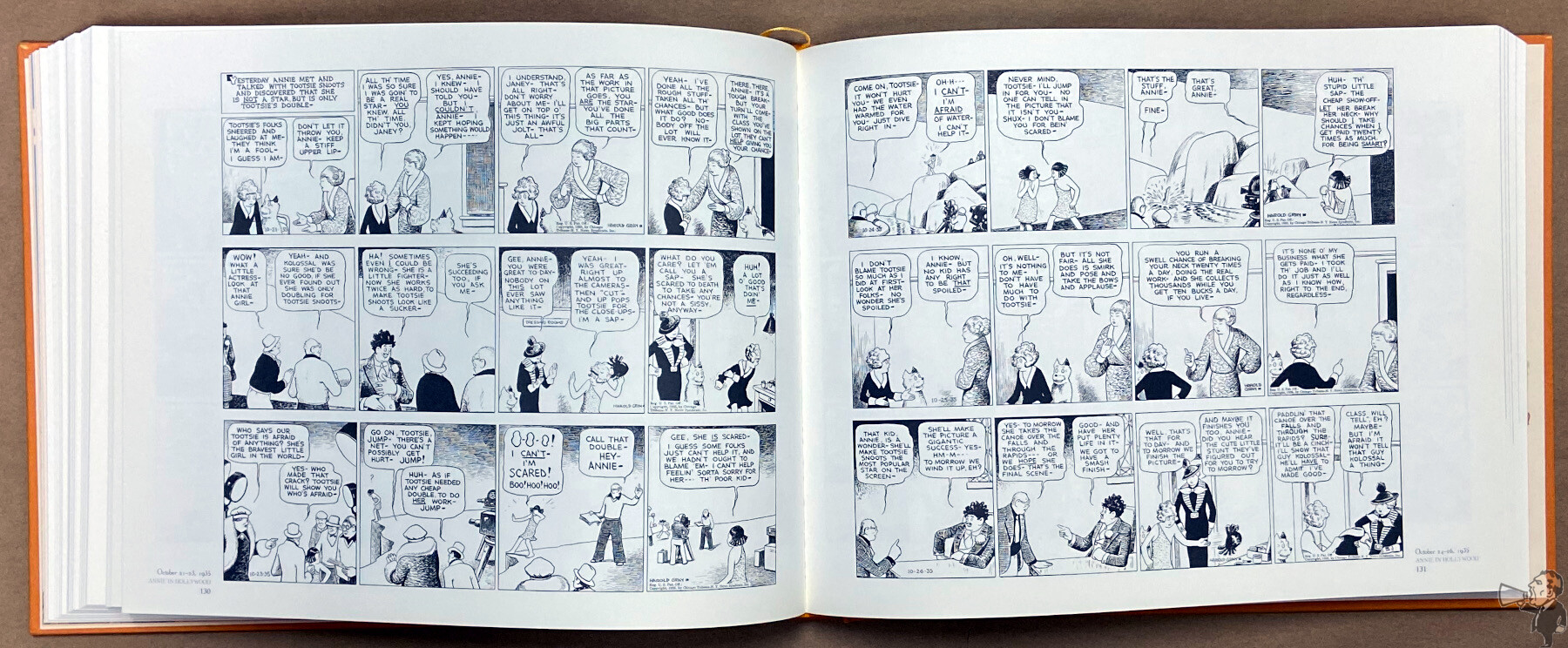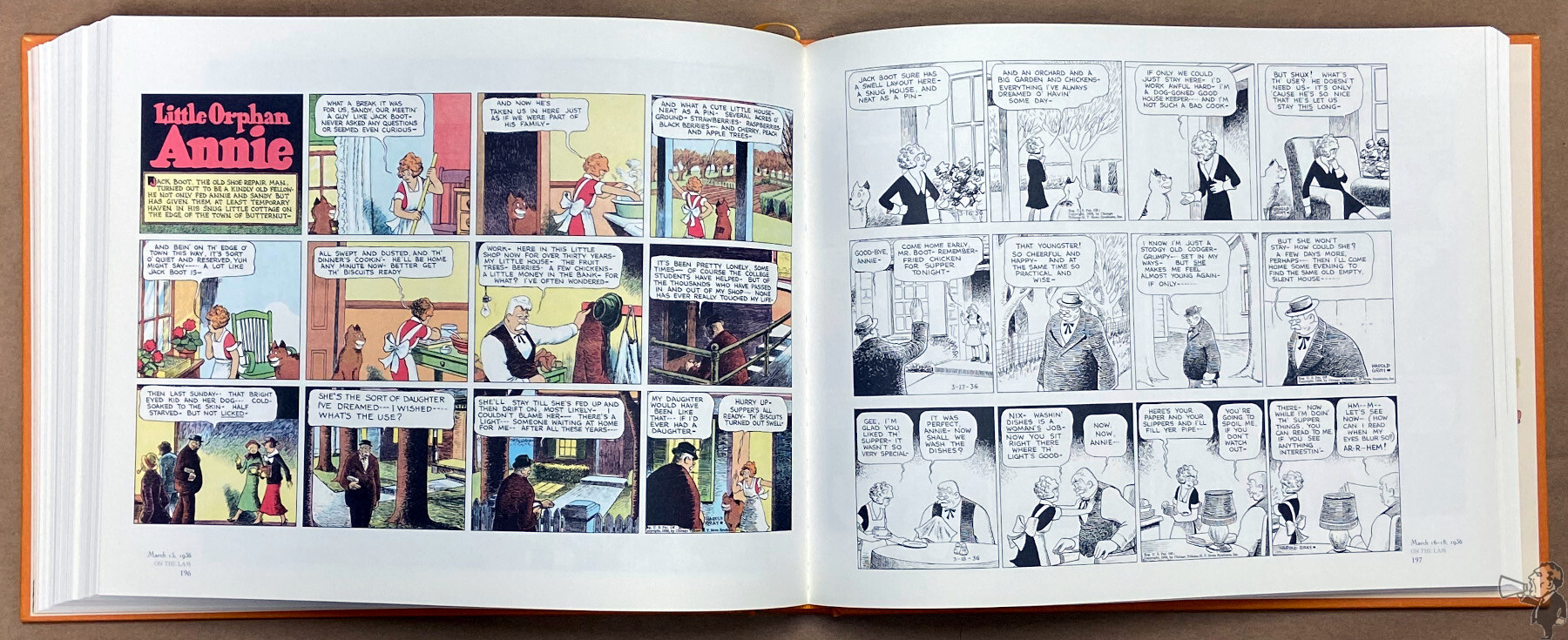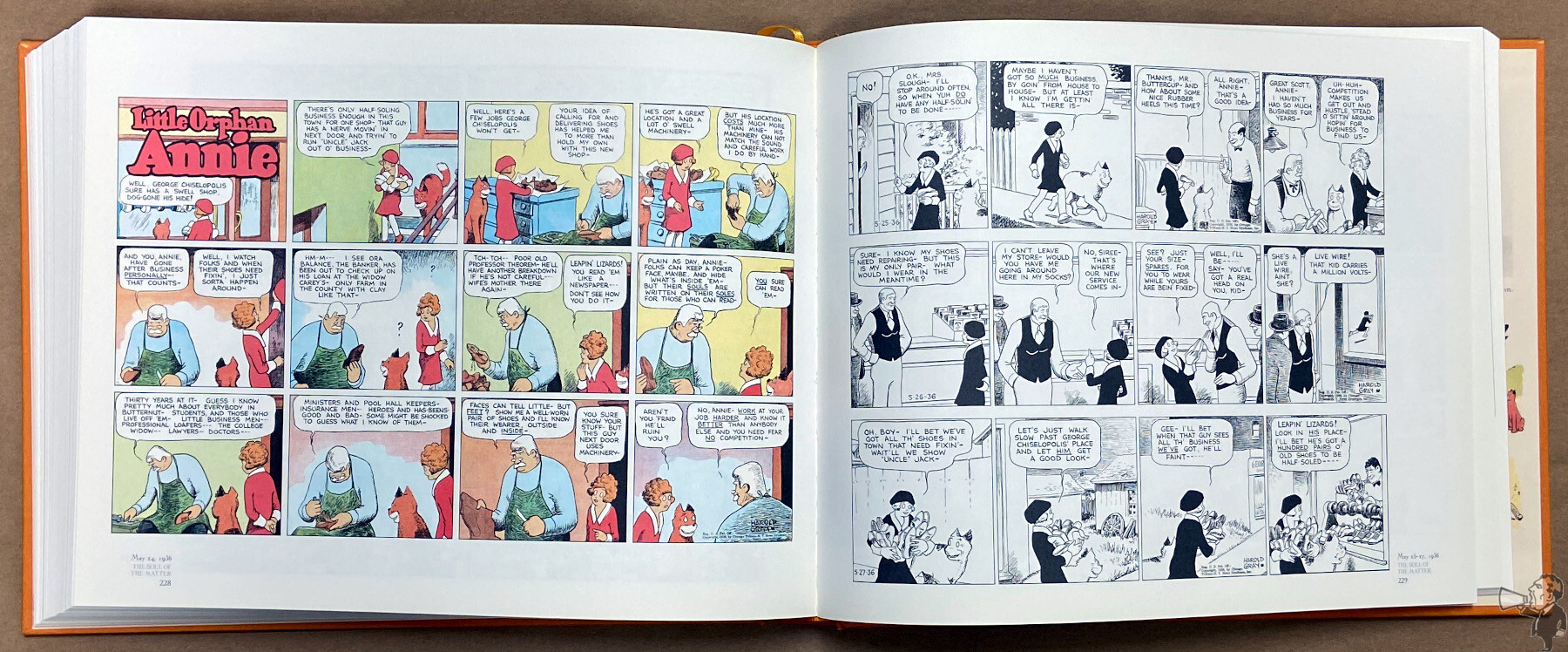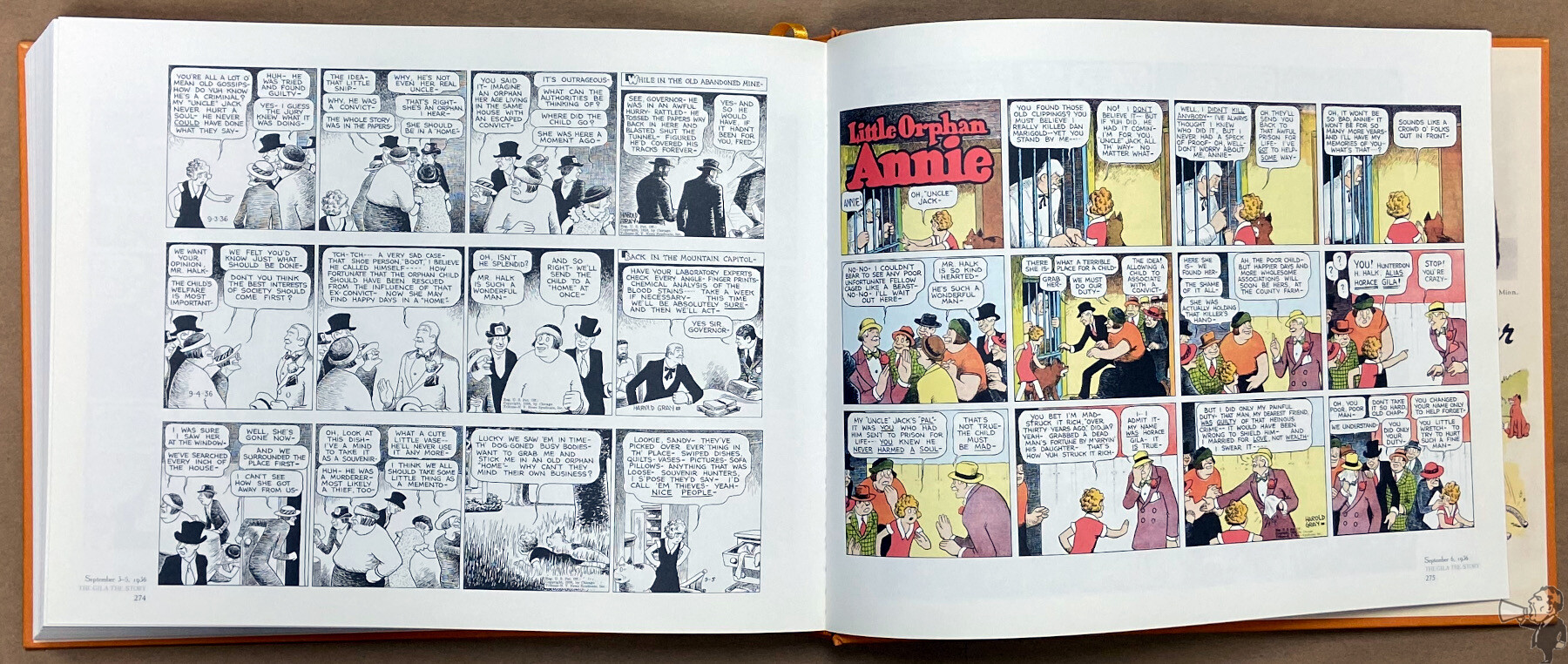 ---