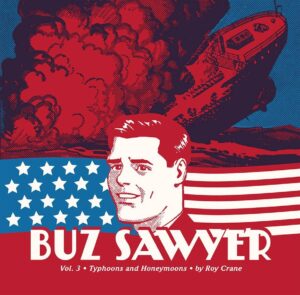 Buz Sawyer, adventurer, bon vivant, and former bachelor, can't let a little thing like romance and marriage slow him down. Buz knows that Christy is the only woman for him — brave, beautiful, and able to handle herself when the going gets tough, and just the kind of woman Buz needs when the chips are down — a lover and a fighter.
And indeed, Christy has her mettle tested, because the road to marriage is a rocky one. First, Buz has to survive a hurricane in the Caribbean, a typhoon in the South Seas, and a stone cold killer with a deceptively mild manner and the innocuous-sounding name of Harry Sparrow. As if that weren't enough, Buz gets himself caught in a political hurricane when he gets trapped behind the Iron Curtain just as the Cold War heats up. And if you think Buz and Christy's African honeymoon is a picnic… think again.
All of this is brought vividly and gorgeously to life through Roy Crane's sure-footed writing and stunning storytelling, a rollicking series of adventures filled with knock-out women, brutal assassins, and extremely bad weather.
This volume also includes some of the best Buz Sawyer Sunday strips (starring Buz's pal Rosco Sweeney), in full color!
ISBN 978-1-60699-703-1
9.25″ x 9.25″, 232 pages
$39.99 USD
Order online: Amazon
Buz gets married, and drugged, and mauled, but not in that order.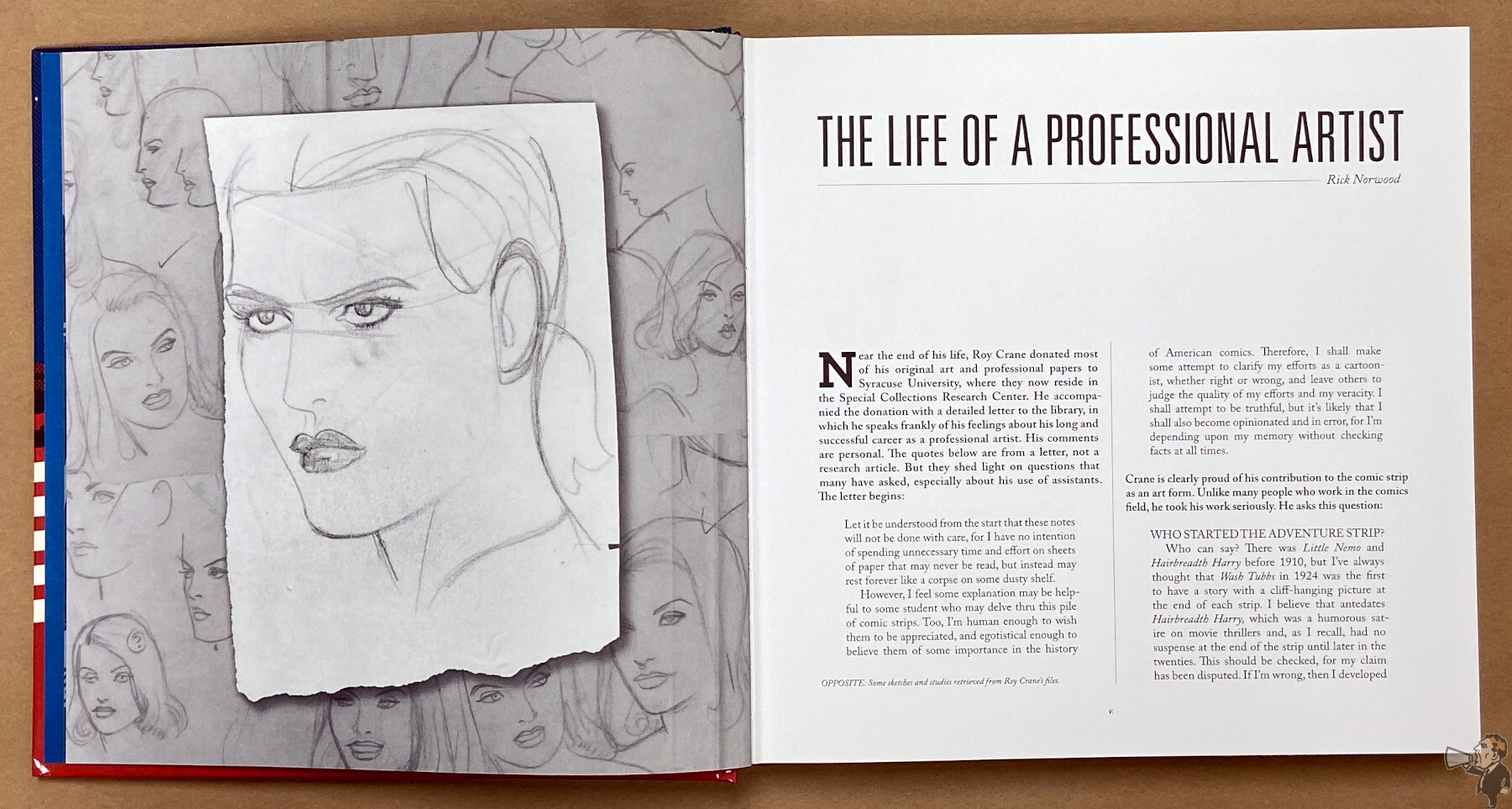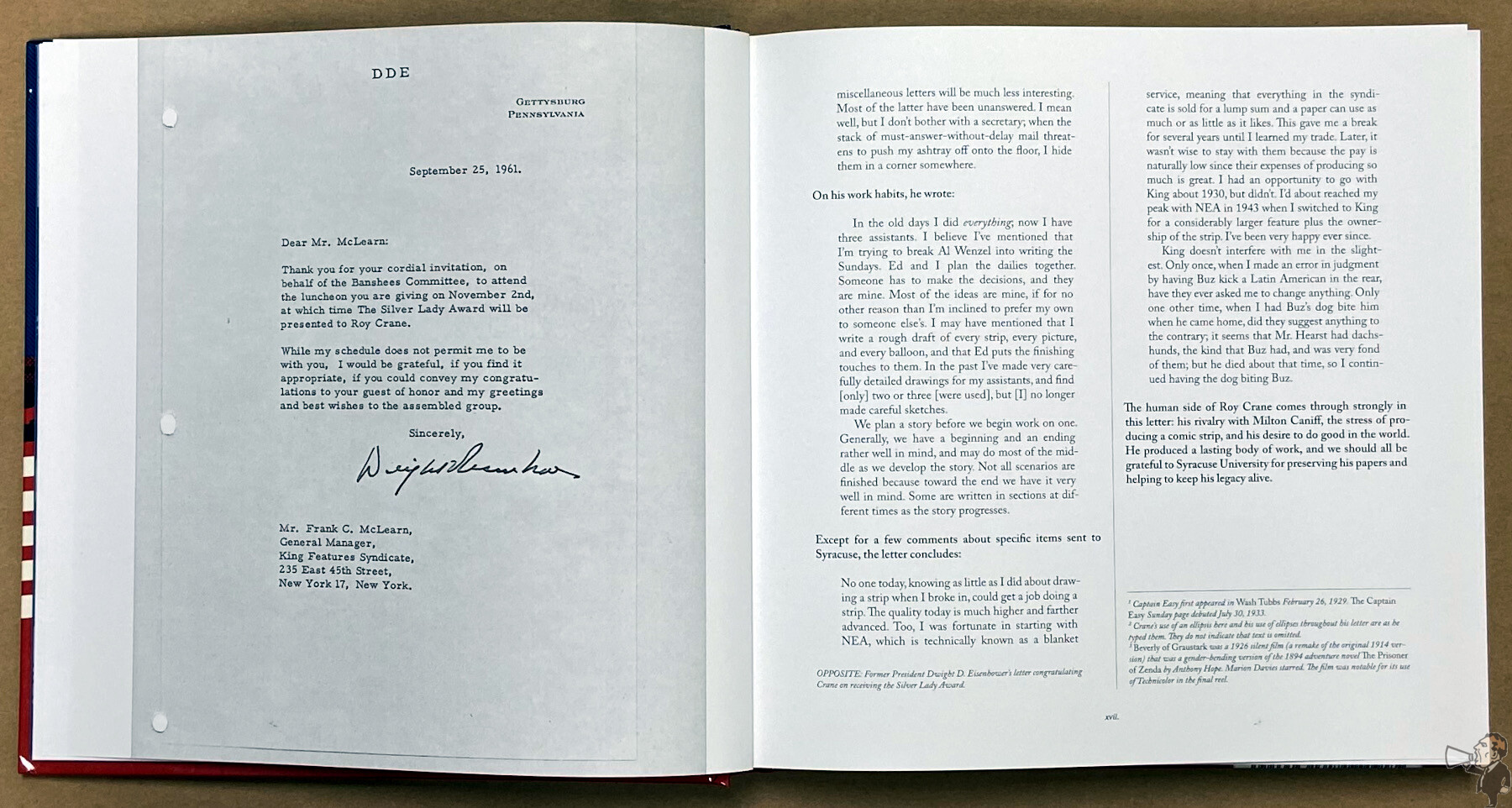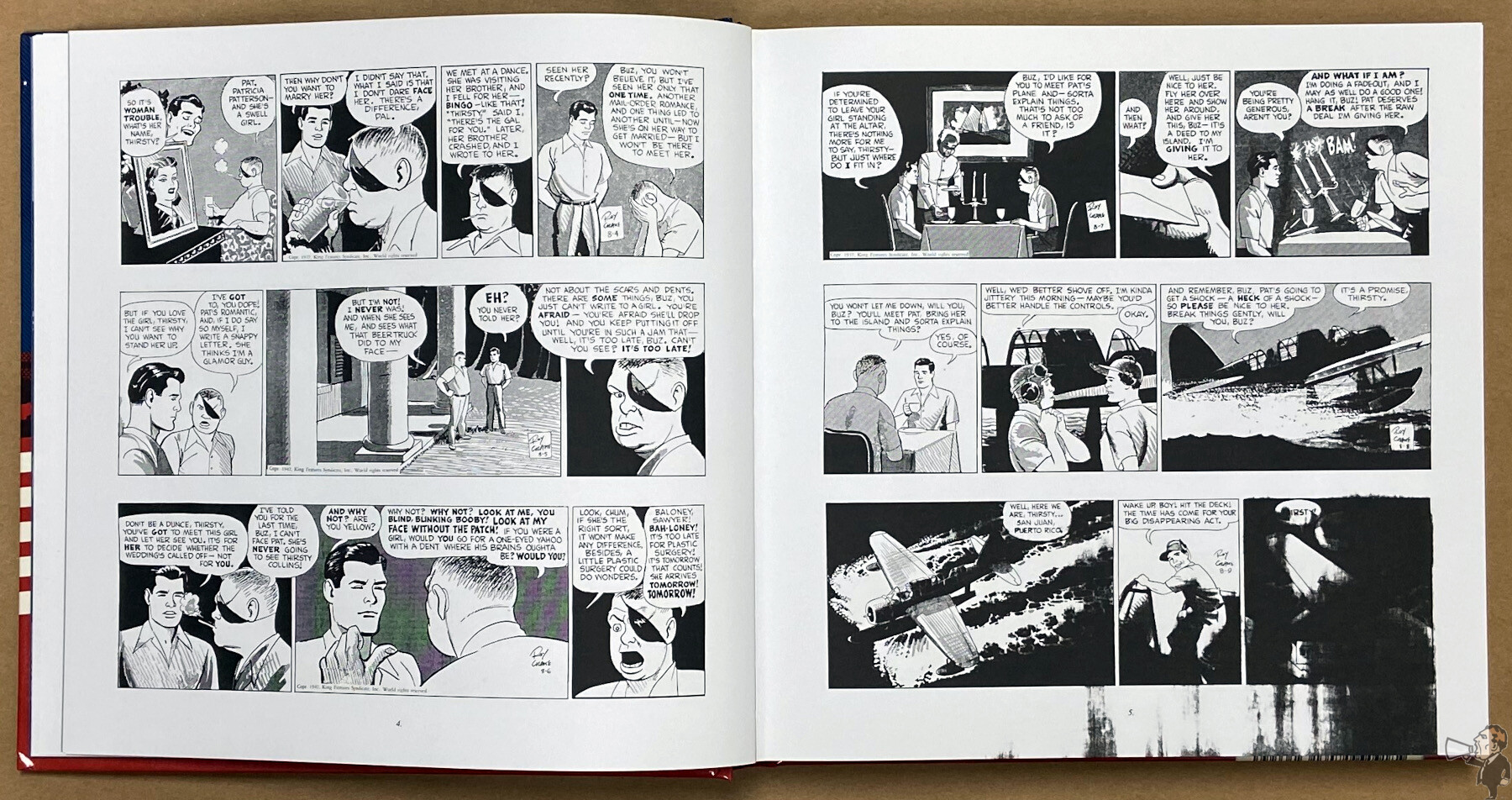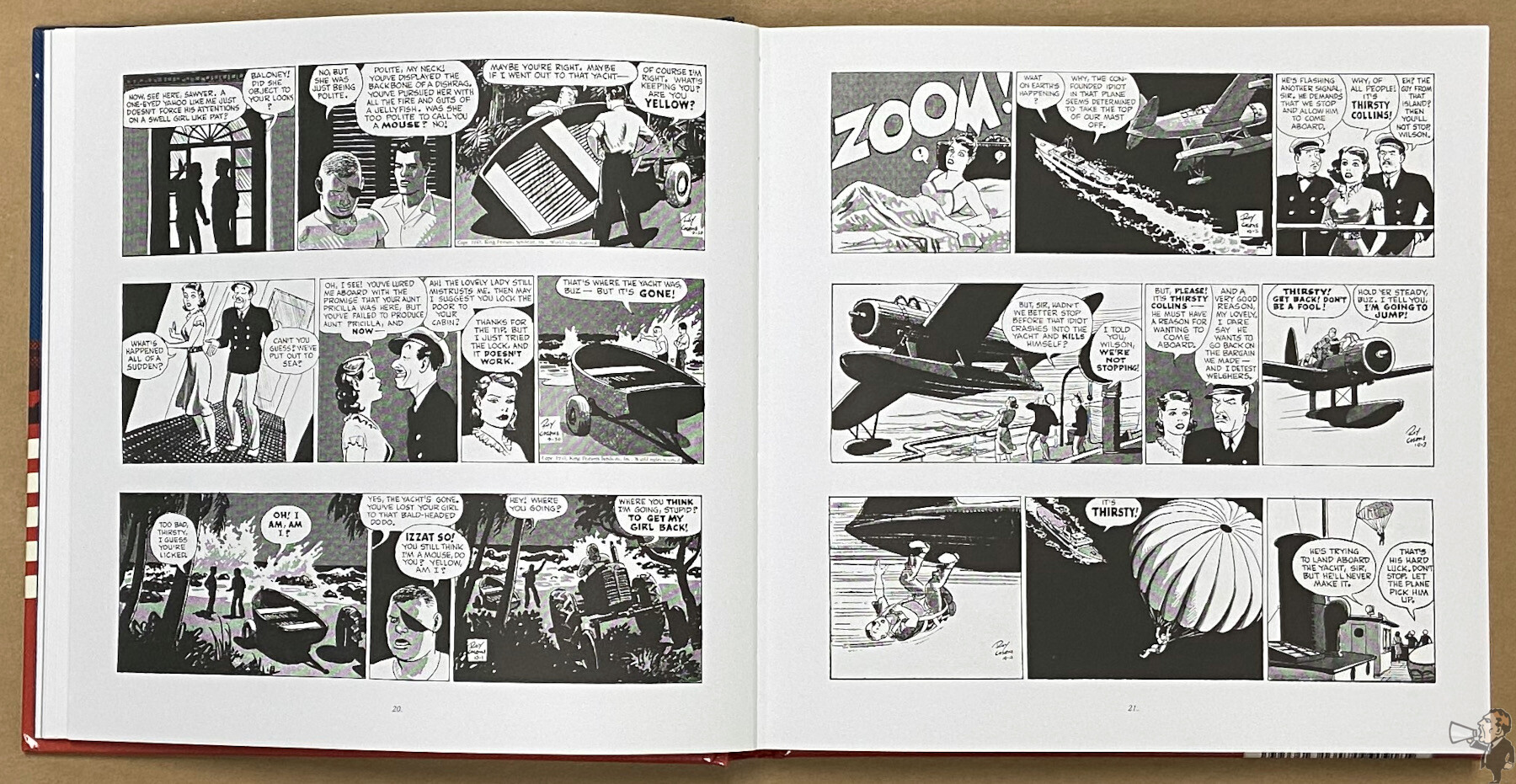 Three stories this time around from 1947-1949, along with a small Sundays sampling. To start things off is a lengthy essay by Norwood where he breaks down a letter Crane wrote to Syracuse University as part of his donation of materials. It's a great look at the end of a long career.
We get two unique tales and two well-worn tropes. An old war buddy needs Sawyer's help with his upcoming nuptials. Jealousy, double takes and faked identities get in the way of everything, but in the end love prevails.
Crane loves the sidekick, and we get to see some in action. This is another story where humour and action are blended, to a mostly entertaining result.
Christy becomes the star of the strip for one story as she searches for a missing Buzz. It's a strong tale: dark, serious, and in the end heartbreaking.
Buz and Christy do get married, and end up immediately on assignment in Africa. The story gets pretty dark for a while, with quite the chain of events. It's an excellent close for this volume.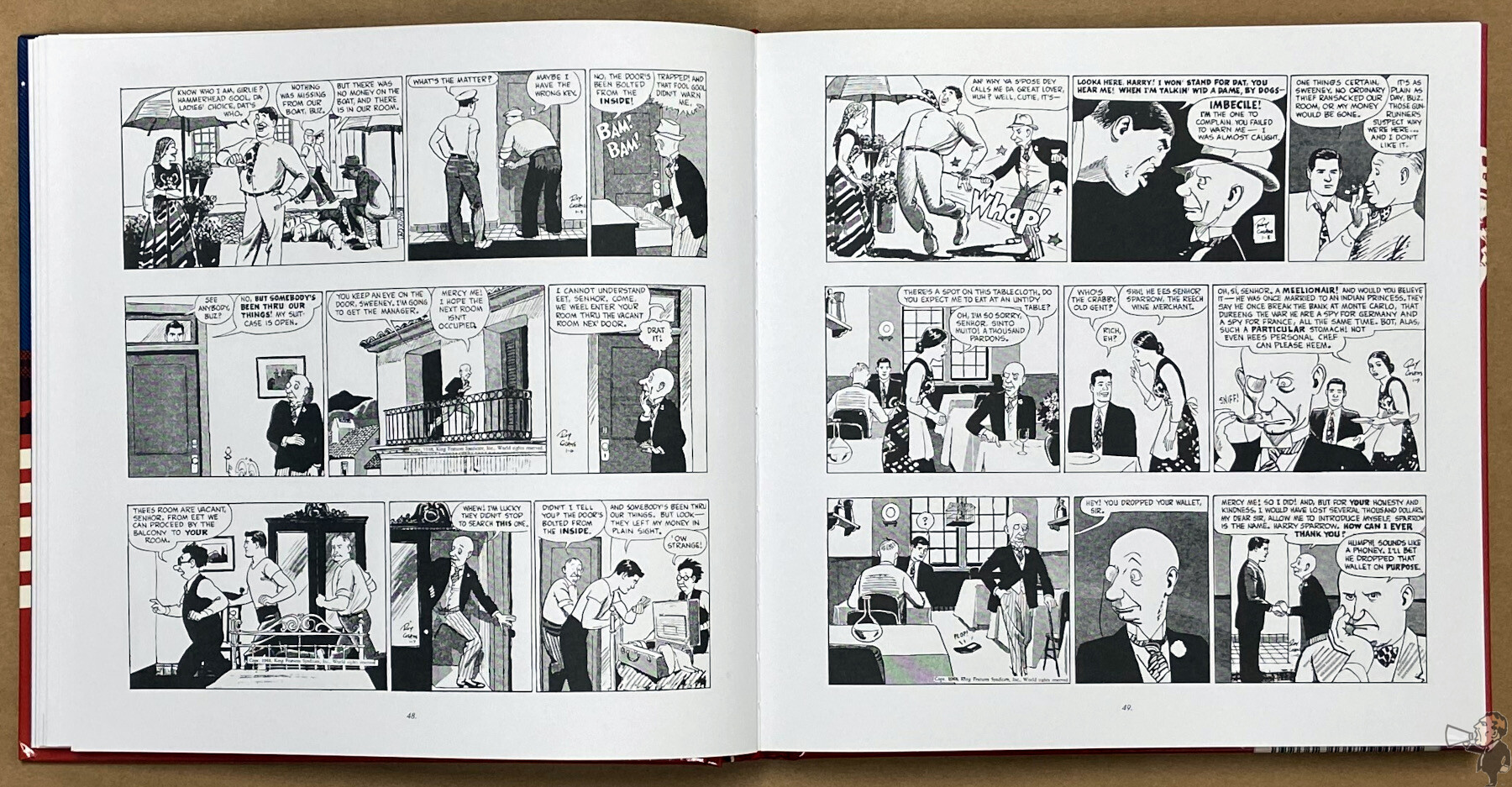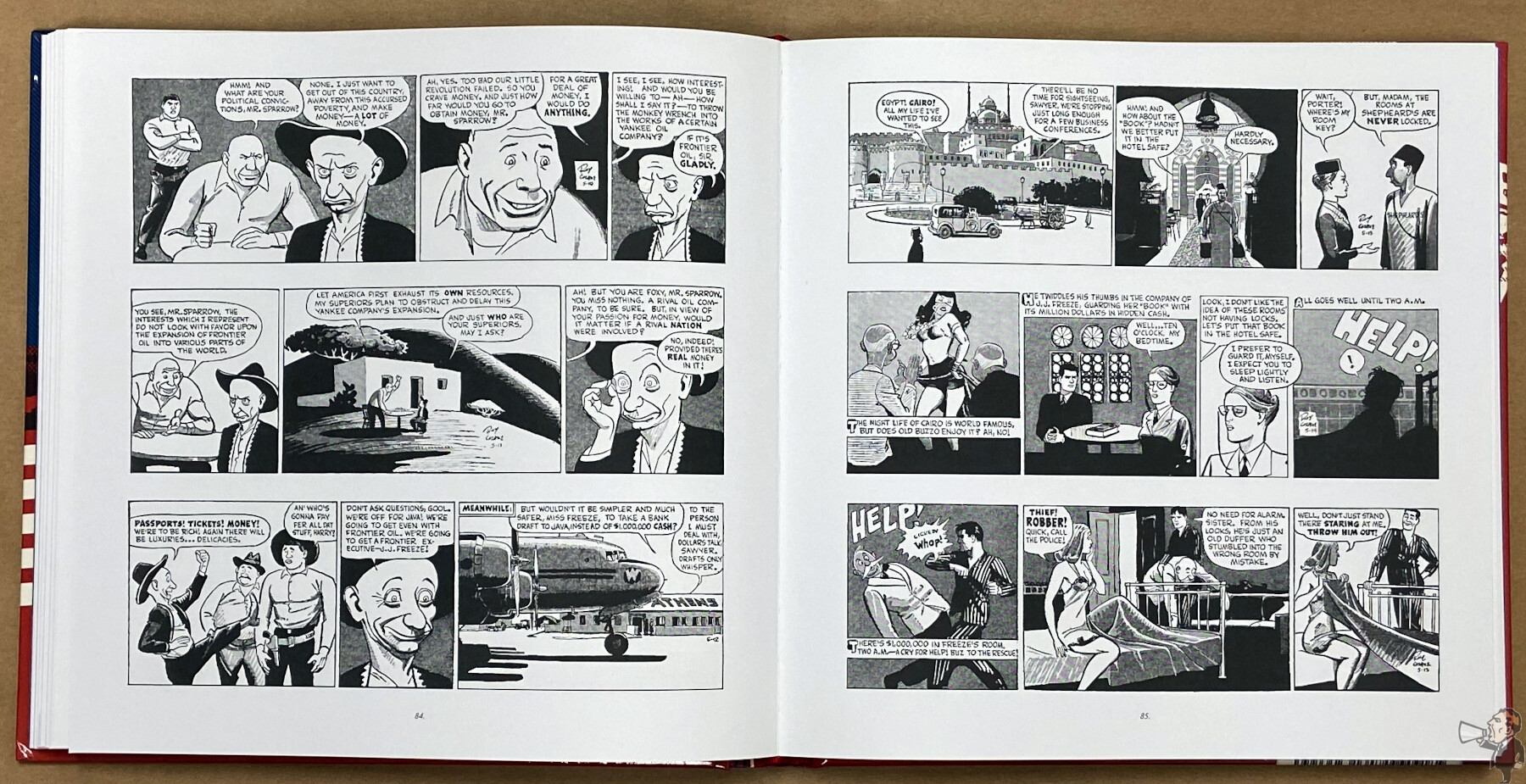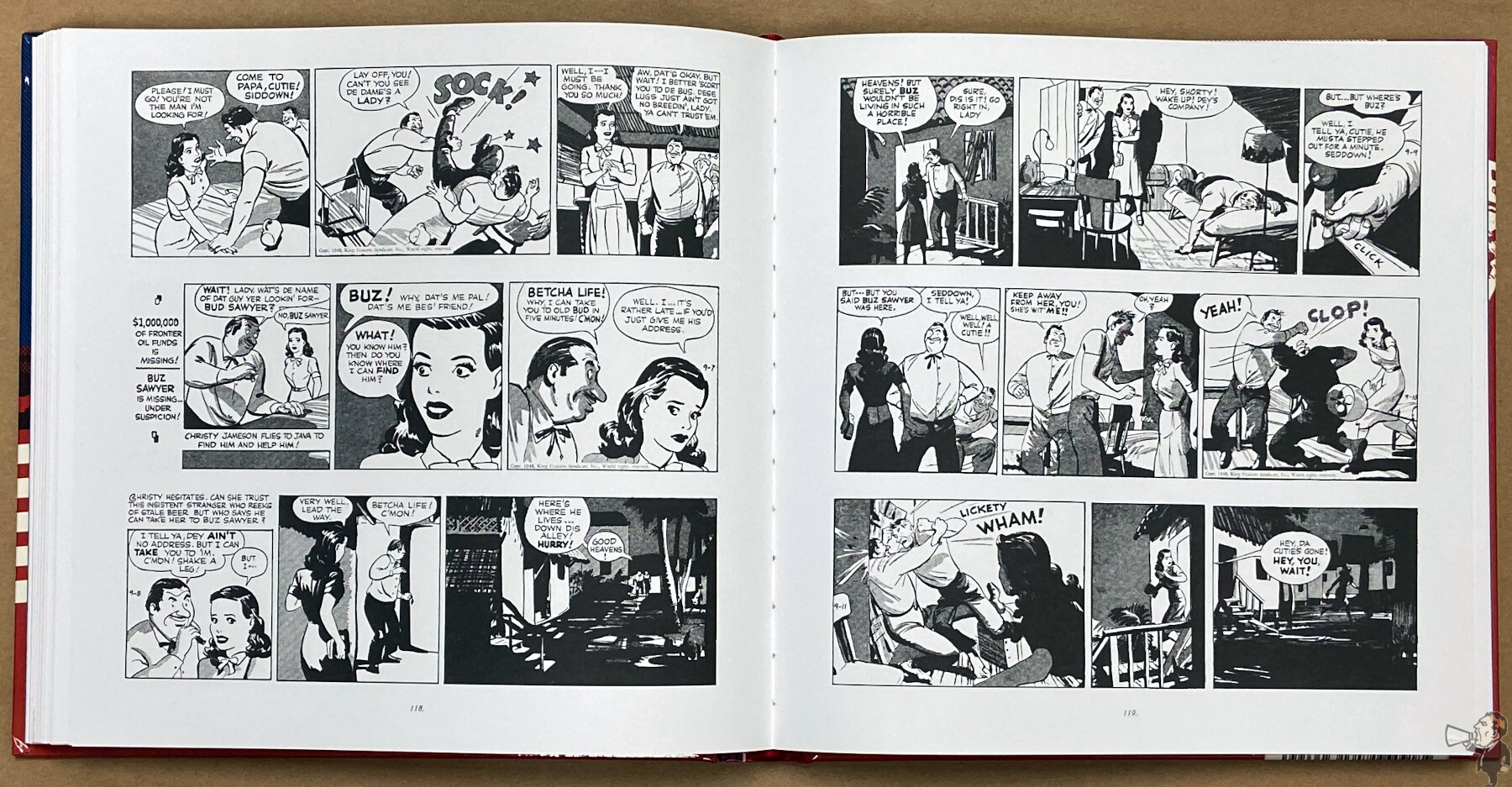 The art really shines in this volume. Crane takes full advantage of the African story to display a dizzying amount of animals. Sawyer moves around the globe once again and we're treated to the local environments and inhabitants.
There is some evolution of style visible: perhaps not in the drawing but in the process itself and application of media. For a black and white strip the levels of grey are admirable.
Sundays appear in this volume but it's a "best of" collection. Sweeney's antics are of the slapstick variety and strongly juxtapose the dailies. At two to a page, we get fourteen reduced Sunday strips; this is the only part of the book I can safely say could have been skipped.
Production is quite good: a sewn binding of heavy matte paper stock.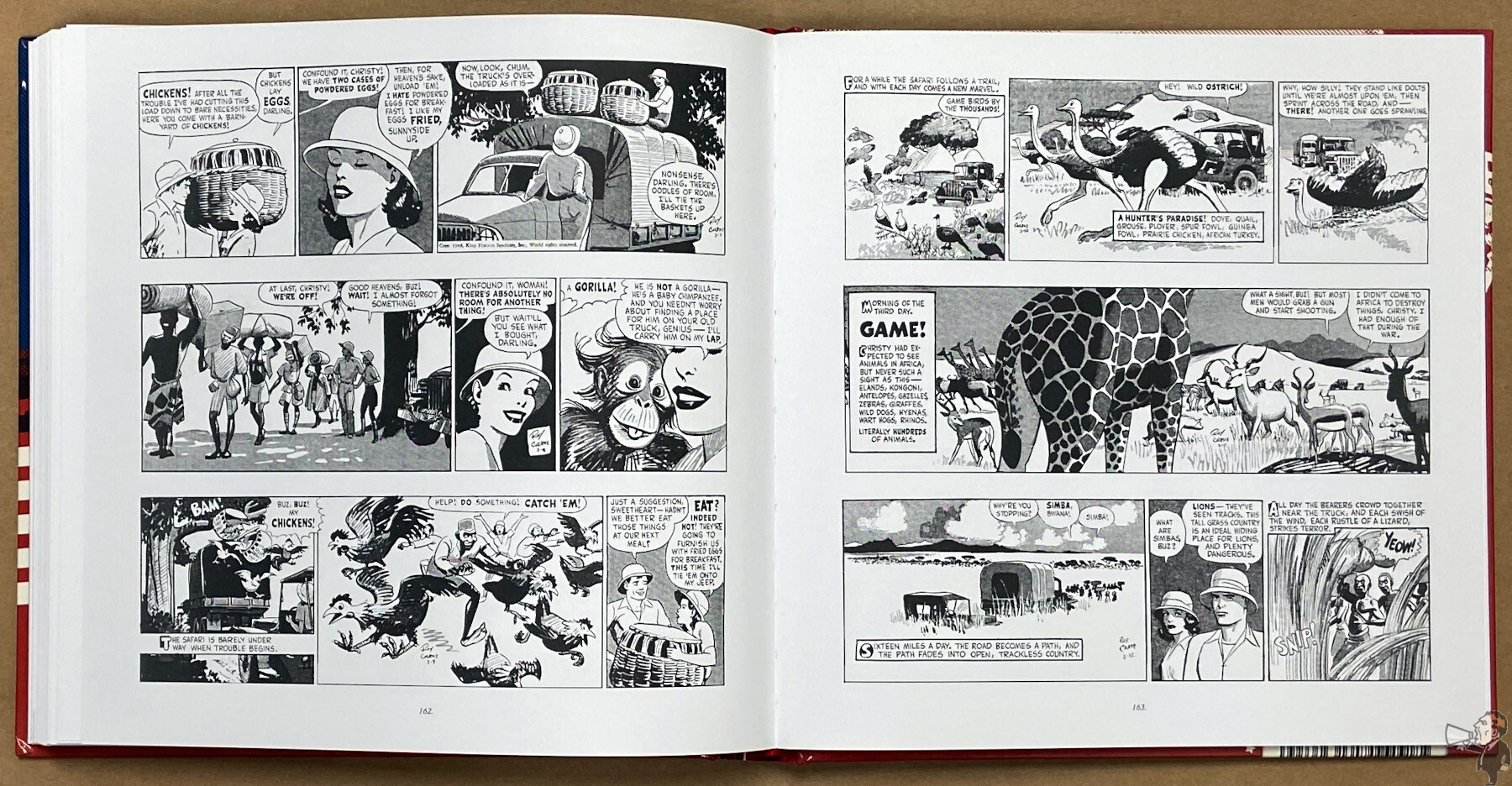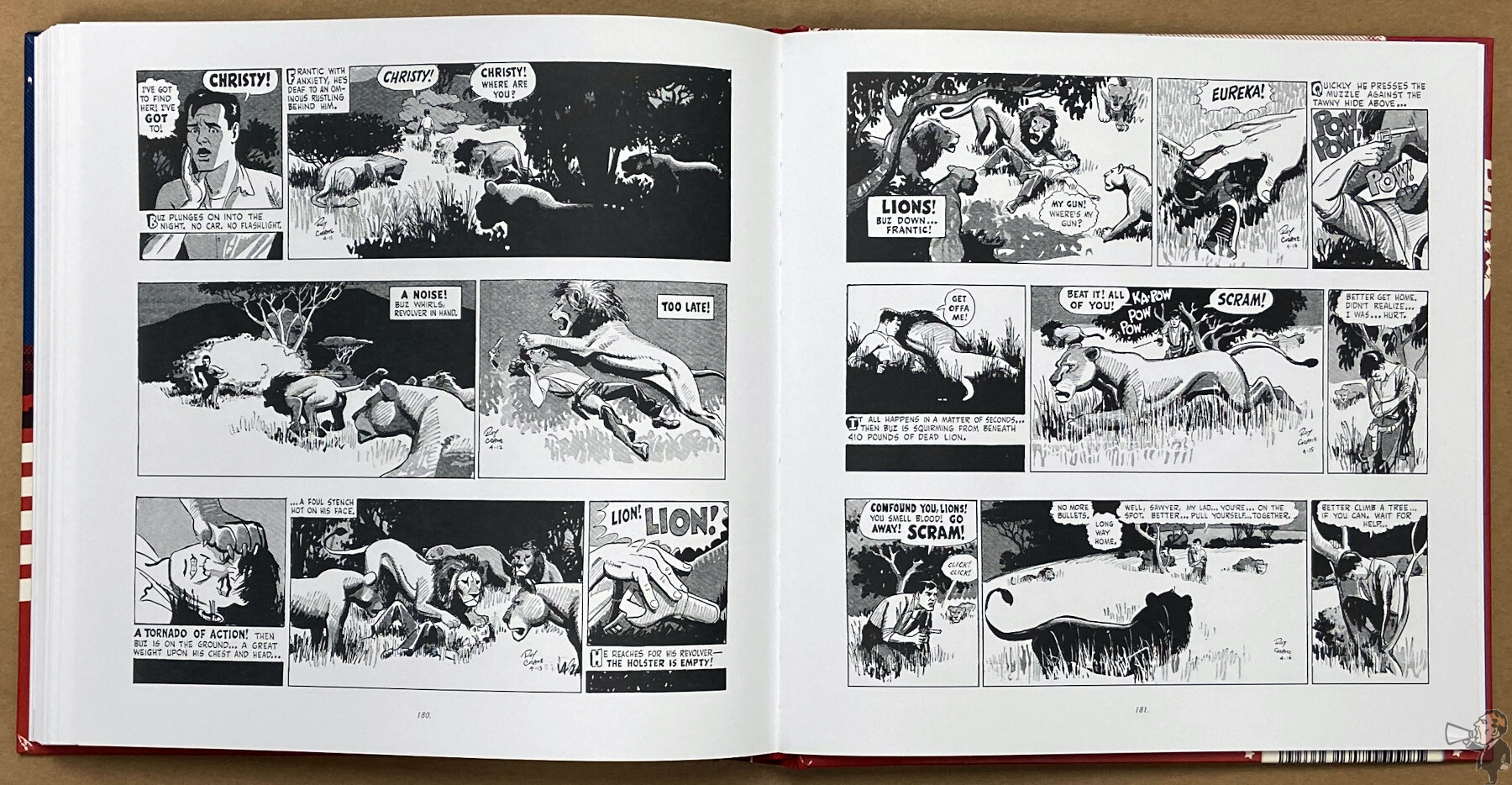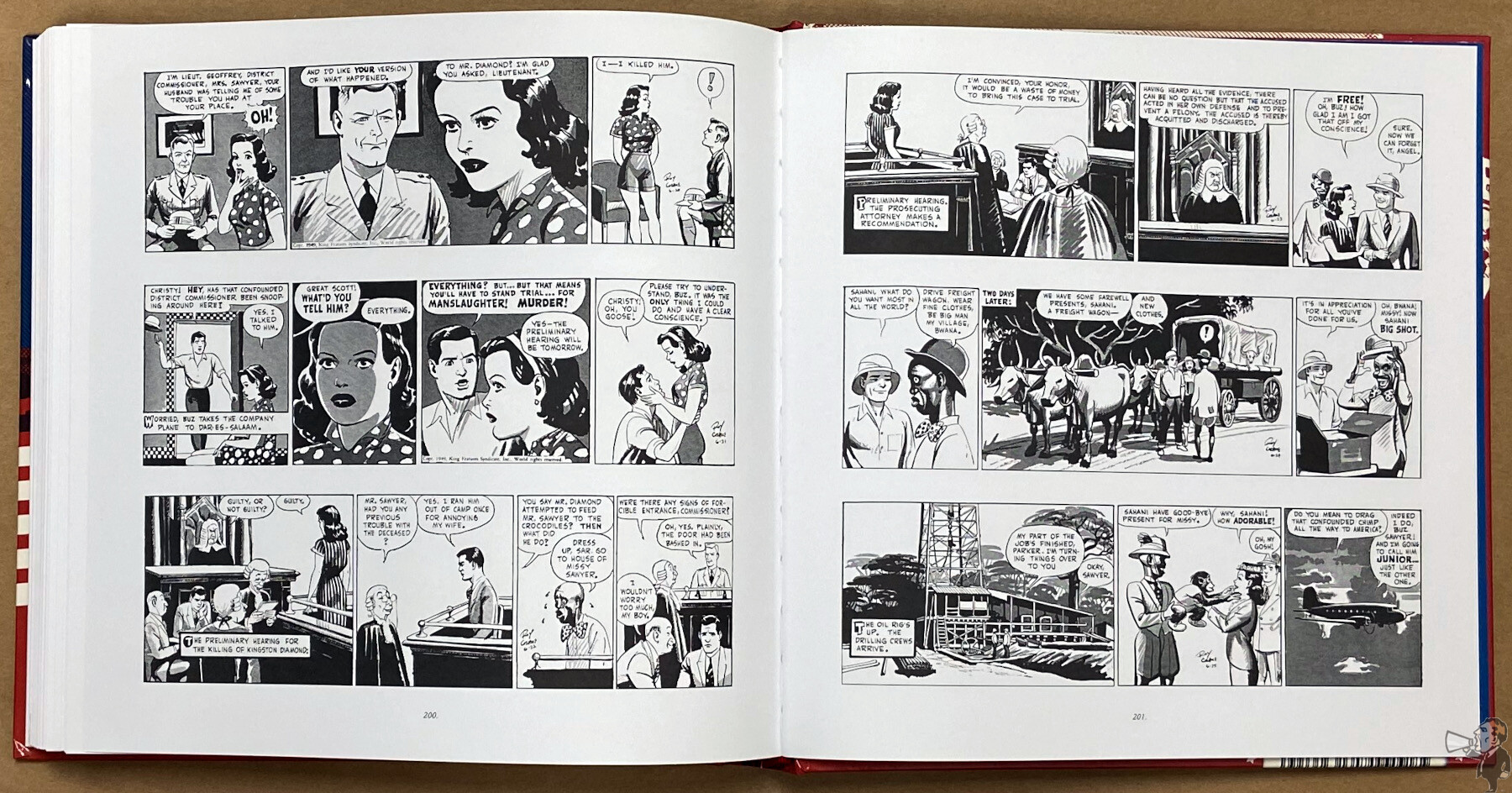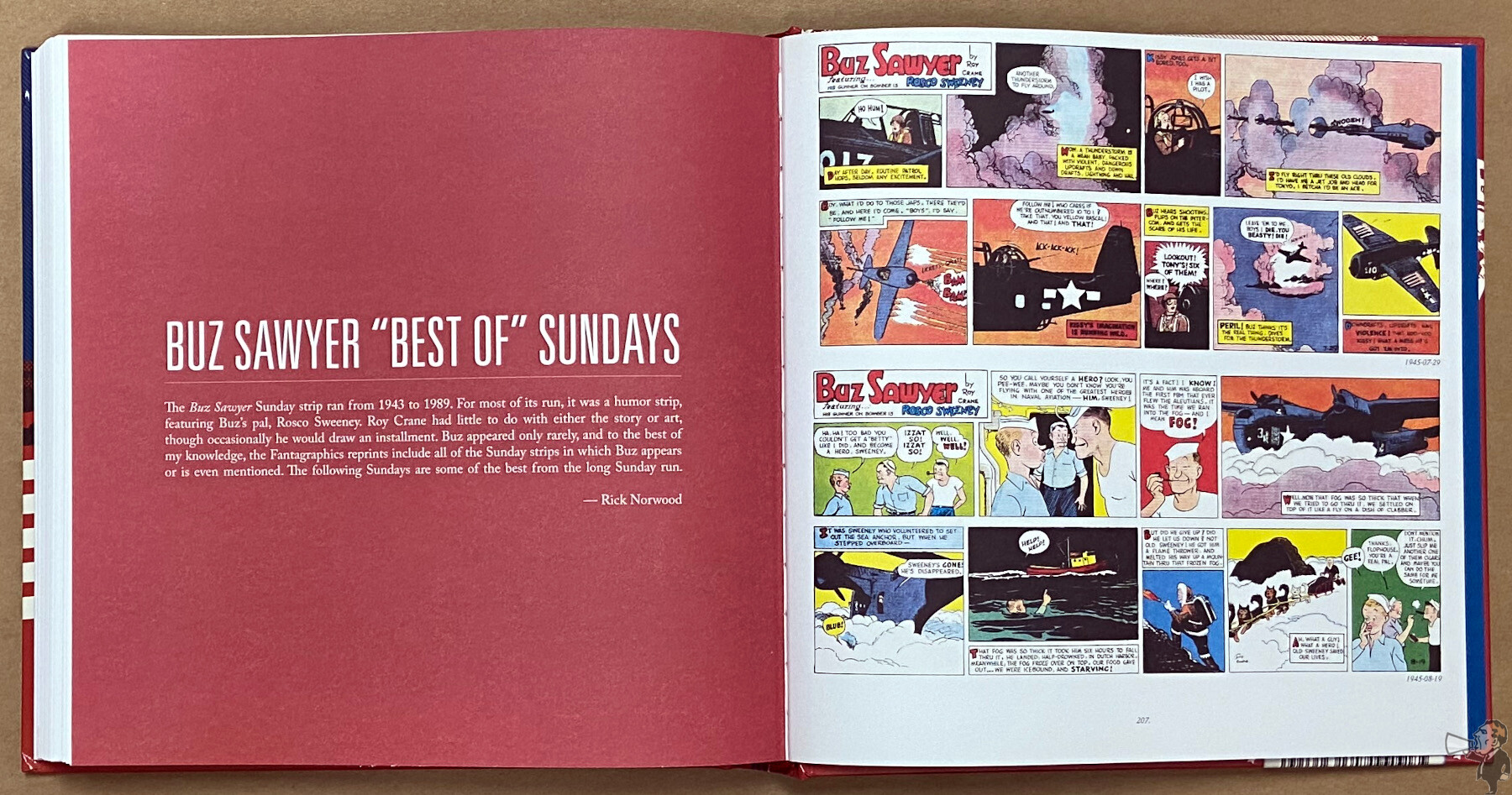 My copy had a printing defect early on in the strips; the third image above. It's been languishing on my shelf for a few years at least, and I believe I bought this one at a heavy discount.
---