Originally published at Comic Book Daily under my Bound Together column.
I was perusing the new books at my local comic book shop and came across Siege: Embedded in softcover.  I noticed it because Chris Samnee had done the art: he's been making a name and is doing the art on the recent Thor all ages series that I'm waiting to see in a trade paperback.  I gave it a quick thumbing and added it to my buy pile.  Here's the publisher's blurb: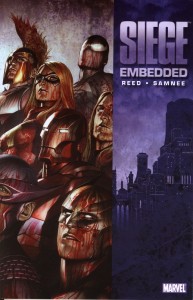 The SIEGE of Asgard has begun! And Norman Osborn and his Dark Avengers are leading the charge! Osborn's savvy use of the media fueled his rise to power but the very tools he's been using may turn against him. It's time to expose Norman's true face to the world and uncover the secrets behind the attack on the gods! Witness the changing of the Marvel Universe firsthand!
I can't believe how generic and off the mark that blurb is.  This is a unique story, telling Ben Urich's adventures around the siege of Asgard.  He runs into an old media buddy Will Stern and together they rescue Volstagg, get arrested repeatedly, take part in the siege and save a bunch of people.  Weaving through that is the story of Todd Keller, a media personality that's backing Norman Osborn as a true patriot.  It's a rolling human interest story with a take from a non-superhuman perspective.
Brian Reed gives us a smart and funny story revolving around the sidelines of the Siege event.  Urich and Stern aren't quite Abbot and Costello but the humour is there.  Volstagg is always a funny addition and he hams it up when the three of them end up on a road trip.  It does get serious at times with fighting, explosions and bystanders.  Keller as media warmonger is an interesting character and one we recognize immediately as "the villain" which he amply fulfills.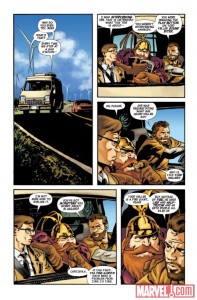 Part of the lightheartedness of the story is Chris Samnee's art: it has a cartoonish all ages feel that prevails even amidst bloodshed and fighting.  It's a loose and less detailed look with lots of black spots instead of line detail: to be honest I'm on the fence with it.  Lots of panel changes and page layouts: the story moves cleanly.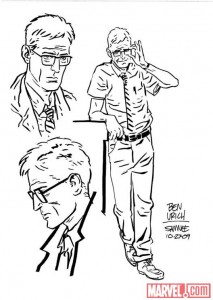 A decent amount of extras, all carried over from the Marvel Premiere hardcover published this summer of the same material.  Character designs with some pencil and inked page comparisons; very nice indeed.
Unfortunately Siege: Embedded is a sideline tale that didn't need to be told.  It has a buddy film quality that is easily forgotten.  A quick and light read that doesn't justify the $14.99 price tag.
Siege: Embedded
Marvel, 2010, ISBN 978-0-7851-4764-0