After thoroughly enjoying Prince Valiant Volume 1: 1937-38 I was at a discount bookstore and spotted Prince Valiant "Far From Camelot" by Mark Schultz and Gary Gianni, collecting the Prince Valiant newspaper strip from 2004-2008. Here's the publisher's blurb: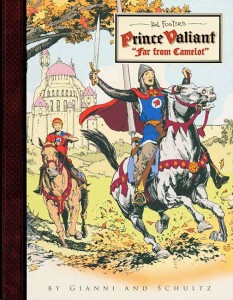 Originally created by Hal Foster, now continued by award-winning creators Gary Gianni and Mark Schultz, Prince Valiant: Far From Camelot (Andrews McMeel Publishing, $19.99) is high adventure, a work of literary and artistic excellence. The comic strip first appeared February 13, 1937 and has enthralled more than 44 million readers in the 71 years that followed with its intelligent narrative spanning from the late Roman Empire to the High Middle Ages.
This latest collection features strips dating from November 21, 2004, to May 11, 2008 and follows Prince Valiant and his son Nathan's adventures as they prepare for battle following King Arthur's abdication. This epic strip remains unique in the world of contemporary comic features, with its combination of narrative adventure and sometimes humorous family drama, its bold artistic realism combined with hints of fantasy, and its historical accuracy in the portrayal of life in the days of King Arthur. It is featured in more than 300 newspapers nationwide as well as inspiring a number of artistic film adaptations.
This is Schultz and Gianni's first run with Prince Valiant and for me continues on the strip I was reading 66 years earlier. Prince Valiant is a tale of a man in the era of King Arthur and Camelot, upholding his own moral code in the face or adversity. There is swordplay, intrigue and problem solving but all in a clean, moral high ground fashion that carries straight on from Hal Foster's work. I haven't read anything in between but Schultz has the writing of this strip down pat: we don't need swearing, blood splatter or rape to tell a good story. Bravo.
Gary Gianni is a pencil and ink kind of artist; colour on his work seems superfluous and out of place. It's a scratchy line shaded style that works in the strip well but isn't as clean and painted as Hal Foster. Don't get me wrong: this is well done art by an accomplished artist.
I normally shy away from paperback volumes of this size since they flop around when I'm reading but Andrew McMeel Publishing has put together a top-notch volume: heavy paper, sturdy binding, clean printing. It's an all-around well-published work. Google Books has an excellent preview available.