The latest issue of Saveur covers great Roman dishes including my favourite Spaghetti alla Carbonara.  It's very straightforward with a few ingredients most of us have on hand, if you substitute bacon for guanciale.  What sets this issue apart is at the back in their technique section: how to properly mix the ingredients.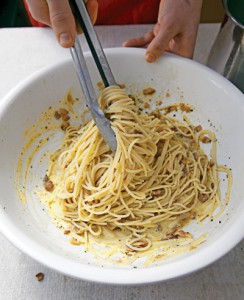 I can't take a food picture that great so I'm borrowing it from Saveur.  The proper technique here is to mix your bacon (guanciale, panchetta), eggs and cheese in a bowl into a paste, add your hot pasta and then if you need to enough of your reserved pasta water to create a luxurious sauce.
I made this for dinner and have never had it turn out so well: I always mixed the ingredients in the pot and the cheese and eggs heated too quickly making a sauce that was slightly lumpy.  Thanks Saveur!