King Of The Comics: 100 Years Of King Features
For a century readers around the world have started the day with King Features comics in their daily newspapers and now on their digital devices. This first-ever compendium celebrates those 100 years with more than 600 fantastic images! Popeye! Flash Gordon! Krazy Kat! Beetle Bailey! Blondie! Mutts! Prince Valiant! Maggie & Jiggs! Hägar the Horrible! Betty Boop! Barney Google and Snuffy Smith! Zits! Steve Canyon! Happy Hooligan! Polly and Her Pals! Baby Blues! Bizarro! Hi & Lois! and many more…100 years of comics presented by an award-winning team of comics historians led by Dean Mullaney, Bruce Canwell, Jared Gardner, Ron Goulart, Paul Tumey, and Brian Walker. It's everything you ever wanted to know about King Features, but didn't know who to ask!

Library Of American Comics, October 2015
9.25″ x 12″, 308 pages
ISBN: 978-1-63140-373-6
$49.99 USD
Order online: Amazon
Wow. As a representation of 100 years of King Features comic strips, this gets the job done with aplomb. The material is vast and varied, presenting a small sampling of the hundreds of comic strips that were handled by King Features.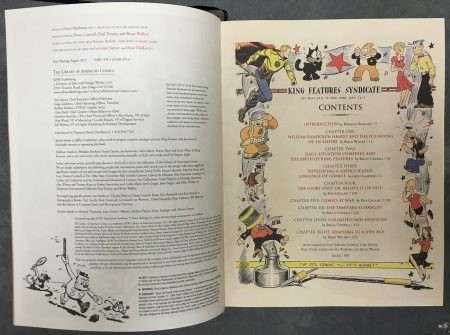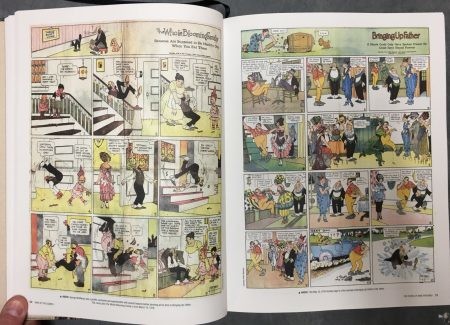 No single volume could provide depth of any one strip or genre, so the Library Of American Comics team gave a sample, two or three days of each strip, from what was available. The depth and variety follow the popularity of the newspaper strip, with vast samples from the early part of the 20th century, building steam up to the 2nd World War and then the decline from the 1950s on.
I've been voraciously reading comic strip collections for several years but was astounded by how many strips I had never seen or heard of. Stumble Inn, Merely Margie, Petting Patty, Etta Kett, Right Around Home, Hejji, Radio Patrol, Ozark Ike, and the list goes on and on.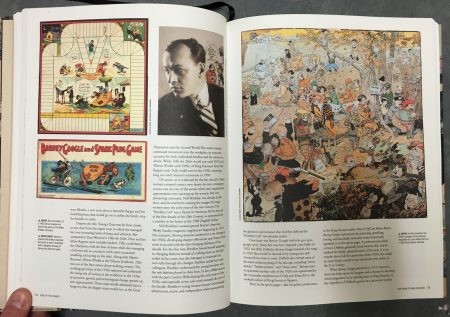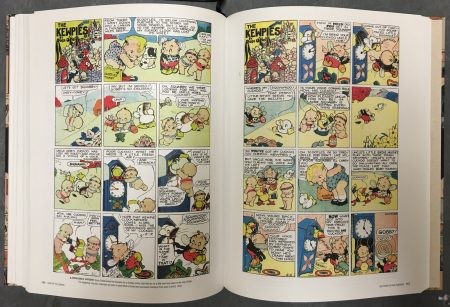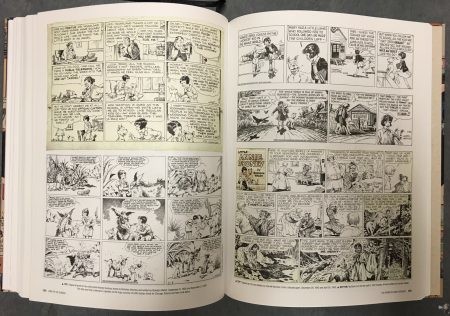 It's a nice mix of strips taken from newspapers scans and original artwork. Restoration has been done for publication but it's not garish or out of place.
Again, this is a sample. A quick taste of as many different strips as could be included. A varied, wonderfully rich immersion into what was. And like any sample designed to leave you wanting more. The book ends with a list of available archival collections of comic strips currently available, from a variety of publishers but sadly no Titan Books, that illustrate just how few of these treasures have been reprinted.
A comprehensive index makes this an excellent reference work. With such a varied collection of King Features' strips, one will come back again and again to look up a title or artist.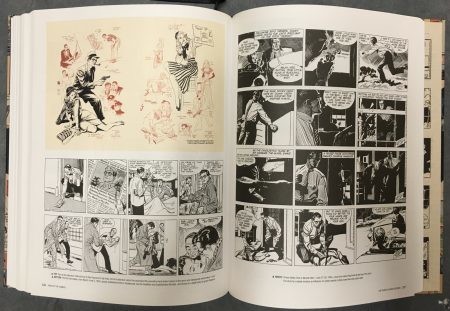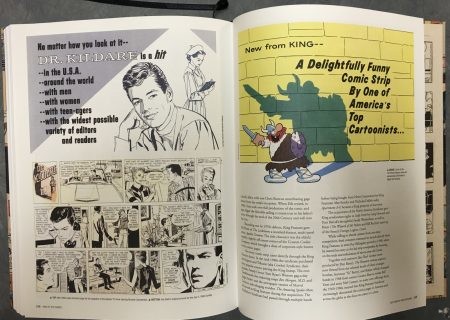 The book is divided into eight chapters, with a concise text overview. If you've been around comic strips writers you'll recognize these names: Brian Walker, Ron Goulart, Bruce Canwell, Jared Gardner. Just enough provided to inform but not overwhelm, following in the same vein as the strips presented. Ads and syndicate profiles round out the pieces and give a nuanced perspective.
Construction is top notch, printed on a very heavy matte paper stock. The glued binding is very tight, but the silk ribbon is always an appreciated addition. It's big enough to appreciate the full page action strips but can be handled and enjoyed without reading it on a table.
King Of The Comics: 100 Years Of King Features is a treasure-trove of the magic that once accompanied newspapers and brought delight and entertainment to all ages.
Originally published at Comic Book Daily.