Originally published at Comic Book Daily under my Bound Together column.
It was 1989 and DC comics was celebrating the 50th anniversary of Batman.  They had started slowly publishing reprint material in softcover trade paperbacks but hardcover editions were left to Warner Books, Graphitti Designs and with these volumes Longmeadow Press.
The Complete Frank Miller Batman collects three stories: Batman Year One, Wanted: Santa Claus Dead Or Alive and The Dark Knight Returns.  The only new material for this volume is an introduction by Richard Bruning, then DC design director.  Batman Year One and The Dark Knight Returns are reprints of their trade paperbacks and not individual issues so they include the introductions to those volumes by Frank Miller and Alan Moore.  Wanted: Santa Claus Dead Or Alive comes from DC Super Star Holiday Special 21.  It appears that story was the only one touched up: it was recolored by Richmond Lewis for this volume.  Here's one of Richmond's colour pages from eBabble Art.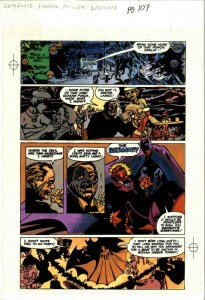 Riding the success of their first volume Longmeadow Press followed up with Stacked Deck: The Greatest Joker Stories Ever Told Expanded Edition in 1990.  This is a reprint of The Greatest Joker Stories Ever Told trade paperback, including its cover and additional materials.  To this three more stories and creator biographies were added, thus the "Expanded Edition" in the title.  Dean Motter provided the cover illustration and was responsible for the design of both books.
So the stories aren't new and the material has been reprinted elsewhere: why are these collectible hardcovers?  First and foremost they are luxuriously packaged: leather covers, gilt edging, silk bookmarks.  Simply put they scream quality: these could look great on anyone's bookshelf and are quality items.  I picked mine up when they were published and they still look brand new.  Affordability is the other key.  These are twenty-year-old books and they're going online for about $70; they were $29.95 new.  Watch out for second printings of The Complete Frank Miller Batman, since you can get either printing for about the same price.
The Complete Frank Miller Batman
Longmeadow Press, 1989, ISBN 0-681-40869-X
Stacked Deck: The Greatest Joker Stories Ever Told Expanded Edition
Longmeadow Press, 1990, ISBN 0-681-41015-9