I'm a collector: comics, books, statues, that kind of thing.  No matter what it is I like to take care of it so it will last a good long time.  With my switch to trade paperbacks and hardcovers over weekly comics my bookshelves have been steadily filling.  My normal practice for reading any hardcover has been to remove the dust jacket and leave it on the shelf until I was done, then put it back on.  A bit compulsive but I like things to look like new.
I noticed some of my eBay purchases came with a dust jacket cover like the ones used at the library: they looked great and kept things neat and tidy.  Looking around I couldn't find anything to buy as a consumer until I was in a New York comic store and they had a rack of Brodart book jacket covers in ten packs.  When I got home I hit the web and found their Canadian site www.brodart.ca; not too tricky.  They had a dizzying array of book jacket covers available so I measured my Marvel Masterworks and DC Archives book jackets and found the 12″ high 24″ long would accommodate my collection.  They had a center seam that you opened and slipped the book jacket inside: it was very simple and worked like a charm.  Unfortunately they were a little too high so there was a white strip showing along the bottom since the book jackets weren't quite 12″ high: being anal about such things I took them all off.  Luckily I had only purchased a 25 pack so it didn't sting too badly.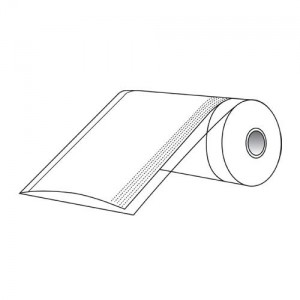 I called their sales number and spoke with a great rep at length about what I was trying to do: he suggested Just-A-Fold III Archival book jacket covers on a roll.  They have a perforated edge that allows you to trim away quarter inch segments so you have the exact height and then you fold over the glossy polyester cover.  They're acid free and use a pH neutral adhesive so I was confident in their long term use: can't go wrong with archival in the title!  Rolls are cheaper in the long run and you cut to the exact size you want: since I was working on about two hundred book jackets I wanted to be as economical as possible.  I also ordered a bone folder: it's used to score the book jacket cover to get a nice clean fold and while I hate to use the term necessity if you're doing a lot of books get one along with a decent paper cutter.  The rolls come in a nice box with a spindle that let's you take out what you need.
After working my way through all the books I had I found they stuck together: it was hard getting one book off the shelf since the jacket cover was sticking to it's neighbour's cover.  I called the sales number and spoke with another extremely helpful rep who suggested there was static buildup from the roll and to give the covers a wipe with a lint free cloth: worked like a charm.
Book or dust jackets wrapped in Brodart covers look great and will stay looking great.