Picked up a bunch of DC trades and graphics novels off a Diamond sale last month: items I'd wanted to read but never got around to picking up.  One of those is Batman: Nine Lives by Dean Motter and Michael Lark.  Here's the publisher's snippet:
In this edition, the characters of Batman (Bruce Wayne), Robin (Richard Grayson), and Catwoman (Selina Kyle) are imaginatively reinvented so that their lives and relationships are intertwined with both familiar and foreign facets. Investigating reports of a giant alligator living in the Gotham reservoir, the vigilante known as the Bat-Man discovers the dead body of his ex-girlfriend, Selina Kyle. Now he and Detective Richard Grayson most uncover how Selina died before another victim is claimed. This gripping tale is told in a sideways "landscape" format to better showcase the graphic, cinematic style of the art.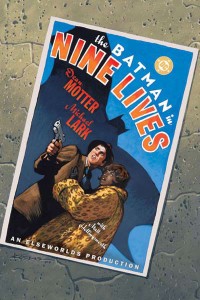 This is an Elseworlds story that takes place outside of the normal continuity of the characters: it lets creators spin existing characters in new and interesting ways.  Batman: Nine Lives plays out like a film noir with nine lives woven together through a single action: the murder of Selina Kyle.  The names in this story are all well known but their characters are somewhat different.
The story moves well and follows the hard boiled detective genre of the 40's with gangsters, illegal gambling clubs and blazing Tommy guns.  The weak link of the story is Batman: he really doesn't need to be here as the story is told through private eye Dick Grayson.  Batman makes some appearances but it feels like he's there to promote sales of the book; on the other hand playboy Bruce Wayne fits right in.
The artwork is top notch: I'm a big fan of Michael Lark and his style, along with Matt Hollingsworth's colours, bring you right into the genre.  It's muted colours and simple, clean lines move the reader along from panel to panel.  Grayson's thoughts are presented in a font reminiscent of a typewriter and lends itself to the overall feel of the book.
The reading layout is landscape which is a big change from the norm but works well here.  Oddly the cover is in the standard portrait layout.
It's a very tight and cohesive presentation that makes for an excellent read: I'm glad I finally got around to reading Batman: Nine Lives.