1996 was the tenth anniversary of Batman: The Dark Knight Returns.  It's hard to believe twenty-five years have passed since Miller brought his dark future to comics; I haven't heard of DC doing anything to celebrate this year but in '96 they had big plans.
There was a bunch of material offered but the highlight was a slipcase containing a new signed and numbered hardcover collecting Batman: The Dark Knight Returns, two mini prints of Dark Knight posters and three 48 page prestige format softcover books of sketches, scripts and press  reviews.  Click the image above to see the entire breakdown of the package.  The big item here was the $100 price tag: the highest DC had ever charged for a new book ever; don't get me started with the $140 CDN exchange.
The hardcover collects the original series and adds 24 pages of extras at the back.  It included a signature plate with Frank Miller's signature and the number out of ten thousand editions.  The original covers are here and are the only examples of poor reproduction in this slipcase edition.  The rest of the extras are Miller's complete issue one script including notes and sketches.  A new introduction by Miller rounds it out.  This volume was also published as-is in a softcover version.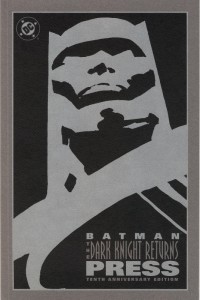 The three prestige format softcover books are hit and miss.  I thoroughly enjoyed the Sketch volume, filled with never before published material, mostly roughs, that show the genesis of the character design.  Less thrilling is the complete script to book one, although aspiring writers could glean much.  I really don't know why anyone would want to read ten-year old (at the time) reviews from various U.S. press outlets.
Last but not least are two 6×9″ card stock prints of the original Dark Knight Returns poster and the 10th Anniversary poster.  I had the posters; they hung on my wall for a good long time. Great images.
This slipcase edition is collectible for two reasons: it's the last signed edition Miller did for DC and it's the only place to get the prestige format softcover books.  It's a must for hardcore Miller or Dark Knight fans.  Oddly prices vary from $90 to $300 so a keen-eyed purchaser can get it for less than cover price fifteen years later.  The ISBN below is the only one printed in the book for the hardcover, yet it seems those ending in "X" indicate a slipcase.  I'm not able to locate this edition through the normal online sources using the ISBN and most sellers use "10th" instead of tenth in the title.  Good hunting!
Batman: The Dark Knight Returns Tenth Anniversary Edition
DC, 1996, ISBN 1-56389-341-X
Originally published at Comic Book Daily.