Blast from the past: originally published October 16th 2000.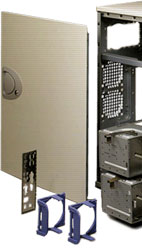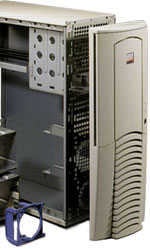 Great rejoicing rang throughout the house as my Antec case finally arrived.  As well I received a Linksys KVM ( keyboard, video, mouse ) switch to hook up in my office, but you'll have to wait until next week for that review.
I discussed last week my impatience regarding the arrival of the Antec SX1030  tower SO/HO server case.  I said tower case because it straddles the line between mid and full tower size, but does the job of a small server case.  I set it up and have it running my primary machine, so let's take a look at what makes it so great.
I must say first of all that the appeal for such a case is limited, as I discussed last week. You're only going to need the SX1030 if you're a constant upgrader or building a server.  The exterior is nicely designed with a crisscross pattern on the front bottom that allows a lot of airflow, while the top front is a locking door with lights for power and hard drive.  The side panel has a lockable latch that once pressed releases it to swing free.  No sliding the panel the length of the case, no worrying about lining it up; just press and swing.
Once inside the beauty of the design becomes apparent.  Four case fans can be mounted, two at the front and two at the back at the CPU level. Purple plastic fan mounts are supplied so no worries about finding the right screws or straps.  Included with the SX1030 are two 80mm case fans pre-mounted in the rear brackets with four pin Molex power connectors.  Two 3.5" drive bays are mounted in the front of the case via a latch for oh so easy removal.  One fan is at the front bottom of the case and the other is on the top 3.5" drive cage, to provide extra cooling for those hot hard drives.  The four external 5.25" drive bays require drive rails, which are in a slick plastic holder stuck to the inside bottom of the case so you don't lose them.  Mounting is straight forward and I added devices without incident.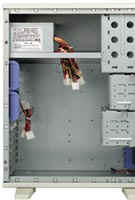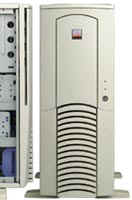 There is no removable motherboard tray, but the case is wide enough that I had no troubles mounting my Gigabyte motherboard.  I did find that there aren't enough screw holes for this motherboard; I needed three more holes on the right side of the board for a proper mount, so I had to use plastic tabs to shore it up.
The power supply is an Antec 300 watt PP303X model.  It has a variable speed fan to handle temperature changes.  I've read this is a quiet power supply, but my system is pretty noisy with the power supply and three case fans running.
Construction is solid, sturdy and reliable with no sharp edges or burrs.  I have to say I love this case and will buy more of them as need arises.  If you want to save a few dollars pick up the SX830 workstation case that lacks the front door and 2 drive bays. As well the SX1040 is available; same as the SX1030 except a 400 watt power supply. Below is a chart courtesy of Antec detailing the specs of both cases. Either way you can't go wrong.
Model

SX1030

SX1040

Case Type

SOHO File Server

SOHO File Server

Case Dimensions

20.6″(H)x8.1″(W)x18.6″(D) 522 x 205 x 473 mm

20.6″(H)x8.1″(W)x18.6″(D) 522 x 205 x 473 mm

Drive Bays

– Front Accessible

– Internal

10
4 x 5.25″, 2 x 3.5″
4 x 3.5″

10
4 x 5.25″, 2 x 3.5″
4 x 3.5″

Expansion Slots

7

7

Cooling System

4 x 80mm fans
1 Front (Optional)
2 Rear (Standard)
1 HDD Bay (Optional)

4 x 80mm fans
1 Front (Optional)
2 Rear (Standard)
1 HDD Bay (Optional)

Main Board Size

Up to 12″ (W) x 13″ (L) 305 (W) x 330 (L) mm

Up to 12″ (W) x 13″ (L) 305 (W) x 330 (L) mm

Power Supply

300 Watt SmartPower

400 Watt SmartPower

Material

1.0mm SECC

1.0mm SECC

Net Weight
Gross Weight

30.7 lbs.
32.7 lbs.

31.7 lbs.
33.7 lbs.

Motherboards

Fits standard ATX and Xeon

Fits standard ATX and Xeon

Special Features

Swing-out side panel with handle

Quick-release drive bays with release lever

Snap-in fan mounts

Large front panel vent
Package includes

1 Tower Case

1 300 Watt ATX SmartPower – installed

1 400 Watt ATX SmartPower – installed

1 Power cord

2 Case fans

1 Set of screws and motherboard standoffs

1 Set of drive rails

1 Installation manual