I enjoy the art of Carlos Pacheco: he has a great style that has worked across the board for Marvel and DC.  Sight unseen I ordered Ultimate Comics Avengers: Next Generation Premiere Hardcover.  I've read previous Ultimates titles and knew the universe: basically a retelling of Marvel characters in a new universe, familiar names retooled.  Here's the publisher's blurb: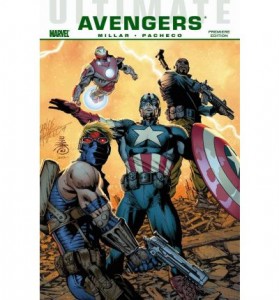 Guess who's back!! That's right, kids, MARK MILLAR (THE ULTIMATES, WOLVERINE: OLD MAN LOGAN) and superstar artist CARLOS PACHECO (AVENGERS FOREVER, X-MEN) blast into the Ultimate Universe for a mind-blowing, heart-pounding and gut-wrenching event of epic proportions! When a highly-classified secret threatens Captain America, only the newly-returned Nick Fury has the tools to bring 'em in! PROJECT AVENGERS is a go! Collecting ULTIMATE AVENGERS #1-6.
Wow, that uses a lot of words to say nothing.  Let me give you the skinny: Red Skull and the Cosmic Cube are introduced the Ultimate universe.  The new spin is that Red Skull is Captain America's son and Cap goes renegade to find out what happened.  While that's happening Nick Fury is tasked to assemble a black ops team to retrieve the Cosmic Cube and kill Red Skull.
I thoroughly enjoyed the story.  This was a nice reinvention of the classic storyline of Red Skull and the Cosmic Cube with lots of great action.  To be fair the hunt for Captain America takes a good amount of this story and is straight out comic book action.  The dialog moved nicely and there was a good flow overall.  I'm not sure I see the point of bringing this story into the Ultimate universe: aren't there new ideas available instead of rehashing?  I understand and feel the draw of seeing Red Skull and getting a new character at the same time, and perhaps the majority of readers aren't familiar with a Captain America story from fourty years ago, but I do.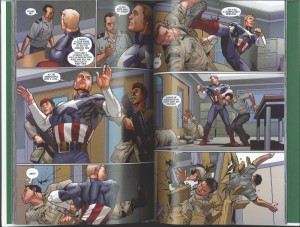 Let's talk about the art.  Carlos Pacheco is listed as penciler on this book but I didn't see much Pacheco art.  Have a perusal at the two pages above: I can't actually say it looks anything like any Pacheco art I've seen.  The credits list five inkers and you can see their work throughout the book: based on what's on the page I'd say Pacheco provided breakdowns at best and should not be credited as penciler.  His name steered me to buy the book and Marvel got me on this one but not again.  The inkers did most of the work so the quality dips in places such as the page on the right: details in the face are basic.  The colours are bright and punchy but that's what we get now with digital colouring.
Packaging and collection as a whole are good.  The credits from the individual issues were removed so it flows like a complete work and not a collection of six issues.  While I enjoyed the full bleed edge to edge art pages I found it difficult to really enjoy the art close to the center.  Extras are thin: two variant covers and two pages of character designs from Pacheco.
Overall Ultimate Comics Avengers: Next Generation is a good read with some weak areas including penciling and original story.