I went on a three week trip to Europe and Africa this spring and wanted a portable computing device.  OK, I really wanted an iPad but they weren't available yet so I started looking at notebooks using Intel's ultra low voltage ULV processors, the SU series.  The PC had to be small and portable but big enough to be usable and not cramped, plus not too expensive: this led me 13.3″ ultra portables from Acer.  Yes Asus makes great models but they were too pricey, and Gateway has good models which I considered since they're owned by Acer and sell rebadged Acer models.  It looked like I would be spending about $600 on a Acer Timeline 3810T with 13.3″ screen, Intel SU7300 processor, 3 GB RAM and 320 GB hard drive.  The size was great, keyboard a good size and it would get done what I wanted based on my endless web searches and review reading.
I was also popping into Staples once a week to see what they had on liquidation: they frequently have slightly older or discontinued PCs for great savings.  About two weeks before my trip I went in and found an Acer Aspire Timeline 1810T for $247 with these specs: Intel 1.4 GHz SU3500 Core Solo CPU, 3 GB DDR2 RAM, 250GB 2.5″ 5400 RPM SATA HDD, 11.6″ screen 1366×768 resolution, 802.11N wireless, Intel GMA4500HMD graphics, HDMI, DSUB outputs, three USB 2.0, 1.3 MP webcam, six cell battery, headphone and mic ports, card reader, Gigabit Ethernet, Windows Vista Home Premium.  I could not beat this price for a portable and Staples offered a 15 day return policy so I took the plunge.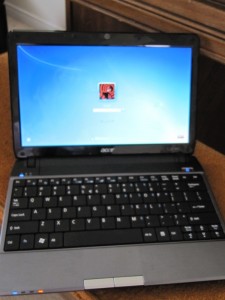 I decided to clean out the pre-installed crud but leave the OS in place and get a full workout within my 15 day return period.  My biggest concerns were three fold: single core CPU, 11.6″ screen, reduced Canadian keyboard.
It's been a while since I worked on a single core CPU but it has to be viewed in relation to the device: on a portable machine with a smaller screen I found single tasking to be my main focus.  Multitasking, tabbing and juggling multiple apps didn't work on a PC with an 11.6″ screen, and that was a good thing.  I occasionally found myself waiting for an app but I was getting done what I wanted: web surfing, emailing, picture management and light editing, light gaming, movie watching.
Which leads me to my second concern: the 11.6″ screen.  After a few hours using it with the 1366×768 resolution my worries about screen size were gone: everything I wanted to do could be accomplished.  The same "portable device not a desktop" mentality that applied to the CPU came into play here: this isn't a PC you sit in front of all day.  It's task oriented: do what you want and move on.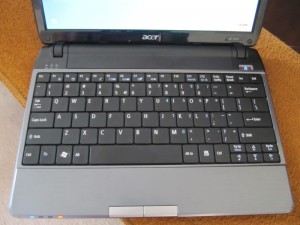 Last concern was the keyboard.  I hated the "Canadian" layout but that was easily changed after I decided to keep it which I've [intlink id="1261″ type="post"]posted about[/intlink].  The keys have very little travel and I found them to feel close together, even though I believe it's a full sized key.  As well the keyboard feels mushy and gives in the middle slightly, but not enough to affect typing.  I have large hands and my one dislike of the layout is that when I'm typing my hand can brush the touchpad: this had had disastrous effects like wiping out whole articles in WordPress.
Since I'm harping about the touchpad let me say it's a good size and gets the job done.  The keys seem a little stiff but the two and three finger gestures plus the right side scroll work well and reduce your mousing workload.  I found myself double tapping the touchpad instead of left clicking most of the time; it was very comfortable and felt natural.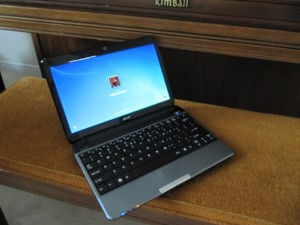 The Acer 1810T is light at 3.2 pounds and 11.2 x 8.0 x 1.2″; in fact it's hard to believe you can have this much PC in so small and light a form factor.  I didn't notice the weight in my messenger bag and moving around with it while working is a joy.
Being so portable I was concerned about watching movies and playing games: integrated graphics are not what I'm used to.  For our trip this PC was to keep my children occupied and mostly quiet before bed in our hotel room so I loaded up a bunch of Disney movies: the played beautifully full screen using Windows Media Play and Media Player Classic.  I didn't see any stuttering or lagging.  I knew recently released games wouldn't go so I picked up a few classics from Steam: [intlink id="665″ type="post"]Max Payne[/intlink], [intlink id="211″ type="post"]Counter Strike[/intlink], [intlink id="147″ type="post"]Titan Quest[/intlink].  I kept the settings at medium and everything played well: these are at least a few years old but a fun distraction.  I did use an external mouse for gaming; can't imagine trying to use the touchpad.
Last key item was battery life.  The six cell battery gave me a little more than eight hours of light use, while movie watching brought me down to four hours.  I call that excellent.  There are switches at the front left to disable and enable wireless ethernet and bluetooth, which came in handy to extend movie watching.  I kept the screen brightness down slightly from the top after lots of playing around to see how dim a screen I could live with; turns out I light it bright.
My two weeks came to an end and I decided to keep the 1810T.  At that point I connected a USB optical drive and burned the backups just in case.  Wiped the drive and installed Windows 7 Professional x64.  Upgraded to 4 GB DDR2 RAM, replaced the keyboard and added a bluetooth module.  The keyboard and bluetooth module were from eBay and required removing a lot of screws from the unit and taking the entire top off but I took it slow and it went without a hitch.  I also removed all the stickers: I like a clean look and since I already bought the unit I don't need to be sold on it's specs.
The Acer Aspire Timeline 1810T is a great laptop: portable, powerful, long lasting.  Unfortunately my model is discontinued but I continue to see similar Acer and Gateway models around $350.