Growing up I was a dedicated Marvel comics fan and didn't stray much into DC territory.  Sure I caught the big books, Dark Knight, Watchmen, V For Vendetta, but it had to be making a lot of noise for me to look at it.  Unfortunately, I came too late to the party to ever see Jack Kirby's DC work; I started collecting in 1980 and I only bought back issues of books I was enjoying on the newsstand.  From early on I was hooked on Kirby's style: my first exposure was Invaders covers: bold, hard lines that jumped out at me.
Fast forward thirty years and I'm perusing my local comic shop and keep seeing a group of brightly coloured hardcovers.  DC decided to collect their Jack Kirby work in a series of Omnibus volumes; first four volumes of Fourth World material, then OMAC, the Demon, the Losers, Sandman and possibly more.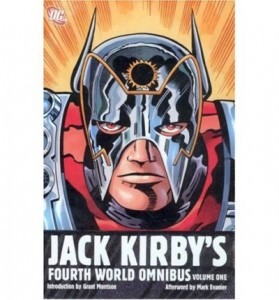 I picked up Jack Kirby's Fourth World Omnibus Volume One and have since gone back and negotiated for the entire run. The first thing that hits you is how light the book is: at 396 pages you expect a lot of weight but it isn't there. The paper used is a type of pulp that has a mat finish: the colours are warm and the reproduction quality is excellent but it also carries a bit of the feel of the original issues. It's hard to describe but it seems people love it or hate it. Here's the publisher's blurb:
After co-creating a number of legendary comic book heroes — including The Fantastic Four and The Hulk — legendary writer/artist Jack Kirby came to DC Comics in 1970 to create his magnum opus: four interlocked adventure series that were known collectively as "The Fourth World."
Now, for the first time, DC collects Kirby's four series — THE NEW GODS, THE FOREVER PEOPLE, MISTER MIRACLE and SUPERMAN'S PAL, JIMMY OLSEN — in chronological order as they originally appeared. These comics spanned galaxies, from the streets of Metropolis to the far-flung worlds of New Genesis and Apokolips, as cosmic-powered heroes and villains struggled for supremacy.
THE FOURTH WORLD VOL. 1 features the debuts of Orion of the New Gods, the evil Darkseid, super-escape artist Mister Miracle and many others, and features numerous appearances by Superman, from the pages of SUPERMAN'S PAL, JIMMY OLSEN #133-139, FOREVER PEOPLE #1-3, NEW GODS #1-3 and MISTER MIRACLE #1-3!
For this series of four volumes, Kirby's Fourth World run is being collected chronologically as it was published so in volume one we get Superman's Pal Jimmy Olsen, New Gods, Forever People and Mister Miracle.  Kirby lets loose right away on a bunch of crazy 70's concepts that work: bikers, engineers who live on a giant vehicle, cloning, conspiracies and that's the first ten pages.
I loved the New Gods Fourth World material in this book; unfortunately the Jimmy Olsen material doesn't do anything for me. Jack Kirby had to take over one currently published book as part of his deal so he took one that didn't have a current production team so no one would be out of work; that was Superman's Pal Jimmy Olsen. DC didn't like how he drew Superman or Olsen so other artists redrew every appearance of these characters in the book. This was a tie back to DC and their universe and it didn't fit with the bold and energetic concepts that were part of the Fourth World material and unfortunately it shows.
As I said earlier I had never read any of this material and it was a real eye-opener: I loved it.  It's Jack Kirby at a very high level: his art was clean and strong, not yet affected by his age.  Mark Evanier has an excellent afterward that fills in the back story of why and how Kirby and DC came together; it adds a nice dimension after you've finished the volume.