I bought an eVGA Nforce4 SLI motherboard a few years ago: nice board, socket 939 and was my main system until I upgraded to Core 2 Duo. Sold my old Athlon 64 x2 4400+ but had the motherboard lying around, along with the 2x 1 GB Pc3200 DIMMs. No real use until I picked up a cheap socket 939 Athlon 64 x2 3800+ and decided to build a secondary gaming system.
Once I had the system up and running I remembered the horrible fan noise from the chipset fan. It was a very loud and irritating 40mm fan: screeching at boot up and settled to a roar the rest of the time. The chipset sits behind the PCI-E x16 slots so I couldn't use a normal heatsink in place of the fan. Looking around I found the Thermalright HR-05-SLI chipset heatsink.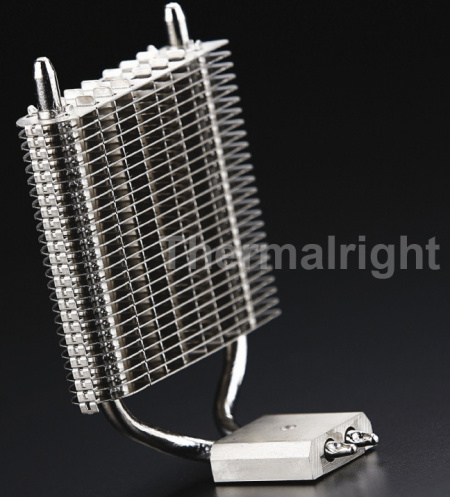 As you can see the fins jut out on two heatpipes to get it out of the way of the SLI slots. On my motherboard it could face three ways: up, right or down. First two wouldn't work with other connections on the motherboard so I installed it facing down. When they say it will work with SLI they must mean single slot graphics cards, as with a 7900GT in the bottom slot there's a hair's width between the graphics card and the heatsink fins.
Let's back up a bit: installation is very easy. Remove the motherboard so you can pinch the plastic pins that hold the existing fan in place. Once that's off clean the chipset off and put down the heatsink: for my chipset I had to put a rubber outline on the bottom of the heatsink so it would be level all around. Securing the heatsink to the motherboard is done by using one of the arms included: put the arm on the heatsink, line up it's nub with the indent in the center, secure the arm with two plastic push pins. It's really easy and there's a nice walkthrough on their site. If you need it they include an arm with grooved ends that can be used with plastic zip ties and four holes in the motherboard.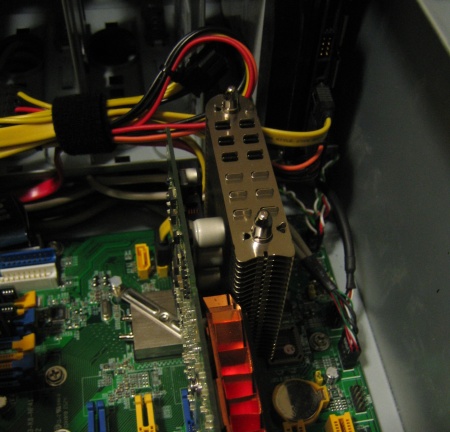 Once on I reinstalled the motherboard and got everything back together. So far performance is quite good: I don't think I'll need to attach a fan for maximum cooling, but I'm not overclocking anything and my case has good airflow.
All in all an excellent product for those of us who need it.