Milo Manara is a mostly untapped resource to North American comics fans, but that's all changing with The Manara Library Volume 1: Indian Summer and Other Stories from Dark Horse.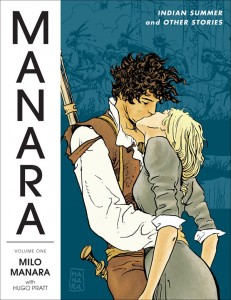 Italian comics legend Milo Manara brings a comprehensive collection of his catalog to the United States! The first of nine volumes, The Manara Library Volume one collects two of Manara's seminal works in a magnificently appointed, deluxe hardcover edition. The sweeping epic Indian Summer, a collaboration with celebrated creator Hugo Pratt, is collected here along with Manara's The Paper Man, both translated by Euro comics expert Kim Thompson.
Writer: Milo Manara, Hugo Pratt
Artist: Milo Manara
Dark Horse, October 26, 2011
Format: FC, 208 pages, HC, 8 3/8″ x 10 7/8″
Age range: 18
ISBN-13: 978-1-59582-782-1
$59.99 USD
Order online: Amazon
Before we get too far let me point out that the title is completely misleading: this volume contains Indian Summer and one other story, The Paper Man. Why they'd title it "and other stories" is anyone's guess, but is my only criticism of this wonderful introduction to Milo Manara.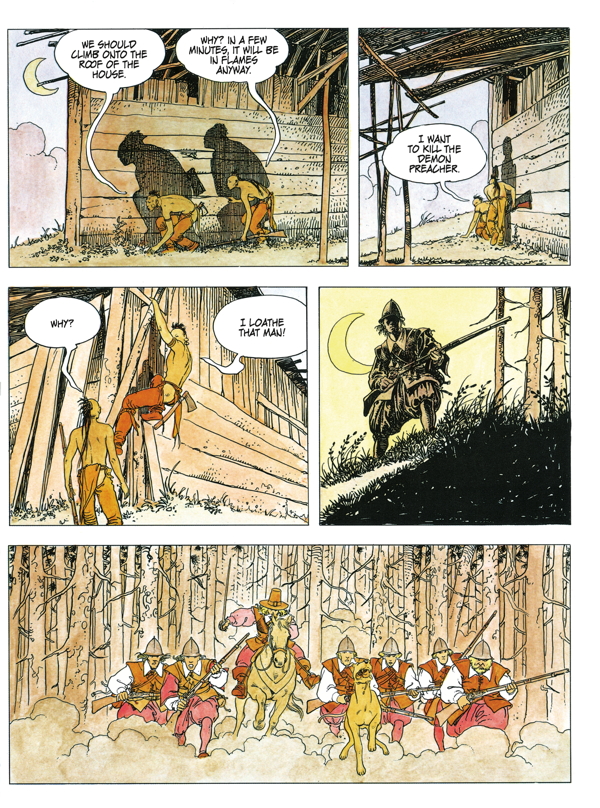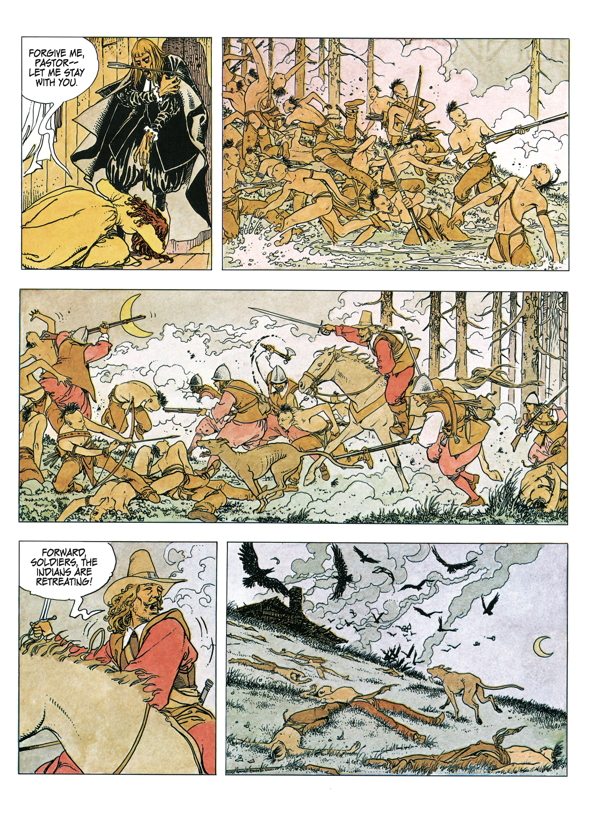 It's an interesting choice of material for a "volume 1″, considering Indian Summer is written by Hugo Pratt, in most circles a name far larger than Manara. A hard tale of early settler life, Puritan values, violence and since we're talking about Manara beautiful women in sexual situations of rape, incest and more. Pratt does an excellent job of building a compelling tale around characters, for the most part, we don't actually like. Life for the early American colonists was hard, and we're presented with the dichotomy of cultural and moral boundaries. A rejected family lives in the woods outside the colony and gets caught between them and the local Indians. Through that, we slowly learn this family's dark secrets as violence escalates and few are left standing. It's harsh, dark and gritty.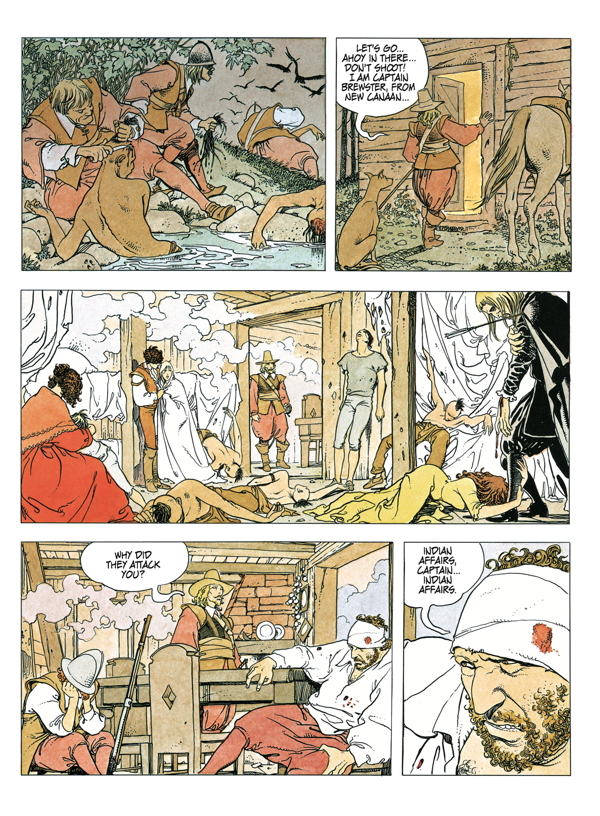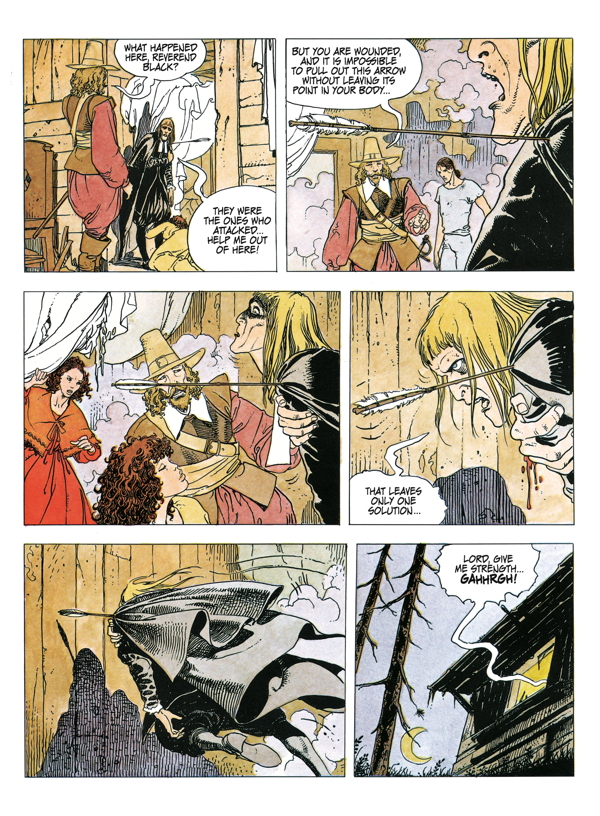 Of course, the star of the tale is the art, and it showcases Manara's ability to portray emotion. Lust, anger, joy, despair, all equally well-defined on the character's faces and body language. Characters are wonderfully illustrated, from beautiful women to dour old men and everything in between. While Manara is always praised for his unblemished women in various states of undress he has a stunning range and equal credit should be given to his ability to define his characters outwardly.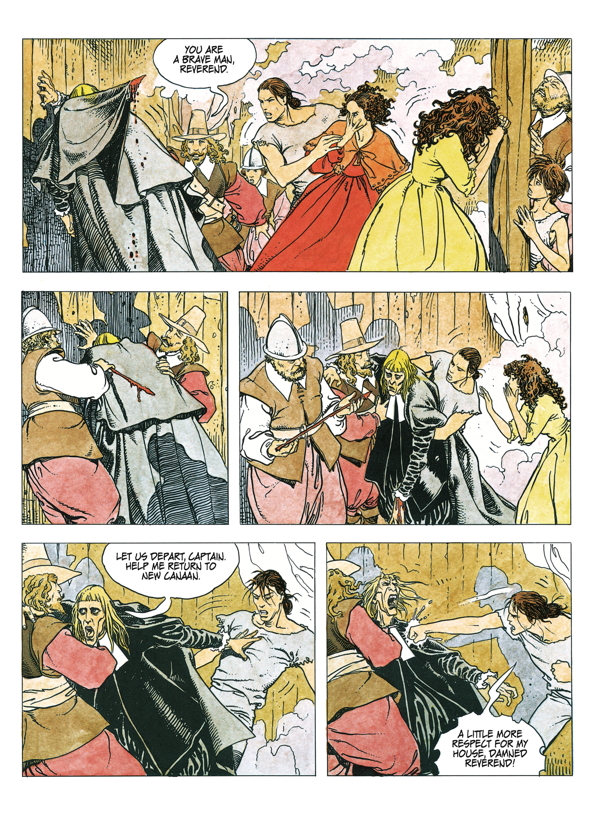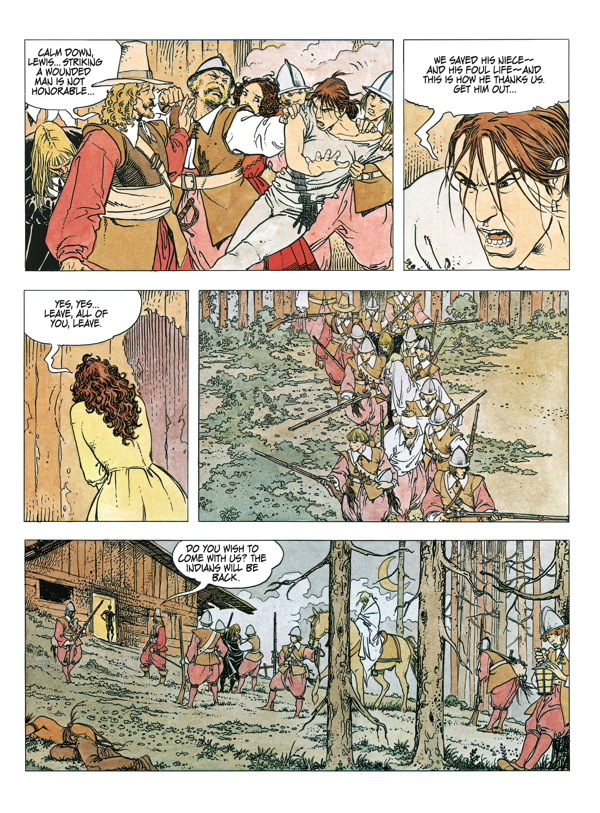 The second story, Paper Man, is written and illustrated by Manara. It's another period piece, this time the American old west. A completely different story, this time drama with liberal doses of whimsy and comedy. It's a fun romp with ridiculous characters; at times awkward in its humour mixed with violence and deadly seriousness.
The Manara Library Volume 1: Indian Summer and Other Stories is a well-produced volume; European dimensions with heavy paper stock. A foreword by Frank Miller and an introduction by Andrea Plazzi. The colour palette is muted and reminds me of 1980s productions; they are brighter and more pronounced in The Paper Man. The price is high at $60 for the page count and size but it's a very nice package overall.
Originally published at Comic Book Daily.