Being a die-hard Darwyn Cooke fan I had Parker: The Martini Edition pre-ordered with no knowledge other than it was oversized and collected the two Parker books. Now that I have it in hand it is so much more.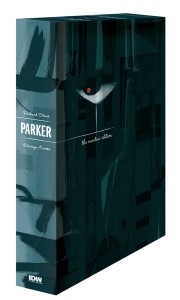 Darwyn Cooke's first two Parker books, The Hunter and The Outfit, are collected in a tremendous, special oversized hardcover edition—with an ADDITIONAL 65 pages of Darwyn Cooke content—including a BRAND NEW story and a beautiful slipcase!
This very special collection measures an impressive 9 x 13 inches and weighs in at 334 pages. Extras include an extended art gallery section as well as a brand-new 8-page Parker story by Darwyn Cooke, unique to this volume.
w & a & c: Darwyn Cooke
HC, Partial Color
360 Pages
Size: 9" x 13"
ISBN: 978-1-60010-980-5
$75 USD
Order online: Amazon
Since this is a collected edition of previously published work I won't review this volume but instead discuss what Parker: The Martini Edition brings to the table.  Let's start with the presentation: this is a massive hardcover in a slipcase, in the same vein as DC's Absolute volumes, since editor Scott Dunbier created that line while at DC.  Thankfully there's no dust jacket since one isn't needed.  Same paper stock as the original graphic novels; substantial.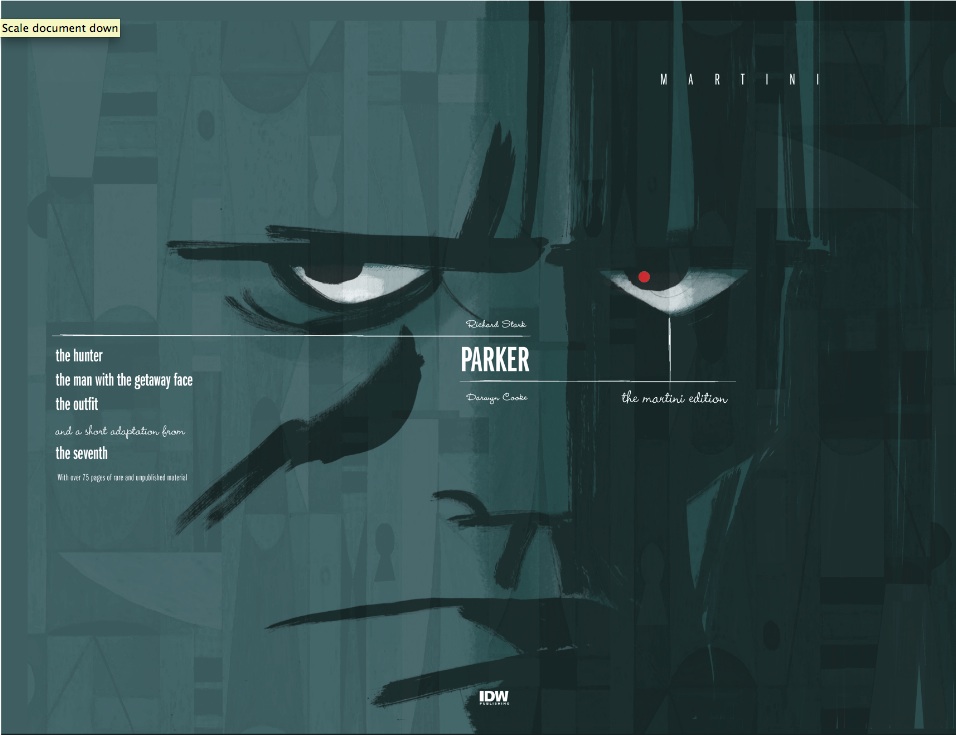 I wanted to include this image of the slipcase flattened as it really can't be appreciated in its printed form. Very nice but I digress.
Once inside Parker: The Martini Edition it's a matter of scale.  The pages are so significantly larger than the original volumes, save perhaps for The Man With The Getaway Face, but even that can't compete with this 9×13″ presentation.  Don't worry, Cooke's art scales beautifully and is at its best right here.  Here's a comparison to the original graphic novel; it's almost doubled.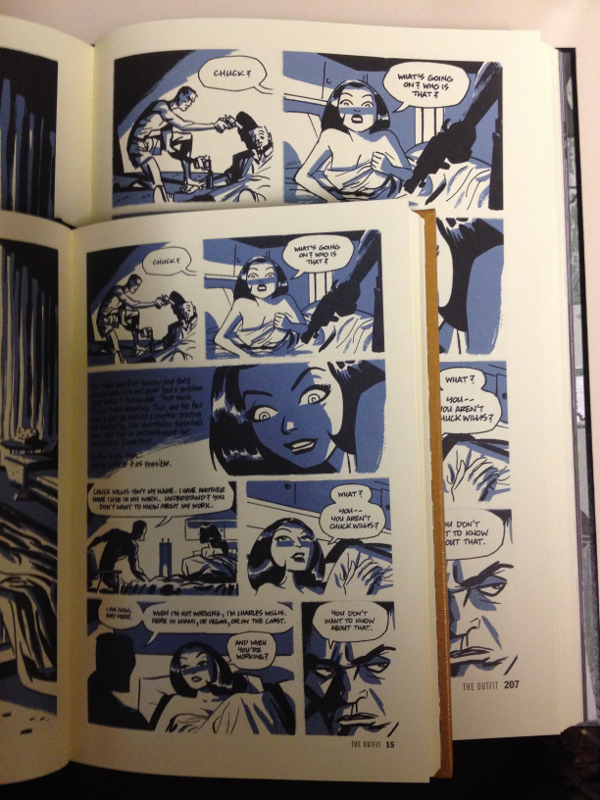 When I read 65 pages of new material I didn't believe it, but as I went through Parker: The Martini Edition it's all there.  Wherever possible we're treated to Cooke art, including the new eight-page story, the extensive portfolio of Parker movie portraits, a great look at the Parker character and an interview by Tom Spurgeon, all with full-page art from all over the place.  There are a lot of extras.
The question becomes should someone who owns The Hunter, The Man With The Getaway Face and The Outfit buy this book. To that I answer with a resounding yes. This format and size presents Cooke's art at its best, and fans of this work owe it to themselves to experience Parker: The Martini Edition.
Originally published at Comic Book Daily.