Vaguely remembering the movie, I saw a solicit for The Keep hardcover collection from IDW so I put in an order at my local comic shop.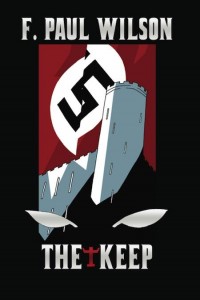 The keep had stood empty in the Transylvanian Alps for 500 years. No one knew who built it, or why. But on the eve of WWII, German soldiers move in and awaken something — something hungry — something as merciless as the SS einsatzkommandos accompanying them. Now you can re-live the tale as it was meant to be told (we didn't mention the 1980s movie directly, but…) as author F. Paul Wilson adapts his own story in this 2011 edition with a new cover by Matthew Dow Smith!
Writer: F. Paul Wilson
Artist: Matthew Dow Smith

IDW

, hardcover
124 Pages
ISBN: 978-1-61377-050-4
$24.99 U.S.
Order online: Amazon
Luckily I didn't remember anything about the movie since F. Paul Wilson slams it in his introduction. He wrote the novel and came back to the material to write this comic adaptation. And he does a great job. The overall story, pacing, character development are all well done: not being a regular "comic" writer had no ill effect on Wilson's work.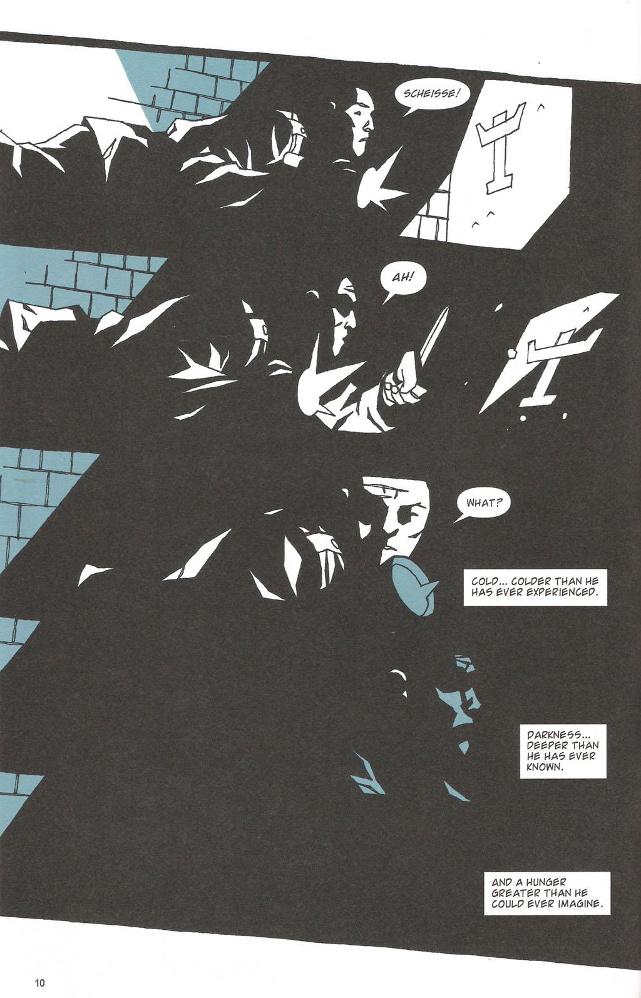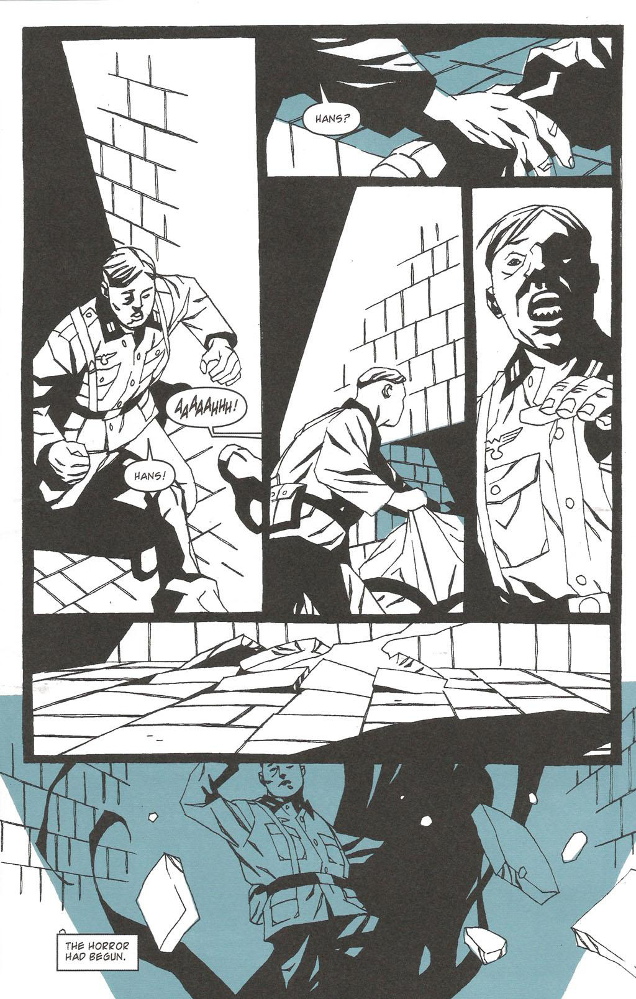 It's World War Two and the German Army takes up residence in a keep that has no history. Bad things happen and a researcher and his daughter are brought in to explain. Once there we're introduced to an evil that wants to be free. Since every darkness has a counterpoint of light they're brought into the eternal conflict of good versus evil. It's a great story that keeps you guessing. Characters develop well, dialogue working what we can't get from the graphics. Horror isn't my usual read but this felt more of a suspense thriller.
I'm a fan of Matt Smith and it was his name that was the deciding factor in my purchase.  The publisher's claim of FC or full colour is not accurate: The Keep is a black and white work with gray shadowing and red blood.  It works much better for horror or suspense than colour and was a solid choice.  Smith has a great inked style that plays well here.  My only complaint is that I had some trouble telling characters apart based on their appearance, especially the German officers.  I found myself trying to identify them by their uniforms.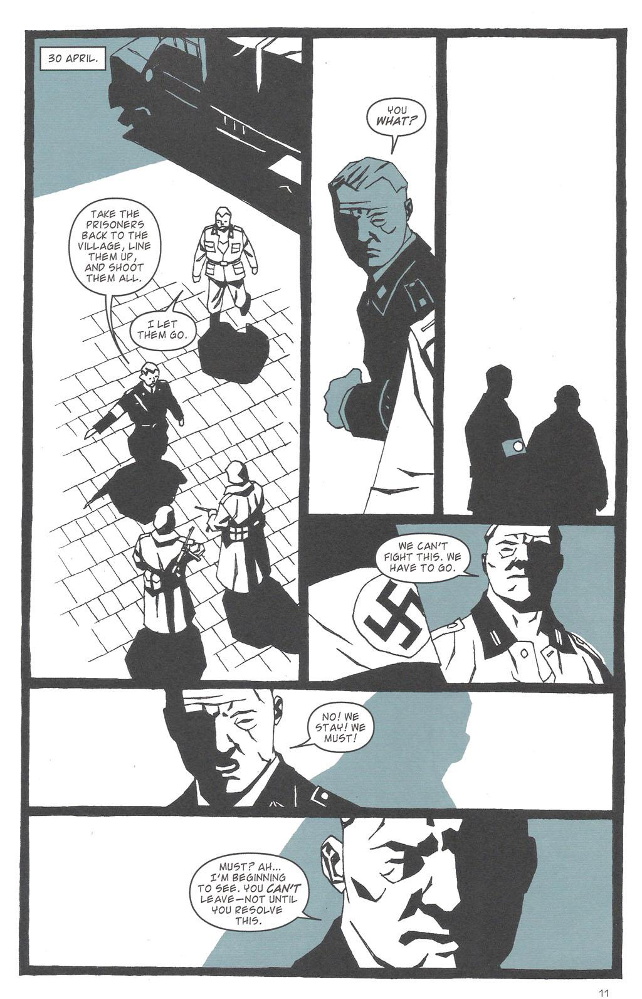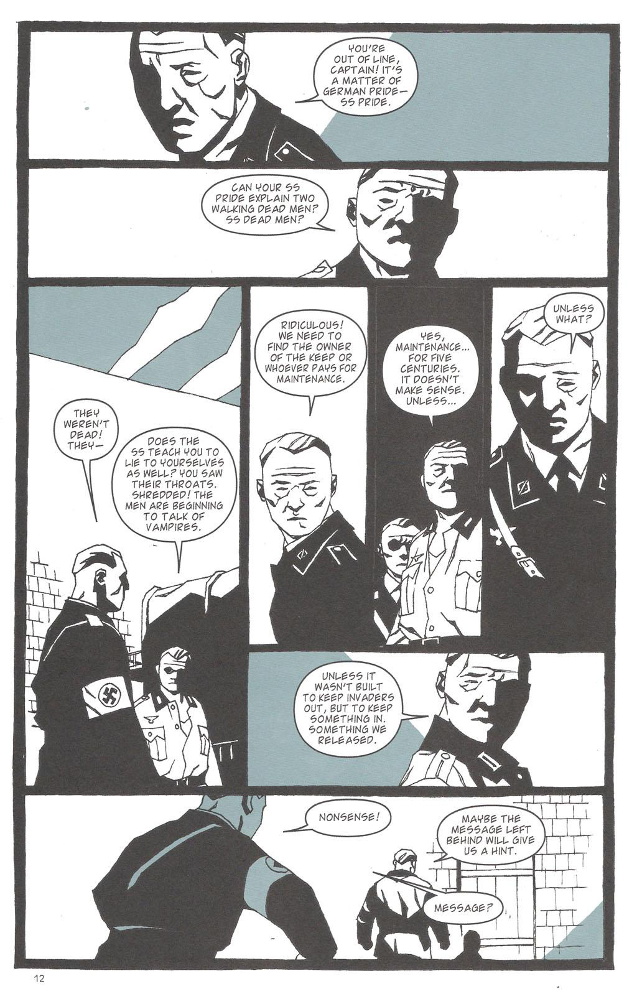 After finishing The Keep I discovered this is a collection of a 2006 mini-series that was collected in softcover that same year.  The only extras are the mini-series covers of issues two to five.  Heavy paper stock and a clean design make for a solid hardcover.  For $24.99 it's expensive, 124 pages of black and white material.
Originally published at Comic Book Daily.