Something out of the ordinary hits comic book shop shelves last month: Nursery Rhyme Comics from First Second. Having seen some previews and a substantial build-up I anxiously read it through.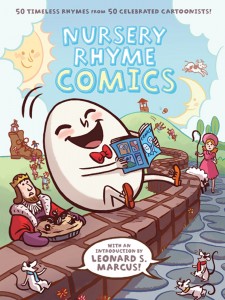 First Second is very proud to present Nursery Rhyme Comics. Featuring fifty classic nursery rhymes illustrated and interpreted in comics form by fifty of today's preeminent cartoonists and illustrators, this is a groundbreaking new entry in the canon of nursery rhymes treasuries.
From New Yorker cartoonist Roz Chast's "There Was a Crooked Man" to Bad Kitty author Nick Bruel's "Three Little Kittens" to First Second's own Gene Yang's "Pat-a-Cake," this is a collection that will put a grin on your face from page one and keep it there.
Each rhyme is one to three pages long, and simply paneled and lettered to ensure that the experience is completely accessible for the youngest of readers. Chock full of engaging full-color artwork and favorite characters (Jack and Jill! Old Mother Hubbard! The Owl and the Pussycat!), this collection will be treasured by children for years to come.
ISBN: 978-1-59643-600-8
Full color throughout
7-1/2 x 10 inches
128 pages
$18.99 USD
Order online: Amazon
Chris Duffy brought together fifty contemporary cartoonists, letting them illustrate a nursery rhyme as they chose to.  Each interpreted and created as they saw fit, ranging from straightforward text and pictures to running gags and subtleties woven throughout.  And therein lies the beauty of the project.  My first read-through was quick and breezy; I felt underwhelmed.  Then I went back and read it again, taking in every panel and its rich details.  This time I was grinning from ear to ear: stupendous!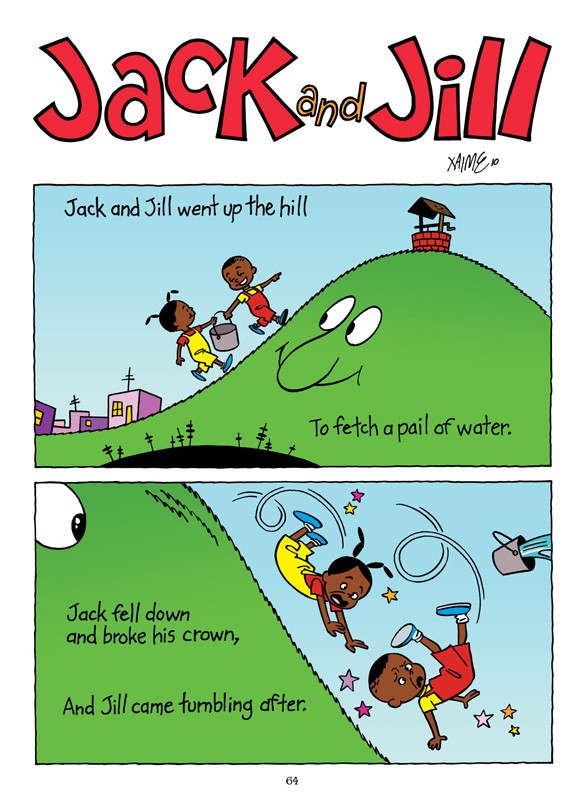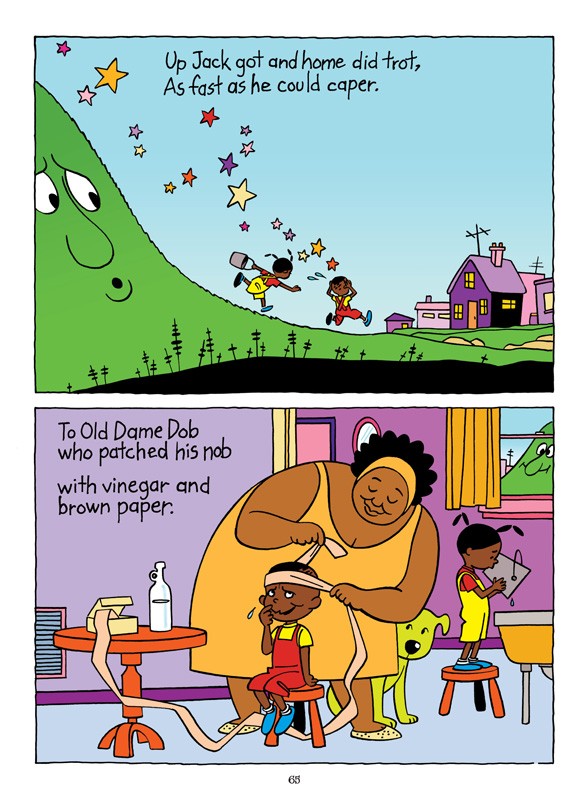 Nursery Rhyme Comics allows the broadest audience to fully enjoy its contents.  Toddlers can be read the rhymes and can enjoy the colourful art.  Younger children can read along for themselves and explore the panels.  Older children of all ages can take in the full experience of the alternate narrative provided in the quips and dialogue throughout the illustrations.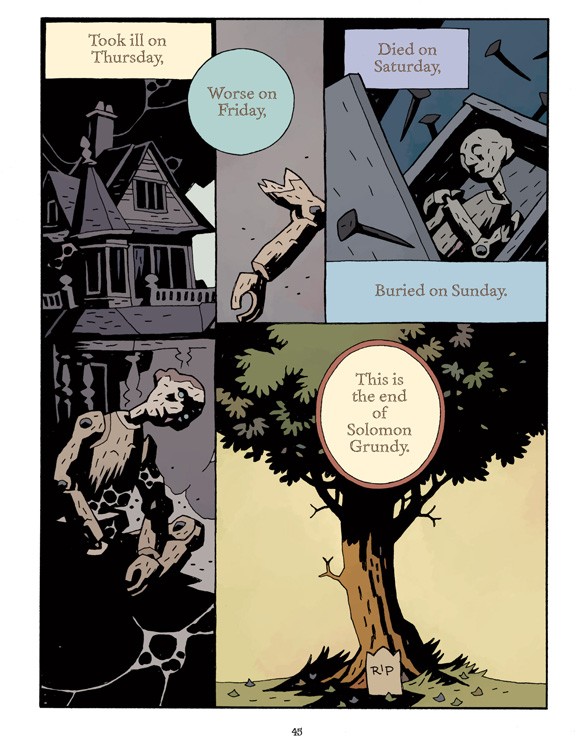 It's a wonderful blend of mainstream cartoonists and comic creators; I can to hear of Nursery Rhyme Comics because Mike Mignola was contributing.  From there I learned of Stan Sakai, Craig Thompson and Jaime Hernandez as part of the project.  Consuming all fifty rhymes exposed me to a wealth of cartoonists and a curiosity to explore their work; the best effect of a project like this, allowing the reader to enjoy the work and create a desire for more.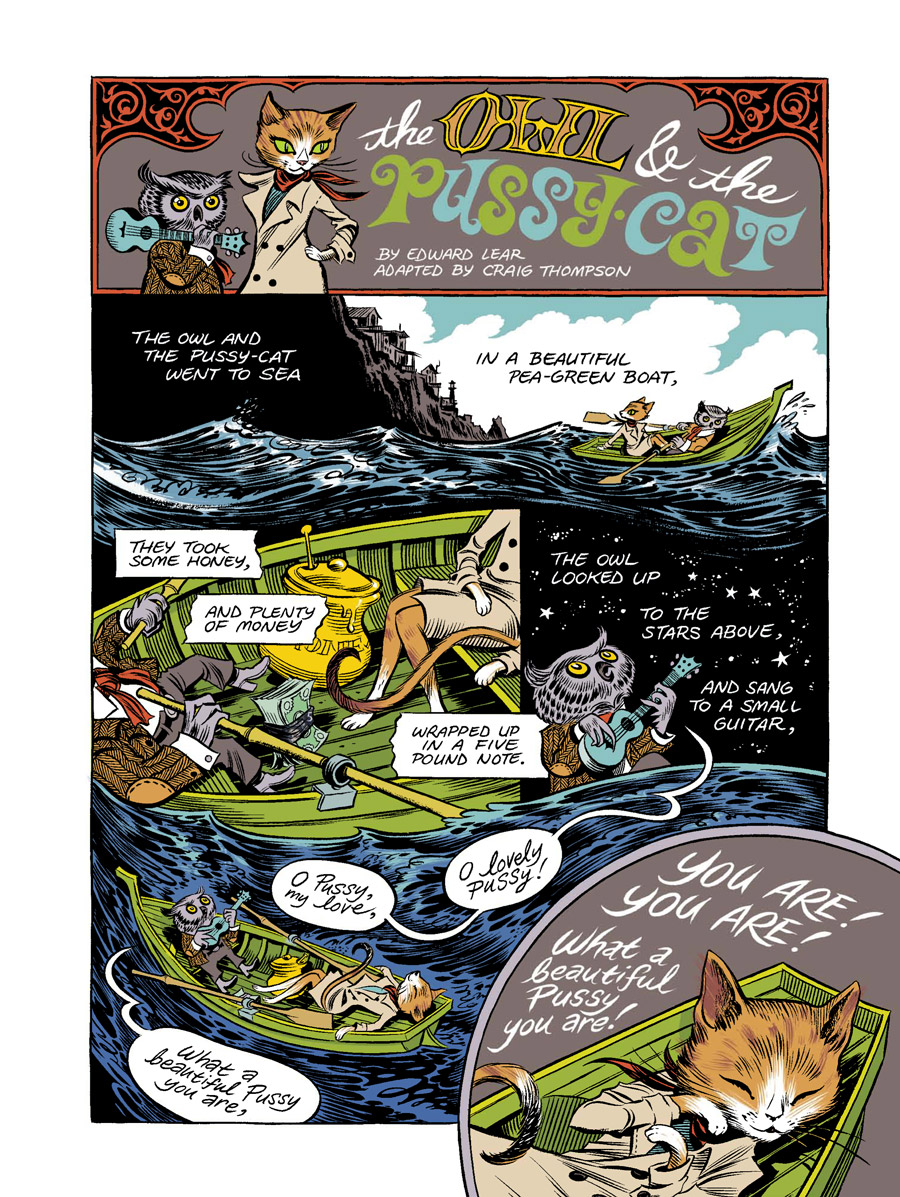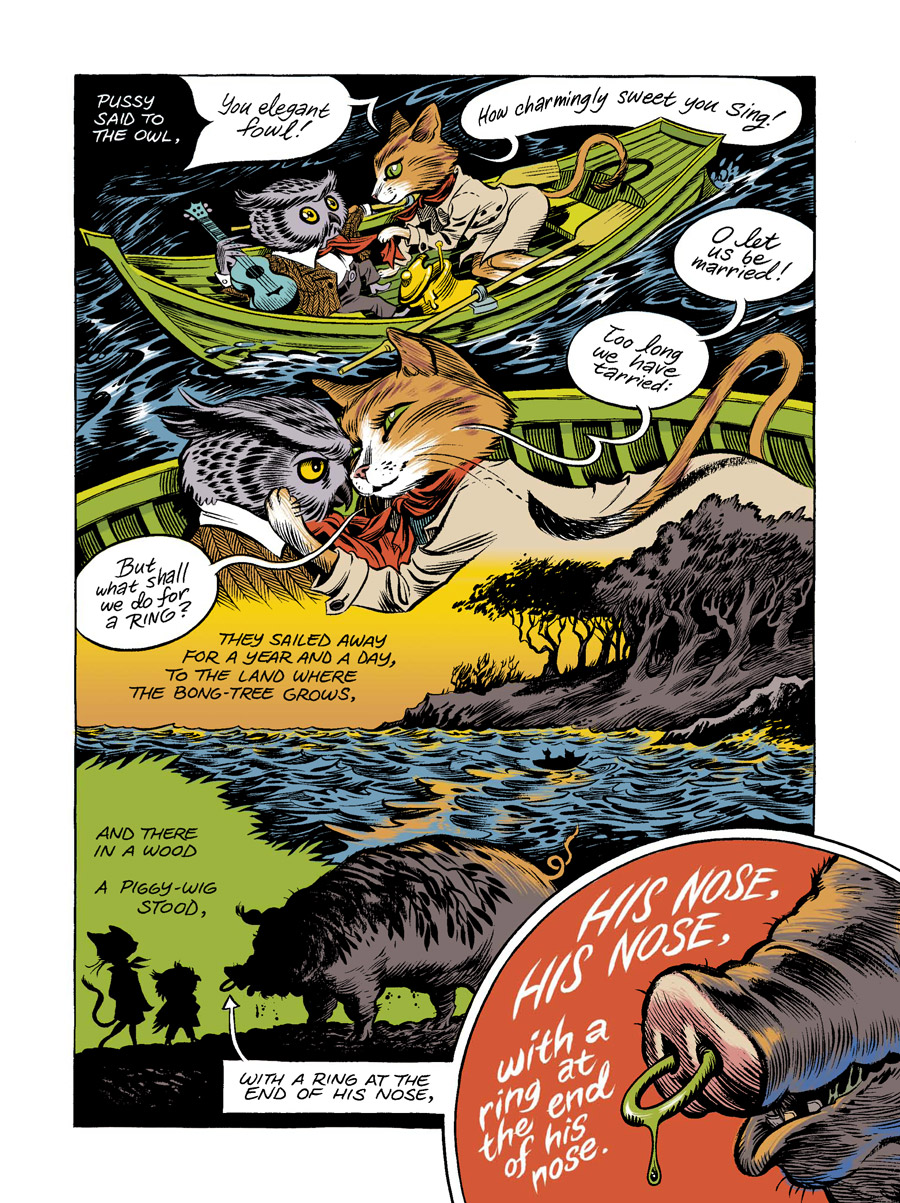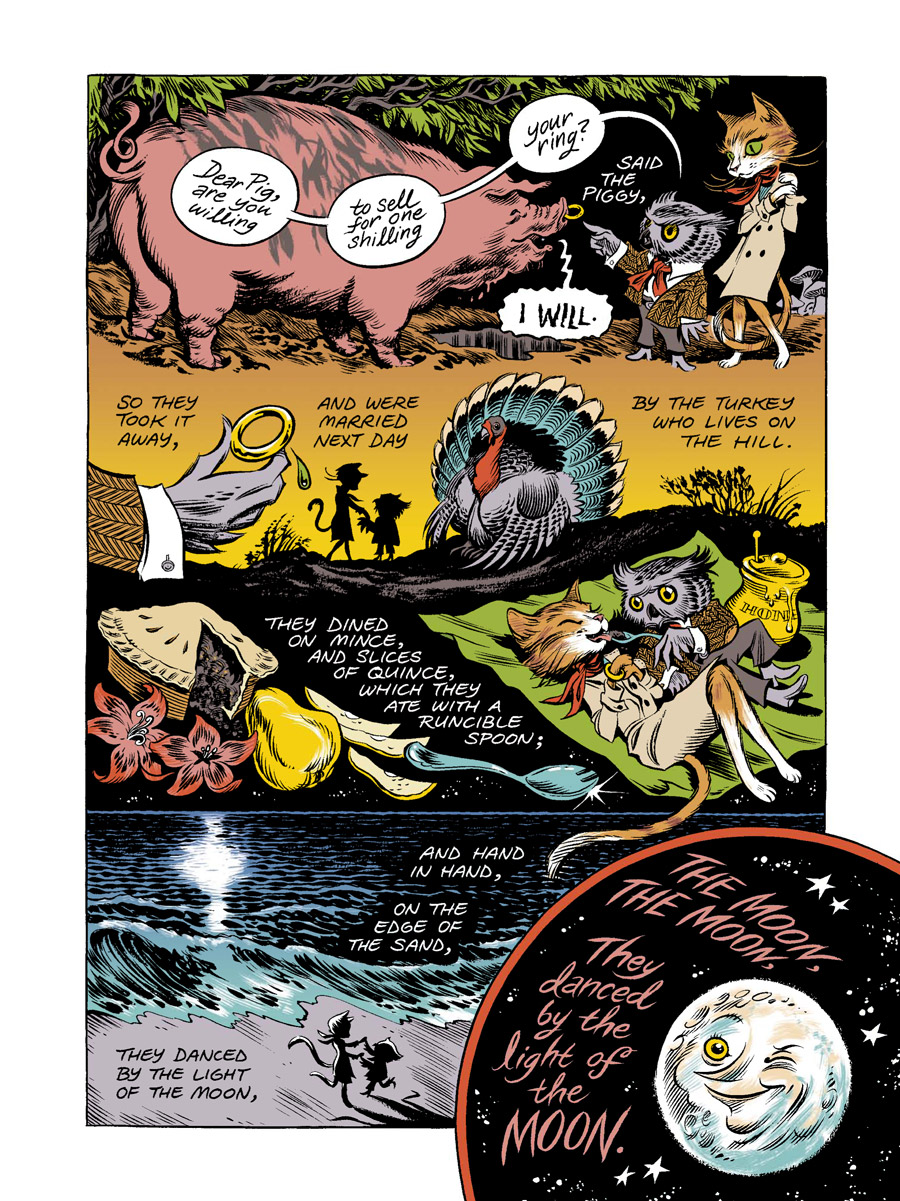 I was blown away by the quality of the contributions, especially Craig Thompson's The Owl And The Pussy-Cat and Jaime Hernandez's Jack And Jill.
My two children sat with me and we went through the book, reading the rhymes and following along the panels. Old hat to me, these were new and exciting to them and they enjoyed the bright colours and all those words that rhyme!
This is a wonderfully entertaining work and a must for anyone who has children.  Nursery Rhyme Comics will be enjoyed for years.  At $18.99 it's a solid value.
Originally published at Comic Book Daily.