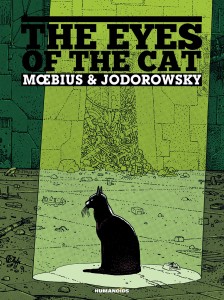 The very first graphic storytelling collaboration between two masters of the medium, Alexandro Jodorowsky and Mœbius.
In a desolate dreamscape world, a man, a bird, and a cat interact in a unique apocalyptic yet poetic fashion…
Presented in a giant-sized collector's edition, in its original b&w colors but with a colored paper stock, and in a limited and numbered printing of only 750 copies!
Alexandro Jodorowsky (Writer)
Moebius (Line art)
Collection : Humanoids Inc.
Edition : Limited Edition Super-oversized Deluxe Hardcover
56 pages, 11.95 x 16 inches
Black and white
ISBN 9781594650581
$69.95 USD
Order online: AbeBooks
A giant book from Moebius and Jodorowsky: I was in the moment I spotted The Eyes Of The Cat in the Diamond catalogue.
Let me start by saying this is an art book for Moebius fans. At 12×16″ it's bigger than some portfolios in my collection, and that's what immediately came to mind as I read the story. We're treated to 24 full-page illustrations from Moebius, with an almost static image on the facing page with a minimal amount of dialogue. It's all about the art, and since I fall into that category of Moebius fan it's truly stunning.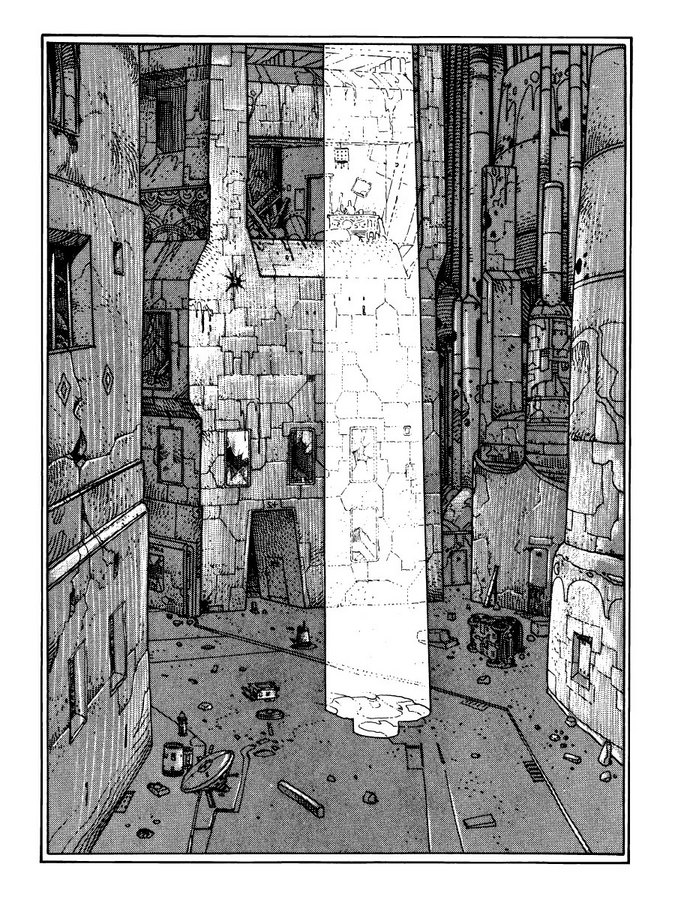 The work is black and white, but Humanoids printed the book on sand coloured paper that gives it a warmth the images included lack. I don't have a scanner big enough for the pages so I'm using the samples available from Humanoids' website.
The story is compelling, albeit brief, so I don't want to give anything away. For extras, we have an introduction by Jodorowsky about how he met Moebius and the origin of this project. The last page indicates the number your book bears in a production of 750.
The production value is extremely high. The paper is so thick every time I turned a page I was sure it was a few stuck together. A silk bookmark is sewn in. It exudes quality. For $70 expectations are high and Humanoids delivers. The Eyes Of The Cat is marketed as a "Limited Edition Super-oversized Deluxe Hardcover" and it truly is a work of art.
Humanoids have recently reprinted this material in a standard 7×10″ hardcover.
Originally published at Comic Book Daily.