Over Christmas, I had a chance to read Superman: Secret Origin The Deluxe Edition hardcover.  I've been a long-term Gary Frank fan so I knew what to expect with the art, and Geoff Johns is a major powerhouse at DC so this couldn't end up a disaster.  Here's the publisher's blurb: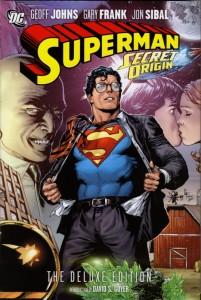 Writer Geoff Johns and artist Gary Frank bring you a startling new look at the beginnings of Lex Luthor, The Legion of Super-Heroes, Lois Lane, Metallo, Jimmy Olsen, The Parasite and more of your favorite characters from the Superman family in this new, deluxe hardcover. Collecting the acclaimed six-issue miniseries!
I'd hesitate to call this book startling: what Johns accomplishes is a retelling of Superman and Clark Kent's beginnings with newer story lines integrated. Unfortunately a lot of people's opinion of this book has been coloured by poor reviews, but I'm looking at this from the perspective of the story on its own and not in a larger context of continuity or comparison.
Over 224 pages we're treated to six chapters in Clark Kent's life: two in Smallville and four in Metropolis. Intertwined with Kent's story is that of his polar opposite Lex Luthor, who undertakes the same journey from small town to mega city. The beauty of the story is it's ability to stand alone: you don't need to know anything about the characters as a complete story is provided to you.
The expected events are all here: Clark Kent discovering his abilities and becoming Superman while Luthor sinks into the role of villain. What I enjoyed were the little things, like Kent disliking the uniform his step-mother makes for him, sneaking a kiss with Lana Lang, the ridiculous personalities at play in the Daily Bugle offices, the transformation of Metropolis as it embraces its "superman", plus many more moments. Characters grow and develop over the course of the story, with minor or bit players really adding overall. Johns gives us a cinematic approach to Superman's origin and it works.
Artwork is provided by Gary Frank and Jon Sibal and it is wonderful. Frank has the ability to make characters truly emotional: lots of anger, mirth, surprise, happiness expressed throughout. The art is solid and consistent. Layout is nice with smaller panels overlapping half page splashes, plus many full splash pages showing Superman in iconic action.
Format and packaging are well done: this 7.4×11″ deluxe edition gives us beautifully oversized pages to really enjoy that artwork. At $29.99 it's a wee bit pricey but this volume can provide several good reads. Extras are thin: an introduction by David Goyer and one unused cover. My only complaint is the dust jacket: it's not needed and the book isn't shrink wrapped since it's under $50.
Superman: Secret Origin The Deluxe Edition
DC, 2010, ISBN 978-1401226978
Originally published at Comic Book Daily.