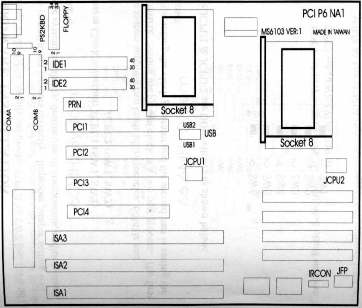 Let's take a look at the MicroStar MS-6103 Socket 8 motherboard. I know the first thing you're going to say; why bother with a motherboard from 1995? My main reason is the number of search hits I get looking for information on this model, plus the emails requesting information. I've been using this board with two Pentium Pro 180 MHz processors and 128 MB of RAM in a variety of situations and have made a few discoveries that may help those who are still using it.
The board is your basic dual processor socket 8 AT motherboard with an Intel 440FX chipset supporting Intel's Pentium Pro. This is pre AGP, so it has four PCI slots and three ISA slots. The 440FX chipset limits us to PIO Mode 4 IDE, plus very early USB implementation. Being an AT motherboard the I/O connectors are on ribbon cables providing parallel and serial ports. MicroStar doesn't have a page dedicated to this model, but you can get a partial manual and the last BIOS revision. While the motherboard has pins for a PS/2 mouse connector and USB ports, these were optional.
A Little background; I received this system from a vendor friend "as is". I've always been interested in the Pentium Pro but couldn't afford one when they were new, so I thought this would be good to play around with. It came with a full tower case, motherboard, two 180MHz processors ( 256k L2 cache ) and two 32MB EDO SIMMs.
First thing I did was install an ATI PCI video card, two more 32MB EDO SIMMs, an old Toshiba IDE CD-ROM, a 10/100 PCI NIC and an old 6.4 GB PIO 4 hard drive. Next up was an operating system; I didn't want to push it so I installed Windows NT Workstation 4.0. Everything worked fine, but I wanted to add a second NIC and a Promise ATA100 controller to get Small Business Server 4.5 installed. Then the fun started, all relating to the motherboard and the reason for this article.
For some reason the fourth PCI slot wouldn't assign an IRQ, either by itself or shared. I thought this was a resource issue, but there were lots of free IRQs available. Then I removed all cards and put the video card in the fourth slot; same problem. This let me to checking the BIOS on the MSI page. I had the latest Award BIOS, but for some reason MSI offered both Award and AMI BIOS' for the MS-6103. I checked around and found a flash utility to switch between the two; why you'd want to flip flop I don't know, but I took a chance and installed the AMI BIOS. Now the fourth PCI slot worked, and I had an option to enable PS/2 support.
I went to the local computer shop and tried a few generic PS/2 mouse and USB adapters, going by the pin count on the motherboard. They're out there if you need them, but I don't have much use right now.
My next issue came when I had Windows 2000 Server installed and running on the machine. I had moved my home network to Windows 2000 to take advantage of IntelliMirror and to get my cable internet going properly. It seems NT is not able to be a DHCP server and have a NIC set for DHCP in the same system, which I needed since my cable company actually changes the IP address monthly. About two weeks after installation the floppy drive stopped working; nothing I could do would get it to work. I tried switching drives and cables, removing and adding but to no avail. I eventually wiped the drive and re-installed. No reasonable explanation for this, other than a glitch. Somehow I relate this to the motherboard, since it developed over time with no real changes to the setup or OS. I wiped the system and flashed the BIOS to get rid of the issues.
There are limitations to the board, but those are to be expected by the use of the 440FX chipset. PIO Mode 4 IDE connections allow for 16 MB/s burst speed, but the real problem is the limitation of the 8 GB size cap. I've got a WD 6.4 GB in there now with a Toshiba CD-ROM, but they do seem a little slower whether real or perceived. The second problem are the 72 pin SIMM slots; I've got four 32 MB SIMMs in there now, but to bump them to 64 MB SIMMs would cost a fortune. You don't realize the pace of RAM changes until you want to upgrade an older system.
I've had this board and system set up in various configurations. For a while it was my home server running NT 4.0 Server, but I gave that up with Windows 2000 Server and it's hunger for 256 MB or RAM. Next I set it up as a secondary system running Windows NT 4.0 workstation with a Promise Ultra100 controller and my LG 8120 CD recorder. I wanted to play games on it as well so I installed Windows 2000 Professional, but the CPU and PCI graphics just weren't up to Counter-Strike. As of late I've installed various brands of Linux, toying with the idea of running it as a Samba server. The machine has taken each itineration without difficulty.
Issues of age aside, this is a very stable motherboard. I've had lockups or crashes relating to hardware, except for the odd floppy trouble. It's solidly built and a good choice for your Pentium Pro chips. I've been checking the web for price parts; a Pentium Pro 180 MHz CPU is $5, and a single socket 8 ATX motherboard can be had for $40. While older, these systems run Windows NT 4.0 and Linux very well. I hope some light has been shed on this board and what it's still capable of.
Update:
I can't believe the hits this and it's parent page receive. I'm still using this motherboard, with an Adaptec AHA-2940UW adapter and two Seagate Cheetah 18 GB drives. Various flavours of Linux have been installed, all working well. Current configuration is listed below.
Picked up a PS/2 port backplane with an AT header ( 5 pin ). When I enabled the PS/2 port in the BIOS, exiting out would reset it to disabled. No matter what I did or how I fiddled I couldn't get the PS/2 function enabled. I wanted to get it going so I could use the system with my KVM.
Current System Configuration
Intel Pentium Pro 180 MHz 256k L2 x2
MSI MS-6103 Socket 8 AT Motherboard
32 MB ECC DRAM SIMM x4
ATI Xpert 98 8MB PCI Video Card
Creative Sound Blaster 32 Sound Card
Seagate Cheetah 18 GB SCSI-2 7200 RPM Hard Drive x2
Pioneer 2x SCSI-2 DVD-ROM
Aiwa Travan 1 8GB SCSI-2 Tape Drive
Iomega Zip100 SCSI Drive
3.5" Panasonic Floppy Drive
Intel 10/100 PIC Network Adapter
Aopen AH08 Full Tower Case with Aopen 300 watt AT power supply
Red Hat Linux 9.0
Editors note: this review was migrated from the old eBabble.net site and the photos updated. Originally published May 10th 2001.