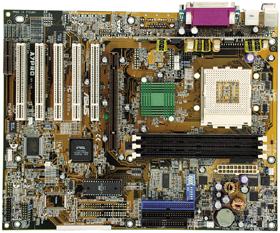 Motherboards are a difficult item to review, for good reason. After listing the features from the manufacturer's web site, what do you discuss? Installation is pretty well the same for all boards, depending on form factor. Benchmarks are difficult unless you have a lot of different boards to test. This is best left to dedicated motherboard sites like Anandtech, which does and excellent job and covers most of the boards on the market. What's left are the idiosyncrasies and odd bits that make an impression. That's what we'll review at eBabble.
I picked up the Asus A7Pro because it didn't have RAID built in. I've been steadily impressed with the price / performance ratio of AMD processors and own a few. I wanted a quality motherboard to use for my home system, but didn't need RAID and didn't want to pay the extra for something I wasn't going to use. I wanted a full size ATX board for the five PCI slots, so that left out the bargain micro ATX boards. At the end I had two choices: the Asus A7Pro and the Gigabyte GA7XZ. I ended up buying both, but we're strictly on the A7Pro here and now. At the time good Intel boards were using the 815E chipset and getting ATA100 support, but Via was using the 686A South Bridge that only provided ATA66. Tests have shown minimal to no improvement between ATA66 and ATA100, so I wasn't worried.
Upon opening the package I saw the usual: ATX motherboard, installation CD, a floppy cable, one 80 wire 40 pin IDE cable, one standard IDE cable, and a user manual. One addition caught my eye; an Asus sticker in the same vein as "Intel Inside", with the Asus logo and a Pegasus. The front of your case can get pretty cluttered; stickers for processor, motherboard, case and who knows what else.
Installation was straight forward and painless. Layout is pretty good, with my only problem arising from the odd placement of the fan connectors. Normally case fans would be at the lower front and the rear middle; Asus has put two at the top front. The board has an auto fan off feature when the system goes into sleep or hibernation mode that I liked the "sound" of ( ouch ), since I leave my system on all the time. Unfortunately the placement left me using case fans with Molex connectors instead.
My other beef with Asus' line of socket A motherboards is the lack of support for the iPanel. Basically it's a small box that fits into a 5.25" bay and shows current temperatures and voltages on an LED screen, plus motherboard status via lights. All the socket 370 board support it, as do the newest DDR socket A boards; what's left out are the boards I have.
Yet a third odd happening; the BIOS said the board was an A7V, not an A7Pro. I scoured the Asus web site but couldn't find an update; going to the Taiwan site rewarded me with a version 1.04 BIOS update. I flashed the board and upon boot showed it was an A7Pro. Looking at the board, you can see it's an A7V with a few features missing, like the Promise ATA100 IDE connectors.
Some interesting tools included on the CD, including a temperature monitor, internet BIOS updater and software DVD player. I've used Asus Probe to monitor motherboard temperature and fan status for some time, and it gets the job done. I have yet to get the BIOS updater to work; it always says "can't find ftp.asus.com.tw" or close to that. The DVD player looks good, but I've got a full surround sound system in the living room and don't watch movies on my PC.
After running the board for the past two months, I'd have to say it's very stable. No problems or odd behavior; just trudging away. In the end, isn't that the best recommendation?
Processor

Socket A for AMD® AthlonTM (Thunderbird Core) / DuronTM 550MHz ~ 1GHz+ CPU

Chipset

VIA® VT8363 (KT133) AGPset

supports 200MHz FSB and 3.3V PC133 SDRAM & VC133 VCM (Virtual Channel Memory)

VIA® 82C686A South Bridge & Super I/O

System Memory

3x 168-Pin DIMM Socket to Support Max. 1.5GB PC133/VC133 non-ECC SDRAM

Expansion Slots

1 x AGP Pro / AGP 4X

5 x PCI

1 x PCI/AMR Shared

IDE Ports

2 x Ultra DMA/66 EIDE Ports

Support CD-ROM, DVD-ROM, CD-R/RW, ZIP and LS-120 Drives

Special Features

Power Loss Recovery, ASUS® JumperFreeTM, CPU Throttle, STR (Suspend-to-RAM), SFS (Stepless Frequency Selection)

Back Panel I/O Ports

2 x USB Ports

1 x Parallel Port (EPP, ECP) and 2 x Serial Ports

1 x PS/2 Keyboard Port, 1 x PS/2 Mouse Port

Onboard I/O Interface

20-pin ASUS® Panel

SIR (Integrated Serial Infrared)

Headphone (only with optional onboard audio)

MIC (only with optional onboard audio)

CPU/Power Supply/Chassis Fan

ATX Power

IDE LED

BIOS

2Mbit Award® BIOS with Full ACPI, DMI, Green, Boot Block, PnP, SM BIOS 2.3, Trend® ChipAway Virus (TCAV), Boot Block & Symbios® SCSI BIOS

Industrial Standard

PCI v2.2 and USB v1.1

Manageability

WfM 2.0, DMI 2.0, WOL, WOR, Chassis Intrusion, SM Bus

Package Contents

User's Manual

Driver CD

UltraDMA/66 Cable x 1

IDE Cable x 1

Floppy Cable x 1

Board Size

ATX Form Factor: 24.5cm x 30.5cm (9.6″ x 12.0″)
Editors note: this review was migrated from the old eBabble.net site and the photos updated. Originally published April 19th 2001.