I'm a big fan of free and luckily there is no shortage of free real time anti-virus and anti-spyware utilities available to Windows users.  The big news of the week was Microsoft's beta release of Microsoft Security Essentials.  As part of the Connect beta program 75000 slots were made available for beta testers which filled very quickly: I was lucky enough to get in.
Microsoft Security Essentials is a free Windows security package that's a derivative of it's enterprise Forefront Security package, pared down as a free simplified offering.  That's not to say it isn't effective: after instalation it picked up two Trojans that AVG Anti-Virus 8.5 Free Edition, my previous free security choice, had missed.  You can see it in action below: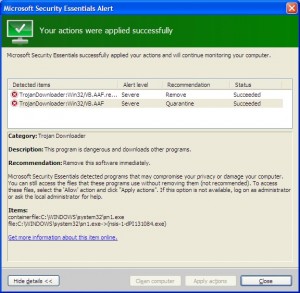 I uninstalled AVG and installed the 7.5 MB download; it was quick and painless.  During installation it removed Windows Defender providing anti-virus and anti-spyware with real time monitoring.
It's unobtrusive and takes just 12 MB of memory on my Windows XP Professional SP3 PC.  The final product will be free and should be available next quarter.  Since it's from Microsoft it will be available in 32 and 64 bit versions for XP, Vista and Windows 7.  Free is good: free and effective is better.
Update: Even though I'm part of the beta program Microsoft took away the files for download and I was only able to download the XP version and didn't get to try the Vista and Windows 7 versions.  Luckily Softpedia has every version available, for now.