A fantastic look at a period in a creator's career, Judge Dredd: The Complete Brian Bolland is a must-have for fans of this artist.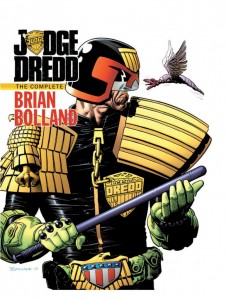 This luscious, oversized hardcover volume collects as many Brian Bolland-illustrated Judge Dredd stories as THE LAW* will allow! (*Seriously, there's one we can't publish. Ever.) Within these hallowed covers, the turmoil of John Wagner's Mega-City One rages, captured in such legendary tales as "Luna-1 War," "The Cursed Earth," The Day the Law Died!," "Judge Death," and many more.
IDW Publishing, December 2012
Hardcover
9.25" x 12", 248 pages
ISBN 978-1-61377-488-5
$49.99 USD
Order online: Amazon
Being a fan of Brian Bolland and having a passing interest in Judge Dredd as a character I decided to pick this volume up. It collects almost all of Brian's work and is an extensive collection of stories and covers spanning his early career. Until now I hadn't seen any of this early work and remember picking up a few Eagle Judge Dredd comics in the 1980s specifically for the Bolland covers but that was about it.
Let's first address the only glaring problem with this collection: it seems artists working on a weekly comic, 2000AD, didn't normally do all the chapters of a story. While reading this book cover to cover you'll come across quite a few stories that jump chapters, as Bolland didn't work on them all. It's not a big issue, as there is always a brief synopsis making it pretty easy to get into the groove right away.
It's also worth noting Bolland is an artist, and this is a collection of Judge Dredd comics he worked on as an artist, so I'm not going to address the writing here, although it's good and gets to the heart of the matter. Dredd kicks ass, consistently.
The book is organized chronologically: Dredd stories from 1977 to 1982, then some one-page backups and finally covers. The Bolland we know today can be recognized from about 1980 on, and the development to that point is quite varied. The early art is more rounded and elongated in style, with clear emotion and facial expressions from the get-go. The inks vary greatly in thickness but that could be the reproductions, and there are no inker credits so I'm guessing at that time 2000AD artists inked their own pencils.
Speaking of reproduction quality, it's quite good overall. Bolland's linework and clean style comes through nicely, and when there is murky or "thick" art it's for the chapter which suggests a fault with the source material. The worst of the volume is a story from a 1982 annual in colour: it looks like a scan of the comic book with the lettering corrected but the art hopelessly muted.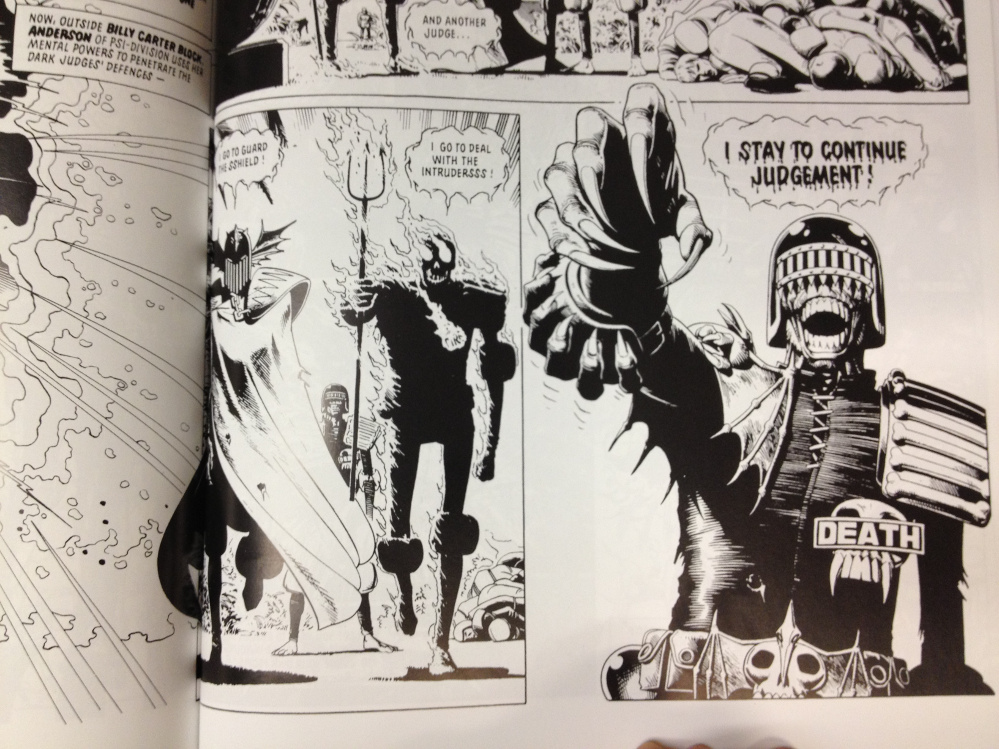 Fit and finish are top-notch: excellent thick paper, clean design with origin notes on each story or cover, and a rundown of each complete story in case you want to track down those chapters by other artists not included in this volume. Bolland presents a funny and well-written introduction. The binding is a bit tight and some art dialogue gets lost because of it.
As a whole Judge Dredd: The Complete Brian Bolland is a great collection of work highlighting a single creator and character. It's not an introduction of Dredd but a look at Bolland's early career.
---
Originally published at Comic Book Daily.