Heard some rumblings on the internet about a new animal graphic novel; lots of interest but most wanted to flip through the book before committing.  At my local comic shop they had one copy of Grandville: after a quick perusal I decided to purchase.  Got home and read it through and have to say Bryan Talbot has created another excellent read.  Here's the publisher's blurb:
Two hundred years ago, Britain lost the Napoleonic War and fell under the thumb of French domination. Gaining independence after decades of civil disobedience and anarchist bombings, the Socialist Republic of Britain is now a small, unimportant backwater connected by a railway bridge, steam-powered dirigible, and mutual suspicion to France. When a British diplomat's murder is made to look like suicide, ferocious Detective-Inspector LeBrock of Scotland Yard stalks a ruthless murder squad through the heart of a Belle Epoque Paris, the center of the greatest empire in a world of steam-driven hansom cabs, automatons, and flying machines. LeBrock's relentless quest can lead only to death, truth . . . or war.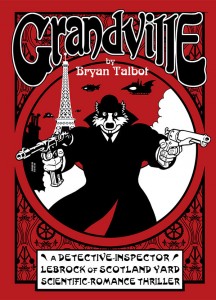 This is a steampunk Victorian drama and thriller with humanized animals in the style of J.J. Grandville, which I'm guessing was the inspiration for the name.  The story is fast paced and well written: I didn't intend to read all 108 pages at once but I was compelled to keep turning the pages.  Lots of action, intrigue, and excellent dialogue.  The background story of England as a French territory and it's Victorian sense made for interesting plot twists and were a big plus.  The steampunk angle fits as well but I can't say the characters all being animals did anything for me, other than to say this medium allows for it.  LeBrock is an action Sherlock Holmes with a faithful sidekick in tow.  It's gets a bit too violent at times but that's almost a requirement for a thriller today.
I've been a long term fan of Talbot's art since his Luther Arkwright days but with Grandville he takes a different approach.  Colours and finish have the look of computer rendering and are very smooth.  Characters and backgrounds are well defined but appear a bit static.  The art is a bit slick for my taste but works beautifully with the story and makes a complete work, a symmetry found only in works written and drawn by the same creator.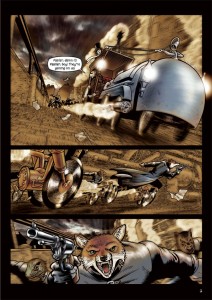 Dark Horse offers a three page preview: check it our for yourself.  I enjoyed the overall package, especially the cover.  There's no dust jacket: instead we get a three colour (or is it one colour since black and white aren't colours) raised impression hardcover.  Overall for $17.95 with discounts from Amazon it's a great value and a must read.