Microsoft is giving users 25 GB of online storage space for free, and has been for some time.  It's called SkyDrive and is part of the Microsoft Live group of online resources.  Unfortunately it doesn't seem to get the exposure it deserves, in part because of the user interface.  I accidentally made a folder and had to do an online search to figure out how to delete it.
Along comes SkyDrive Explorer to seamlessly integrate SkyDrive as a folder into your Windows environment.  Instead of working through the web page you can now use Windows Explorer, XP to Windows 7 supported.  It's a tad slow since you're accessing cloud storage instead of a local hard drive but that's to be expected.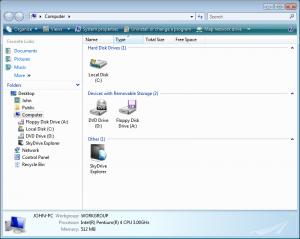 Microsoft SkyDrive is a great free online resource: with SkyDrive Explorer it becomes a must have backup resource.