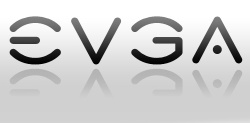 [intlink id="852″ type="post"]Last time around[/intlink] I had received my RMA replacement video card from eVGA but it didn't work with 3D applications.  I contacted tech support and they suggested checking the 12V voltage in the motherboard's power settings but instead I used a digital multimeter and checked that and the PCI-E 6 pin power connectors.  All three were within spec, between 11.98v and 12.04v.  Did the same on the borrowed system with the same results: my power supplies were giving proper power to the system.
Passed this along and eVGA opened another RMA for my replacement card and paid for the return postage both ways; very classy since it wasn't my doing. Received my second replacement card: unlike the last one this card was used, with a screw missing from the fan assembly and lots of scratches.  I put it into my system and the video card fan spun up to full speed but no video.  My system booted as my eVGA 680i SLI motherboard has a two digit POST display and it showed FF which is normal boot.  Took the card out and tried it in the borrowed PC but with the same results.  This time I took the card with me to work the next day and tried it on another PC outside my home and had the same results: it looks like the PC is booting but no video.
Opened another ticket with eVGA about this card.  Same tech responded and sounded a bit skeptical, confirming for me that every card is hand tested before being sent out.   Based on the condition of this replacement card I had a hard time believing that.  Asked if my three systems had the latest BIOS installed; odd question since I was able to use my 7600GT but confirmed they were up to date.   The tech opened another RMA for this card and again eVGA paid for shipping.
It had been a while since I had my PC up and running and coincidentally NCIX.com had an Asus Geforce 9600 GSO 512 MB on sale for $40 so I picked one up.  Cheap, cheerful and a nice backup card, plus it was great at folding.  It has a single PCI-E six pin power connector so I installed it without issue in my PC and was up and running.  This was all in my original system: the replacement Corsair TX850 is sitting on my shelf for my new PC upgrade that should happen soon now that the new Intel P55 chipset and i7 860 is out.
My third replacement card from eVGA showed up: a new GTX 260.  Removed the 9600 GSO and installed the GTX 260: booted up without issue.  Windows 7 recognized the new card and a reboot later I was good to go since I already had the latest Nvidia drivers installed.  Launched Left 4 Dead and played for about an hour with no issues: looks like my video problems were finally fixed.
From opening my first RMA request on June 26th to receiving my third replacement card on September 29th I had experienced a three month video card ordeal.  There were some big gaps between cards but that's more from my extensive testing on multiple machines and lack of faith in my hardware: eVGA was quick to get replacements out to me once the RMA was approved and they received the shipped card back.
After the first card failed to work I blamed my power supply and bought a new one and borrowed a second PC to test on, and after the second card failed I picked up a spare video card just to be sure and tested on a third PC.  The techs I worked with at eVGA were quick in assisting me and getting replacements out but I'm not convinced things are checked very well.  The first replacement was a new GTX 260 and worked in 2D so that may have slipped through the cracks but the second was a real dud and had seen action in someone's PC.  I'm thankful the supervisor approved my RMA and I'm confident in eVGA's technical support staff getting replacement cards out, just not in their RMA testing.  I passed along these two posts to the eVGA customer service supervisor.