Before I dive into this fascinating and edge-of-your-seat topic a little background information may be in order. Welcome to the first column of Bound Together, a look at comic book trade paperbacks and graphic novels in all their shapes and sizes. I have been a longtime collector of limited and hard to find comic book hardcovers. I don't really know why, other than it was a small and mostly affordable area of interest that, as all hobbies go, eventually reached the lofty heights of pricing few mortals can afford. I started a bunch of years back, twenty or so, by combing comic stores for their dusty and forgotten hardcover books and then moved on to eBay like everyone else.
V For Vendetta was a big book for DC in 1988 when it was launched: Watchmen had turned out to be a huge hit and people wanted more from Alan Moore. V For Vendetta was a black and white work first published in Warrior magazine in the U.K. that was never completed. DC snapped up the rights, coloured the work and completed it in a ten issue mini series by 1989.
Trade paperbacks were a fledgling product from DC at this time but a few titles were trickling out. V For Vendetta was collected in 1990 as a standard size softcover trade paperback. In those days Marvel and DC weren't producing hardcover collections: they outsourced those to Graphitti Designs, but that's a topic for another day.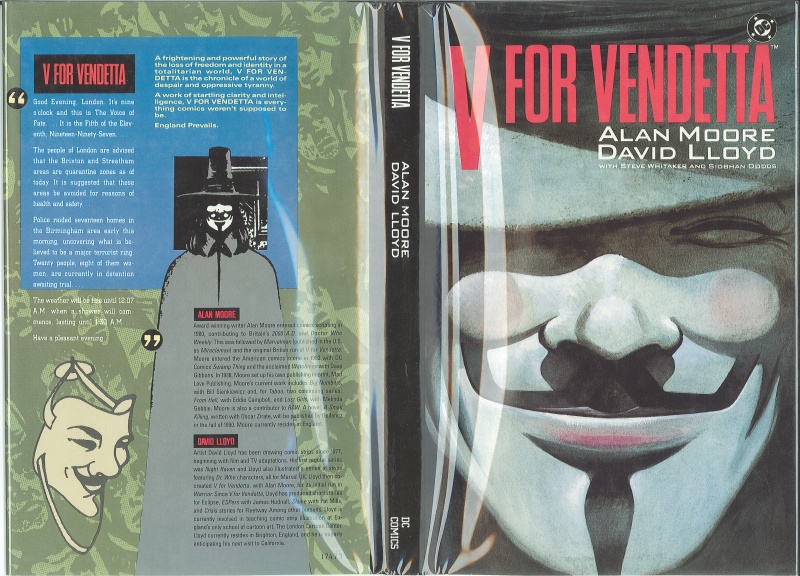 The same year a hardcover edition was released from Book Of The Month Club (BOMC): it was the trade paperback version with a hard cover added and white interior end pages. The dust jacket was the wraparound cover of the trade paperback. Book Of The Month Club has a long history of taking softcover works and putting them in a hardcover format: it started as a logistical necessity since their sales model was to mail out the books and this offered great protection.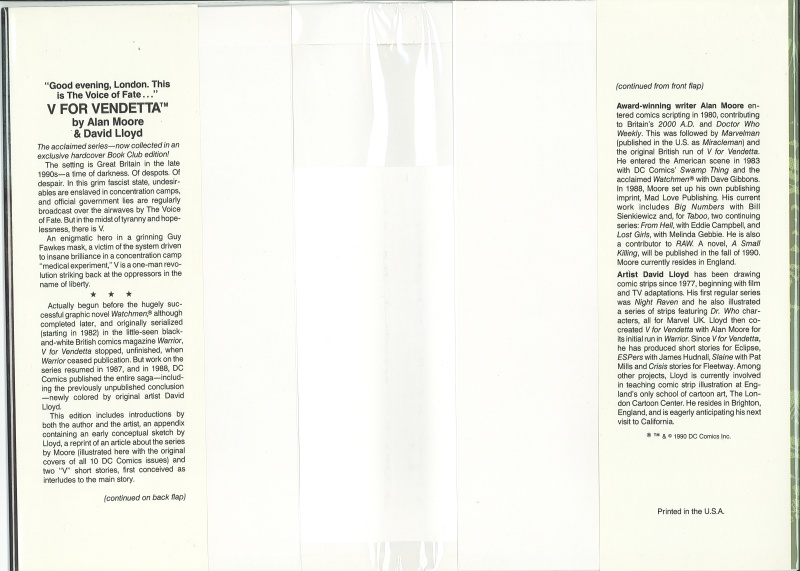 On the inside flap we get our first mention of something different: "The acclaimed series – now collected in an exclusive hardcover Book Club edition!". As well it states "Printed in the U.S.A.". Let's move on to the interior.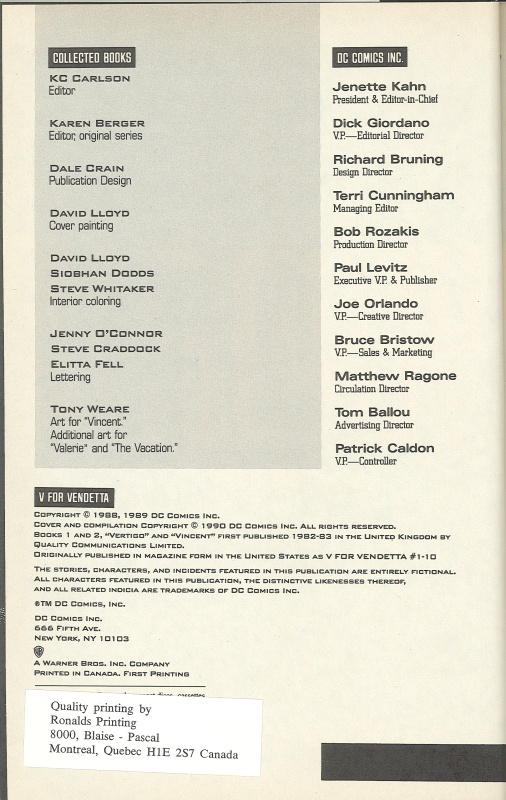 Everything is as it should be until we get to the bottom and that white sticker. It says:
Quality printing by
Ronalds Printing
8000, Blaise – Pascal
Montreal Quebec H1E 2S7 Canada
Let's take a look at the text under the sticker, by way of shining a flashlight from the back through the page:
BOMC offerings recordings and compact discs, cassettes
and records. For information and catalog write to
BOMR Camp Hill PA 17012
That looks like it wasn't supposed to be printed since this is a book and not a recording, but perhaps it was cross-marketing at work.  That doesn't explain why the printers but their sticker over top of it though.  As well there is no ISBN number anywhere and no printed price: hallmarks of a Book Of The Month product.  Unfortunately, I can't locate any confirmation that this volume was offered for sale by BOMC; would be nice to know along with a print run total.
As well we can clearly see "Printed In Canada. First Printing" in the material that most likely was part of the original trade paperback.  Perhaps Ronalds Printing (now Quebecor) was merely clarifying the printing location of the hardcover book since the dust jacket was printed in the U.S.A. and not Canada.
K.C. Carlson is listed as Collected Books editor. He shares some insight into the design and publication of the trade paperback at Comics Worth Reading but this rings out:
Me, I still have my prized (and rare?) hardcover edition of the original printing given to me by my friend Phyllis Hume, longtime coordinator of DC's international editions. I'm still not sure where this particular version of the book comes from, as the guts were from the original Printed in Canada First Printing, but the dust jacket was printed in the USA. Oddly, it doesn't have a cover price either, so perhaps it's a book club version.
DC did get around to publishing a hardcover edition in 2005 to coincide with the movie, fifteen years after our BOMC edition.  It was released under their adult Vertigo line that didn't exist when the mini-series was first published.  If you'd like to get yourself a copy of the 1990 hardcover you'll need to turn to the internet; pricing varies wildly on eBay and Abe Books.  Check out three available from Abe Books that list between $65 and $550; my mint copy cost me $85 from eBay in 2004.
V For Vendetta BOMC hardcover edition remains a solid collectible and a nice introduction to bound comic collections.
Originally published at Comic Book Daily under my Bound Together column.