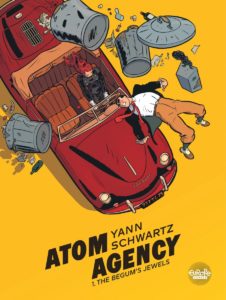 Atom Vercorian is trying to make it as a private detective in post-war Paris, and he just needs that one big case to make a name for himself. His father, a police detective, isn't making any headway in the case of a jewelry theft in the south of France. Atom, however, gets a lead that takes him and his partners, Mimi and Jojo, south to Marseille, where they meet ex-resistance fighters, gangsters, and henchmen. With audacity and enthusiasm, Atom and his cohorts dance their way through the worlds of organized crime, pro wrestling, and the ultra-rich in the pursuit of Miss France 1930s stolen jewels. This could be Atom's big break—if he survives the experience!
Europe Comics, July 2019
Writer: Yann
Artist: Olivier Schwartz
Colorist: Hubert
56 pages
$5.99 USD
A fun, yes fun, detective adventure with thrills and spills galore.
Post War France is a great setting, and Yann brings it to life with aplomb. This is the first volume so our main characters are introduced and fleshed out, with Atom and Mimi driving the story, supported by a large cast. We're given enough to feed dozens of additional stories.
It was the cover art that stopped me scrolling and immediately dove into this volume. Schwartz has a wonderful line quality to his work, with a style that pays homage to linge claire with a modern sensibility. Tremendous attention to detail throughout. especially the environments. They look authentic to me at least! Plus highly memorable characters because of their design and costumes. Love the exaggerated features.
It's a dense story but the pages don't feel congested. We're repeatedly treated to half-page splashes to set a new scene. Lots of dialogue, but always working within the art. Well done indeed.
Hubert's colours contribute strongly to every page, setting tone and time with a naturalistic palette.
Lettering is credited to Cromatik Ltd, and it's well done. Clear and very legible, with a nice colour contrast for the flashbacks and bold for raised voices.
Please check out the preview below from Izneo, who provided my digital copy for review.