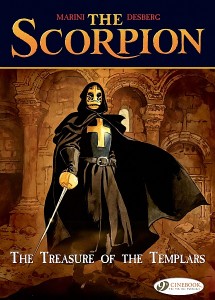 On the run from both agents of the Vatican and Ottoman authorities, the Scorpion is forced into uneasy alliances to continue his quest. Riding towards the Holy Land, the motley band begins to unravel the secrets of the Templars. But as loyalties shift, a confrontation looms, and in the shadow of an inverted cross, a forgotten truth will resurface that could destroy Trebaldi's power…
The Scorpion: The Treasure Of The Templars
Cinebook, 2010, ISBN 1849180466
The Scorpion is an excellent European series from Enrico Marini and Stephen Desberg about a treasure hunter during the Renaissance.  Cinebook has been publishing English translations for a few years now and recently shipped volume four: The Treasure Of The Templars.  Here's the publisher's blurb:
While being the fourth volume this is the sixth chapter, as Cinebook's first two volumes contained two forty-eight page chapters in each. We finally get some answers this time around like what's under Rochnan's mask, what is the Templar's treasure and what's the Hussar's real name. This is not a jumping in point: while this can be read on its own you're best picking up the first three volumes. Stephen Desberg has provided once again an excellent tale of swashbuckling adventure that wraps up plot and storylines but provides new avenues that we the reader need to wait for.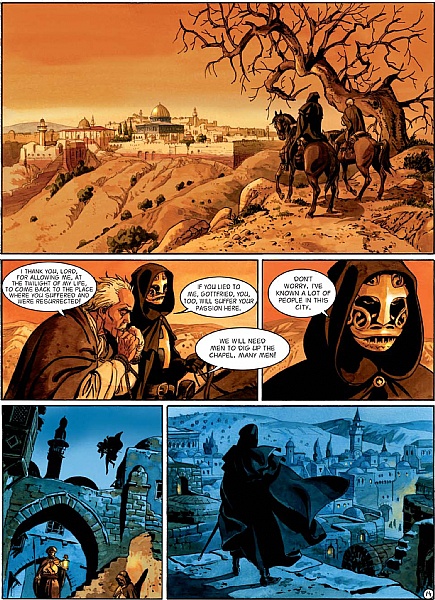 This chapter widens its focus and we're given a good amount of supporting character coverage. The Hussar acquires a lover, Mejai chooses a side, lots of new characters added. The real star this time around is Rochnan, the villain we love to hate. His origin is revealed detailing why he wears a mask and to whom his allegiance is owed. A really great villain.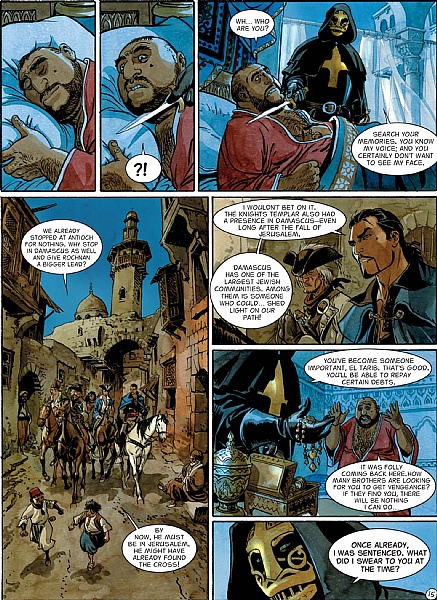 Enrico Marini continues to provide stunning artwork. Excellent facial expressions add to the dialogue and give the characters a lot of life. Detailed historical costumes, architecture and backgrounds immerse the reader fully. The paper provides a matte finish to the art and it works; the pages shown are from Cinebook's site and are glossy, most likely directly from the colourist's digital submission.
My only concern with The Treasure Of The Templars is value.  Cinebook was publishing ninety-six pages for $20 but now we're getting half the pages for $12.  This is across the board for all Cinebook titles.  I would love to see this published in its original size and in hardcover but that's true for all European work.
---
Originally published at Comic Book Daily under my Bound Together column.