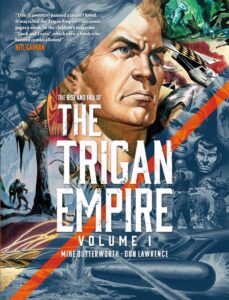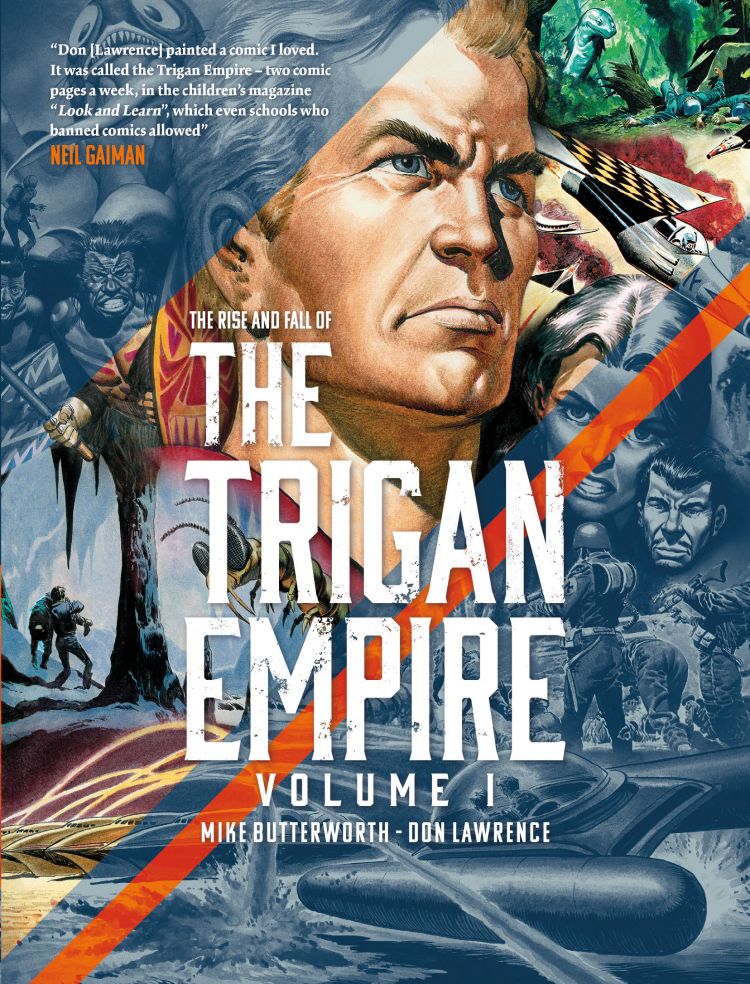 Originally published in the anthology titles Ranger from the first issue in September 1965, and Look and Learn from June 1966 until April 1982, the series told the story of an alien empire on the planet Elekton that was heavily influenced by history, particularly Roman. Created by Mike Butterworth, who died in 1986, and artist Don Lawrence, who died in 2004, the series' mix of political intrigue and Lawrence's lush painted artwork won a host of fans worldwide and proved to be highly influential, inspiring a generation of comic book creators with its depth and beauty.
Don, who started out as a comics creator in the Gower Street Studios in London, first working on Marvelman before moving on to Karl the Viking for Lion. Other artists who worked on the strip include Ron Embleton, Miguel Quesada, Philip Corke, Oliver Frey and Gerry Wood.
Rebellion, March 2020
8.5″ x 11″, 304 pages, softcover
ISBN 978-1781087558
$24.99 USD paperback, $9.99 USD digital
Order online: Amazon
This all-ages science fiction story needs no backstory or historical context for full enjoyment by any comics fan. Well crafted tales featuring fully painted artwork. Full stop.
These were originally presented two pages at a time in a weekly British anthology. You catch the rhythm of it as you work through the book; it's not distracting or detrimental and the stories work wonderfully as a collection.
Butterworth creates an engaging world, mixing cultures and technological levels to craft a unique environment of sword fights and advanced air combat. Good and evil have clear lines drawn, but things can go awry. The writing never feels pared down and is a true example of excellence for readers of all ages.
It begins with a well-defined villain doing all the evil things you'd expect, and our heroes triumphing. But it quickly evolves to blurring those lines based on circumstances, adding depth to our quartet of story leaders. Trigan has amazing gains and tragic losses, but the story of empire never falters.
The draw for most people will be Lawrence's artwork. A keen sense of movement and the human figure, with lots of facial expression and emotion. Being fully painted only enhances the art. It has a look that sets it as British and not modern: both distinct advantages to me.
The production is outstanding. The pages are beautifully presented with no issues. This softcover collection of glossy paper is sturdy, well built and exceptionally presented. An excellent overall value at $25.
With only one volume released so far, I'm hesitantly stating this is the definitive Trigan Empire collection. I would have preferred a hardcover version but it's only available direct from the U.K. publisher so shipping kills it. Volume two should be out before the end of the year, and hopefully, Rebellion can keep that pace.
As well there is a digital version available for $10, making it an impulse buy. Go ahead.
---