I'm a big Mike Mignola fan, admiring his work since Marvel Fanfare.  The Amazing Screw-On Head was a one-shot comic published in 2002 but somehow I missed it so I was anxious to pick up The Amazing Screw-On Head and Other Curious Objects hardcover.  Here's the publisher's blurb: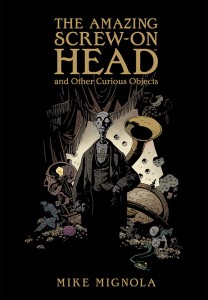 When Emperor Zombie threatens the safety of all life on earth, President Lincoln enlists the aid of a mechanical head. With the help of associates Mr. Groin (a faithful manservant) and Mr. Dog (a dog), Screw–On Head must brave ancient tombs, a Victorian flying apparatus, and demons from a dimension inside a turnip. This new collection of oddball Mignola creations also includes "The Magician and the Snake" from Dark Horse Maverick: Happy Endings, and nearly fifty pages of brand new material, all as weird and hilarious as the beloved Screw-On Head.
This is for the most part a collection of Mike Mignola humour pieces. I'm not a humour fan and try to avoid "funny" books but Mignola is able to craft a smart and funny piece full of ridiculousness that just seems to work. Screw-On Head is an agent of the U.S. government working for Abraham Lincoln: he's a living mechanical head that uses different bodies to get the job done. He's called upon to thwart Emperor Zombie in his attempts to steal a turnip that contains a universe. Yes, it's silly and completely entertaining. Dialogue is snappy with imagery telling most of the story.
We're also treated to The Prisoner Of Mars and The Witch And Her Soul, new works for this hardcover. Both excellent and Mignola's stock in trade. The Magician And The Snake and Abu Gung And The Beanstock are previously published works. The Magician And The Snake is written by Katie Mignola while Abu Gung And The Beanstock was expanded to nine pages from its original five.
The art is dark, blocky and heavily inked: classic Mike Mignola. You either love his style or you don't. I genuinely appreciate that he has found his style and doesn't try to tweak, grow or expand it. One look and you know who the artist is, and that's a good thing with this work.
Scattered throughout are single-page portraits of random people in period costume, plus a nice afterward from Mignola and several pages of sketches.  Paper stock is excellent: Dark Horse seems to stick to a thick stock and holds up well.  At $17.99 it's a reasonable value for a 104 page hardcover of this calibre.  All told it's an excellent collection for Mignola fans; check out a three-page preview here.
The Amazing Screw-On Head and Other Curious Objects
Dark Horse, 2010, ISBN 9781595825018
Originally published at Comic Book Daily under my Bound Together column.