I've wanted to pick up Starman Omnibus Volume 1 for quite some time but there always seemed to be something else more deserving of my available funds.  I finally had a chance when an Amazon gift card fell in my lap.  Here's the publisher's blurb: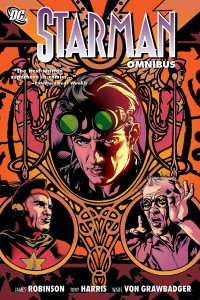 The classic super-hero series STARMAN, starring a Gen-X super-hero, is re-presented in high quality format by James Robinson (BATMAN: FACE THE FACE) and Tony Harris (EX MACHINA).
The super-heroic legacy of Starman is renewed in these stories, in which Jack Knight—antiques collector and dealer—inherits the name and powers of his father's old Starman identity from his older brother, who has been assassinated. Reluctantly adjusting to his role, Jack reinvents the look of Starman, ditching the traditional red and green in favor of black leather and aviator goggles. But Jack has inherited more than a heroic identity from his brother . . . he's also gained a foe: the beautiful but mentally unbalanced Nash, daughter of the villain known as the Mist. Jack also must come to grips with the Shade, the morally ambiguous former villain who decides to become Jack's mentor.
I vaguely remember collecting this series but that was a long time ago.  Sitting down with all 448 pages and reading through has brought a new enlightenment for me about James Robinson.  Simply put this is an extremely well crafted story about a reluctant hero who already has a life and doesn't want to take on a new one.  Story and character development are primary concerns of Robinson and they shine.  This book isn't about fighting crime and wearing a costume: it's a look at what lies behind the facade of being a hero.
I am a huge Tony Harris fan and love to collect his original artwork when I can get it.  That being said I don't remember the art being so rough: this was Tony Harris on his first mainstream book.  As you progress through the art develops and a cohesive style emerges.
The production design is well done: it's an excellent overall package.  Extras include a very long and detailed into from James Robinson: it's a big rambling but provides insights.  I'm looking forward to getting into volume 2.