Sleeper Season One was recently released in trade paperback, collecting the original 2002 twelve issue series from Wildstorm.  It had been collected into two volumes in 2004 but this is the first time we have the first story line in one volume.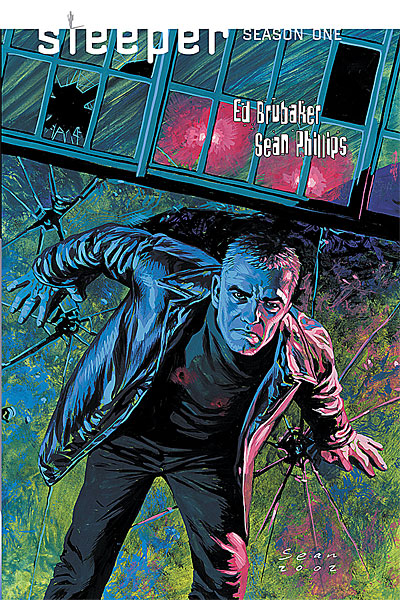 I picked this up because I've become a fan of this team's work on Criminal.  Here's the publisher's blurb:
From the award-winning Criminal team of writer Ed Brubaker and artist Sean Phillips comes SLEEPER, the story of Holden Carver and the secret criminal organization he must infiltrate, now back in a new edition collecting SLEEPER SEASON 1 #1-12. With his contact at the agency in a coma, Carver must live one day at a time in a deadly game of cat and mouse he plays with its leader, Tao.
The story follows Carver, a sleeper agent in a world of two super powered spy groups: the good guys and the bad guys.  Carver is a good guy who went undercover to infiltrate the bad guys.  His handler is in a coma so no one knows he's actually working for the good guys.  There's not a lot of depth to the story and plot line, but that's because we've seen it in the movies and television so often it feels tired.  Along the way we learn there's a secret group of people running the world: yes, Sleeper is filled with this kind of thing but we have to remember the material is seven years old and early in the careers of Brubaker and Philips.
We get to see how the bad guys do things: violently and without a conscience.  Lots of action  as Carver tries to pull his punches and work through his double life.  The story is cliched but it works.  There are lots of nice touches: the super powered play a "secret origin" game where they tell in the third person how they received their powers.
The art is very rough and dark: it lends ambiance to the story of Carver hiding his real mission among the shadows of evil.  A lot of times Phillips' art is very static and two dimensional, but to be fair I'm not a fan of his art.  It doesn't hinder the story but it's not going above and beyond either.
I've been pretty tough on this book as it's showing it's age, but it's a good read.  The characters are engaging and there's a strong appeal to see things from the "dark" or evils side.  Some nice twists leave a lot of room for Season 2: if you're a fan of what this team is doing now with Criminal and Incognito see where it all started.