Boom! Studios has just released 7 Psychopaths trade paperback; this series completely slipped under the radar and I only spotted it because of Sean Phillips doing the art. Originally published by Delcourt in French three years ago in that large beautiful European format as a sixty-three page hardcover, Boom! decided to shrink it down for the North American market to standard comic book size and split it up into three issues and then make this softcover collection. Here's the publisher's blurb: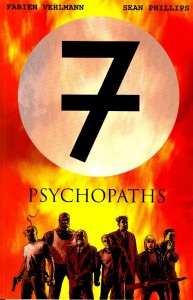 With World War II in full swing, there's only one way to draw it to a quick close: assassinate Hitler. But who would be insane enough to try? Joshua Goldschmidt knows just the men to do it. Insane, psychotic, mad, call them what you will, but the Seven Psychopaths are now the only hope the world has! In the vein of Inglourious Basterds comes a thrilling story never before released in English!
Before I get anywhere that blatant association with Inglorious Basterds is so far off the mark it's ridiculous: the only thing they have in common is the war. This story is about a British colonel who upon returning from stress leave reads a letter from a man in an asylum with a plan to kill Hitler. His goal is to form a group of seven individuals who are also mentally unstable as "they don't know their task is impossible". With no training these seven are rushed into Germany and it all falls apart from there.
I don't want to spoil the book but this is an excellent story for any action fan: a few new ideas that breathe life into a WWII romp. Well, I'll spill a few so skip ahead if you don't want to know. One team member is faking it and tries to take out the team on the plane, but it gets him by anti-aircraft fire and goes down. Of the seven five make it alive and separately three manage to assassinate Hitler: unfortunately we learn the Third Reich had an extensive doppelganger program. There are a few more twists I'll leave for you to read on your own.
With sixty plus pages and this many characters Fabien Vehlmann didn't craft a lot of character development: what you see is what you get, but it's enough. The story flows well and while wordy conveys what you need in a gripping and effective manner; at times we learn events through the text only. It works.
Art is handled by Sean Phillips who we learn in his foreword jumped at the chance to work on a European work; again I lament Boom! Studio's lack of faith in an over-sized format. Phillips brings his gritty and dark style and mates it beautifully with Vehlmann's story. It's consistent throughout; great character design and historical backgrounds. A lot of panels per page but there's a lot of story to be told and it would work with a larger page.
As a collection we get the three covers for the single issues and some preliminary sketches, layouts and inks. It would have been nice to have something from Vehlmann. At $10 it feels like a solid value. 7 Psychopaths is a great read overall. Note it's available in comic stores now but won't be in book stores until December 7th 2010.
7 Psychopaths
Boom!, 2010, ISBN 1608860329
Originally published at Comic Book Daily under my Bound Together column.