A trip to the local farmer's market brought me in contact with a mixed basket of peppers for $1: it was a deal I couldn't refuse.  It was a real mix of varieties and shapes but they were at maximum ripeness so I immediately washed them up and roasted the lot.
I thought about oiling them up and roasting in the oven or the barbeque but I have a gas stove so I did three or four peppers at a time sitting on the grate of my largest burner with the flame on medium.  Two or three turns and they were nice and charred: as they came off the burner I put them in a bowl covered in plastic wrap so the steam and heat could loosen the outside skin.
With the aid of some running water at the tap I managed to get all the outside skin off and the insides cleaned.  I stacked them all in a jar and covered it with olive oil; to get everything covered nicely I ran a spatula around the inside of the jar.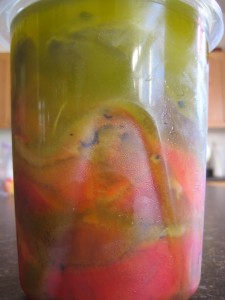 An excellent accompanyment to sandwiches, salads and antipasto platters.