My next baking project is sandwich bread: that regular light loaf that's good for most of a week, toasts nicely and gets the job done.  I turned to Cook's Illustrated for a recipe and gave it a whirl: it's good but a little too dense and heavy, which I blame on the milk.  It's great for toast but not a sandwich.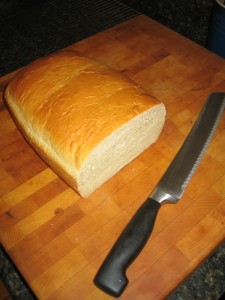 Every recipe I find for basic white sandwich bread calls for milk, along with the flour, yeast, salt and eggs.  The other factor so far is that every recipe is American: to me Canadian sandwich breast is lighter in texture and taste.
If you find the shape a bit off it because of the silicone loaf pan I baked it in: the sides bowed out during baking.  That was enough for me to head out to Williams Sonoma and pick up their 1.5 pound loaf pan, the gold one with the lifetime satisfaction guarantee.  I love the idea of being able to return something at any point in the future if I become unhappy with it: if they're willing to stand by the product to that degree then I'll give them my business.