I'm the process of setting up a home theater PC (HTPC) on each of my two home televisions.  I have Logitech Harmony universal remotes on both but need a keyboard and mouse for my living room HTPC.  While perusing Staples before the holidays I came across the HP Wireless Mini Keyboard: a compact 2.4GHz wireless keyboard with a built-in mouse.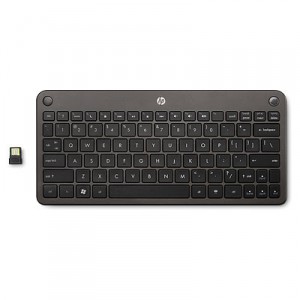 The packaging bills this device as a replacement for a laptop keyboard but it works wonderfully on a HTPC.  The keyboard is a netbook chiclet style and there is a small button on the top left and right.  The mouse works by gliding your right thumb over the button on the right side: clicking it is a right click and clicking the left button is a left mouse click.  It's very straightforward and simple to get used to.
The keyboard is quite light and easy enough to hold in your two hands for mousing.  I found the keyboard to be about 92% of regular size and about the same as a 10″ netbook's keyboard.  It's slightly too large to hold with one hand and type: I had to put it on my lap but it was very comfortable.
Installation required me to plug in the very small USB dongle and wait for Windows 7 to recognize the device: that was it.  It uses two AAA batteries that were pre-installed.  My only concern was that I lost the ability to control the mouse when my kitchen microwave was running, about twenty-five feet away.  Other than that no issues.